Colossus Rex
The Man from Jupiter

Outer Space Men Beta Phase New York Comic Con Exclusives
Item No.: n/a
Manufacturer: Four Horsemen
Includes: Removable harness, axe, mace, shield, alternate hands/fists
Action Feature: Swappable hands
Retail: $16.00 or $35.00 (sold as a set with Horroscope and Ohproatem)
Availability: October 10, 2013 (NYCC) and October 16, 2013 (Online)
Other: White Star!

PREVIOUS
RSS
NEXT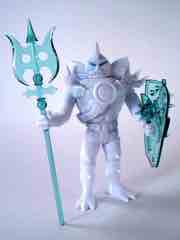 Bucking three years of tradition, the New York Comic Con release of Colossus Rex is solid white rather than a clear color - typically the Beta Phase figures have brought us colorful variations on the designs, but this year the Four Horsemen opted to continue their White Star program. I have to say that this is a great way for you to actually see the sculpted detail on these figures. The clear green absorbs a lot of the work, and obfuscates the problems too. While I dig the clear green figure, white Colossus Rex has some fishy fin details, nice pointy teeth, and tons of scales on his person. The removable armor is still here, and the fists are a bit more forgiving of holding his weapons.
Colossus Rex's second release has a couple of issues. One: the hands. The right open hand has a very thin wall near the palm of the hand where you can see through the plastic - it's just that thin. The green Alpha release has this problem too, but it wasn't something I noticed in the clear plastic. It might tear if you aren't careful, and the three other included hands have very thick walls. I hope the Horsemen saw this and fixed it prior to the Infinity release going into production, and I daresay this is the first genuine problem I have had with any PVC plastic Glyos official release to date. It should have been better.
Problem #2: gravity. The Glyos joint system works great for shorter guys, but heavier figures may experience issues balancing - my Cyclops figures nosedived quite a bit, and my white Colossus Rex feels like he has slightly looser joints. He stood on my desk without falling for 24 hours straight so my fears may be unfounded, but the joints are a little looser than I'd prefer. The staff serves as a nice way to prop up the figure, so be sure to use it.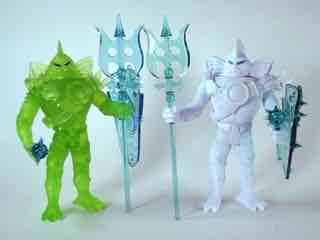 It seems unnecessary, but seeing the figure in a solid color like this just gives you reason to praise the amount of work that went into the figure. Translating the design to the modern era looks easy, but you can tell that adapting the bendable behemoth into something more action figurey presented some challenges. The belt looks great, as does the monster torso, which leaves me wondering just how any potential repaints might look. I'll be heartbroken if we don't get a few painted variants on this guy, so hopefully someone, sometime will do a run of him in other colors.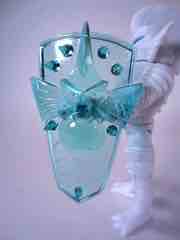 As my sample is standing (so far), I can't fault it. The armor pops off easily, once you remove the head and right arm. I think he looks better without his gladiatorial garb, but the big shield and giant axe are impossible to ignore - these are impressive, mighty weapons worthy of the slightly higher price point. He looks meaner, and the creators of this toy are no doubt continuing to be proud of how nice it looks. Like the previous release, it has yet to sell out. Unlike the previous release (which was a preposterous $31 individually), this one is $16 and feels more or less worth it. The White Star sets presented a decent value overall, so go ahead and buy some. If you hate the white, look on the bright side: you can paint it into something more interesting. The line is clearly running its course and it seems like the slow drip release and increasing prices left a few people behind, but I'm mostly glad I stuck around. Get him if you can.
--Adam Pawlus
Additional Images

Click here to see more Four Horsemen figures in Figure of the Day.

Click here to see more Outer Space Men figures in Figure of the Day.

Click here to see more Glyos Compatible figures in Figure of the Day.