Jawbreaker
MicroMachines Z-Bots Evil Void

Z-Bots Burger King Exclusive
Item No.: n/a
Manufacturer: Galoob
Includes: n/a
Action Feature: Eyes, legs move
Retail: $2.99
Availability: ca. 1994
Other: Not Bad

PREVIOUS
RSS
NEXT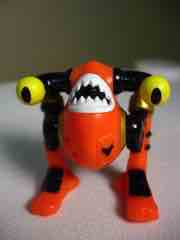 As part of a 5-figure series, Jawbreaker was one of those rare instances of a fast foot eatery putting real toys in the kids meals. McDonald's did this a few times (Playmobil, LEGO, Popoids) but more often than not, what you got was a cheap replica of a toy, rather than a toy that would actually fit with the rest of the line sold in real toy stores. Also, this is good because there's a chance that by 1994 you may be too old to convince your parents to front you a few bucks for a small robot toy, but lobbying for dinner at Burger King was fairly doable.
Comparable in size to Battle Beasts and MUSCLE men, these figures played off the mentality that they were collectible. As such, the bulk of Z-Bots didn't do anything, as the exciting thing about them was you could get a bunch of them and they were small. I don't expect a lot out of a 1 1/2-inch tall robo creature, which is good because it doesn't do much. The eye stalks are connected, so if you move down one they both move. Each leg is jointed separately, and for identification purposes his feet read "BK CHINA" and "(C) 1993 LGTI", etched in the orange plastic. He has bright yellow tennis-ball like eyes with white teeth, black accents, and a gold - uh - elbow... shoulder... thing. It's a bizarre little monster, is what I'm saying, and it really is pretty worthwhile despite the fact that all this figure can do is stand around and judge you, staring with its big yellow eyes. Its primary value is as a collectible, although if you bought the few vehicles or playsets the figure had a little more he could do.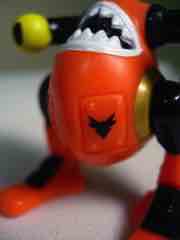 I saw these guys and their often mind-bendingly awful names in Galoob catalogs, so I was pretty pumped to see them in a sack with a burger, soda, and french fries. The entire set is quite good - and yes, we will be covering them all here - with 3 heroic "Z-Bots" and 2 evil "Voids." Jawbreaker here is a Void, as you can see with the "V" symbol on the chest because every good toy collector knows that the best 1980s toy lines are basically thinly veiled plastic gang warfare.
Today these are worth about $1-$2, and I think that fans of smaller collectible creatures would very much dig them. Compared to SLUG Zombies, MUSCLE, Monster in my Pocket, and the like they're quite impressive, and I'd say they're roughly on par with Battle Beasts in terms of quality. The paint jobs are largely very good, the size is decent, and the price is right. If this quintet was sold as an indie line on Kickstarter, I'm sure it'd be $20-$30. As such, go ahead and get a handful of them for $10. Oh, and there's supposedly a KFC set, but I don't recall ever having seen them during their release. For those seeking additional information on this line, kindly check out the names of the 3-packs. They're terrible. You got 3 figures in a box with names like "Pul," "Voriz," and "Or" and all three of them merge for a combined mode called "Pulvorizor," which I assume was named by the marketing department of the Sirius Cybernetics Corporation.
This line is odd in that I've held on to it and took very good care of them yet have no particularly strong attachment to them. They came out in an era where I was increasingly aware of how the toy business works and when the magic is gone, the toys transition away from your plastic pals who are fun to be with into collectible objects. Since these lacked traditional toy features, they tended to just sit around and be carefully stored up until late 2011 when I took these photographs. I like it bunches, but it never got any play time and well, he's sitting on my desk today and I wrote this article a couple months back. So he's cool.
--Adam Pawlus
Additional Images
Additional Burger King Z-Bots Paperwork Inserts Images

See more Galoob items in Figure of the Day:
Day 647: Galoob Z-Bots Jawbreaker Action Figure
Day 671: Galoob Z-Bots Bugeye Action Figure
Day 689: Galoob Z-Bots Turbine Action Figure
Day 1,195: Galoob Z-Bots Buzzsaw Action Figure
Day 1,402: Galoob Z-Bots Skyviper Action Figure

See more Z-Bots items in Figure of the Day:
Day 647: Galoob Z-Bots Jawbreaker Action Figure
Day 671: Galoob Z-Bots Bugeye Action Figure
Day 689: Galoob Z-Bots Turbine Action Figure
Day 1,195: Galoob Z-Bots Buzzsaw Action Figure
Day 1,402: Galoob Z-Bots Skyviper Action Figure