Optimus Prime
Series 02 #001

Transformers Prime Voyager
Item No.: Asst. A1978 No. A1979
Manufacturer: Hasbro
Includes: Sword, 2 rockets, 2 launchers
Action Feature: Transforms from Truck to Robot
Retail: $22.99
Availability: February 2013
Other: 02 Series #001

PREVIOUS
RSS
NEXT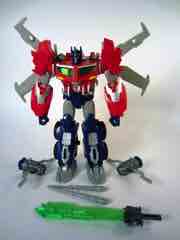 Back in my day, Optimus Prime had one toy - and we liked it! Eventually he'd get a few more, but generally speaking Optimus would get one toy every few years, if that, until the 1990s where we'd start to see a few new versions with one or more each year. With just this version of Optimus Prime, three unique sizes are planned for this year not counting repainted versions or other non-Beast Hunters releases. Being smack dab in the middle of the price ranges, I rather like this one. If you can get it at a good price, do so.
At over 7-inches high, Optimus Prime's robot mode is a pretty swell pastiche of previous toy designs with some new elements mixed in. He's more of a monstrous truck-o-bot, with jagged shoulders, a new green Star Saber, a God Bomber-esque jetpack, and twin firing cannons which can convert into crossbows. By and large he holds together well, but the tabs keeping the grey shoulders on the red torso don't seem to fit perfectly on my sample - sometimes they migrate off their mounts. Still, his unique torso reminds me a lot of Star Convoy and the face is just amazing. He's got an angry sneer! He's big and chunky, bright and colorful, and has tons of moving parts. How often does Optimus get a jetpack, anyway?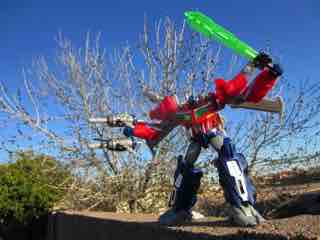 I was pretty pleased to see the jet pack fold over the cab mode nicely, with the coloring resembling the original 1984 toy's trailer a little bit. The vehicle doesn't have a lot going for it other than freely-rolling wheels, which, in all honesty, is actually a pretty big deal. Most Transformers toys don't quite have the clearance to roll around, which should be inexcusable for a toy car. It's nicely designed and not overly huge. It would be nice if it did something else, but well, there's a lot going on here as it is.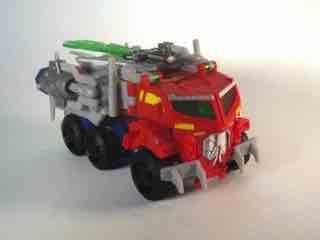 The toy feels significantly different from most modern toys in this line. Most look glossy and feel sort of chunky, while this Optimus Prime feels airy and more hollow, with more texture reducing the gloss factor a bit. This gives the figure a completely different look and feel, and is quite similar to Fall of Cybertron Grimlock in this capacity. If you've played with one, you more or less know how the other holds up.
With so many Optimus Prime toys from which to choose, it seems unlikely that any child will exit their single-digit years with only one. Collectors have dozens (if not hundreds) of toys bearing the name now, so when you have one like this with so much going on it's tough to look at a toy and say "Oh, sure it's the same guy but I need another one." This one, I knew the second I saw it I had to have one. Sword? Jetpack? Rocket launchers? It's a real toy, more or less, and it's a pretty great robot figure too. Other than the shoulder tabs, I don't have anything to complain about here. This is a good toy, with a lot of stuff, at a decent price.
--Adam Pawlus
Additional Images

Click here to see more Hasbro figures in Figure of the Day.
Click here to see more Transformers figures in Figure of the Day.

Want to buy this figure? Check Transformers availability at our sponsors:
Entertainment Earth