Colossus Rex
The Man from Jupiter

Outer Space Men Alpha Phase San Diego Comic-Con Exclusives
Item No.: n/a
Manufacturer: Four Horsemen
Includes: Removable harness, axe, mace, shield, alternate hands/fists
Action Feature: n/a
Retail: $60.00 (sold as a set with Horroscope and Ohproatem)
Availability: July 19, 2013
Other: The First Glyos-Compatible Colossus Rex

PREVIOUS
RSS
NEXT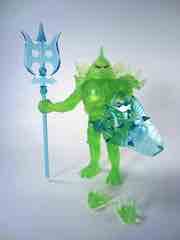 This figure was a long time coming - Colossus Rex was first shown, fully-painted, to the public at Comic-Con in July 2011. As of my writing this, I've been home from SDCC for mere hours and I just popped this figure open - and it's incredibly great, if you like this kind of thing. Based on the 1968 original design from Colorforms, this new figure comes packaged with Horroscope and Ohproatem in a box rather than in bags with header cards. Interestingly, my sets were swapped - the box showed the opposite set's characters on it instead, for both packs. As far as I know they're all like this so don't have a heart attack when you open the first box - it's probably the correct set.
UPDATE: This figure has a habit of sagging under its own weight like Cyclops. As such, be prepared to lean him if displayed - he might topple over and knock down other toys.
With tons of newly-sculpted parts, this looks like an expensive release - I'm assuming the Outer Space Women were done to help offset his cost, because $60 for 3 figures ain't cheap at all and the three ladies share a bunch of parts, as does the new character Jack Asteroid. Colossus Rex is about the same size as Cyclops from last year and has a similar build. He's bulky and has big hands, which are swappable with open claws or closed fists to hold weapons. The bright green color is electric inmost normal light, and under black light it almost glows with a weird opaque tone. The texture feels very different, but it's not overly insanely impressive under these conditions.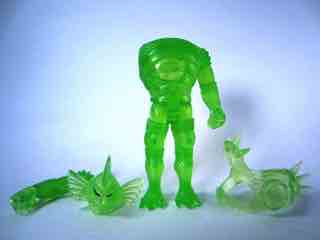 The figure has dozens if not hundreds of individually sculpted scales as well as a fishy mohawk along his head and giant, equally fishy ears. The creature feels like it came out of the more fanciful 1960s aquatic illustrations, or some sort of Amazon jungle beast. The original release came with a mace and no armor, so this one's addition of spare hands, a giant axe, a hefty shield, and the armor means more parts which means more cost. I don't mind extra gear, but I also couldn't help but think that I'd have been as happy with the figure, with less gear, for maybe $2 or $3 cheaper. It looks just as stunning without the extra stuff as he does with it - the armored-up version is a nice alternate look, but I think I almost prefer it without the extras. It's just such a wonderful figure that no matter which way you display it, it will look good.
This isn't to say the accessories are bad - they're as equally gorgeous. Colossus Rex' face appears on a giant spiked shield, and it looks stunning in the icy, clear blue plastic. The ABS shield and PVC grip fit perfectly on his arm, which is handy. The mace and axe also fit in the fists nicely, with the mace being not particularly impressive while the large axe will probably knock you on your butt. It has numerous points with a design which feels appropriately retro. It lacks the face on the other piece, but it still looks like a massive combat weapon from another time and place - like we wanted. Finally, his harness goes over his shoulder after you remove the head and arm. It's not a two-piece armor like Cyclops, so be careful when removing it.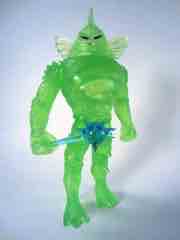 With 14 points of articulation and a grand total of 21 pieces to mix and match with the Glyos system as you see fit. The detail is better than anything else in the line, while the articulation is nothing particularly special. It's good, but by now it's also normal for this line. In the hours I've had him open, he hasn't fallen over or sagged like Cyclops so it seems the Horsmen decided to exceed their mandate and make something really above and beyond their previous figures from this line. As usual, there are no copyright markings or words on the figure but there are painted dark purple eyes. I assume I'll have 2-3 more of these by the new year, but I have a hard time imagining a better-looking clear color version of this character.
--Adam Pawlus
Additional Images
Additional Outer Space Men 2013 Alpha Phase SDCC Exclusive Images
| | |
| --- | --- |
| | |
| | |
| | Note: at SDCC 2013, the figures were packaged and distributed in the swapped boxes - so Gamma X, Jack Asteroid and Terra Firma came in a box with the characters Ohprometam, Colossus Rex, and Horroscope pictured on the front and vice-versa. |

Click here to see more Four Horsemen figures in Figure of the Day.

Click here to see more Outer Space Men figures in Figure of the Day.

Click here to see more Glyos Compatible figures in Figure of the Day.