Armorvor Infection
C2E2 / TheGodBeast 2013 Exclusive

Glyos Action Figures
Item No.: n/a
Manufacturer: Onell Design
Includes: Alternate helmet head, backpack
Action Feature: n/a
Retail: $10.00
Availability: April 26, 2013
Other: The Clear Red Repaint

PREVIOUS
RSS
NEXT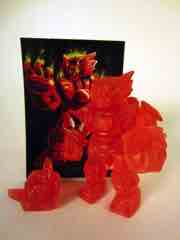 There's a prolific sculptor, molder, and maker of toys known as "TheGodBeast" who is best known for making very small runs of very impressive things. He's prototyped numerous designer toys, created fully-realized figures based on sketches from years earlier, and lately he's become particularly well-known in Glyos circles with custom heads and other parts. The Armorvor Infection has some nifty history behind it. Mr. Beast (also known as Marty Hansen) worked on the creation of this mold as the molder, with Jason Frailey having sculpted it and Matt Doughty having designed it. The "Infection" color has been used for numerous special-edition figures in the past as well as hand-cast resin pieces, plus the red just happens to match clear red Outer Space Men figures and a pair of recently released figures at Onell Design: a Crayboth, and an Exellis. Wow, that's a lot of exposition.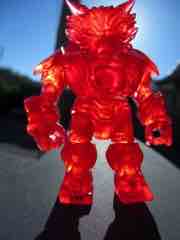 The 2 1/2-inch figure is the first-ever clear and not colorless Armorvor to be mass-produced in PVC, some hand-cast low-run versions were made in various colors earlier. It's also the first (and so far only) packaged figure - the other 9 Armorvor figures which have come so far were sold in clear, unmarked plastic baggies. This one has a header card stapled over a small zip lock bag with a trading card backer card with some awesome artwork by the great Nathan "Dork Dimension" Newell
Previous "Infection" figures were cast in a similar color of plastic, and Mr. Hansen often incorporated similarly awesome packaging and uniquely cast heads. At the show, he had other Glyos heads sold separately including a previously-unseen Rhinoceros head for the Armorvor body which will just kill you that it isn't a mass-produced piece.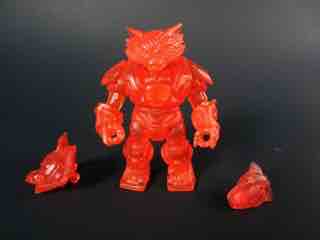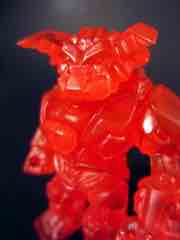 As the first-ever convention exclusive Armorvor (and perhaps the first Glyos figure to feature any convention exclusive markings of any kind), the clear red figure is a good and reasonable fit for a show. A fully-painted figure would be more likely to be demanded by more fans, and the clear red color is a familiar signature of a lot of Hansen's custom work, so why not give it to him to build off of in the future? The pieces fit together like you would expect, with an alternate head and backpack like any other standard release.
As far as I know it did not sell out at the show, but fans on eBay were shelling out huge sums of money for it within days. (This is, of course, normal with just about any convention exclusive before the market settles.) If you're a fanatic for Infection Glyos figures or want something to match your red Astro-Nautilus, Commander Comet, Cyclops, or Mystron this is a great pick. If you just want an Armorvor, well, any one is a good place to start if the price is right. In the right conditions the red really sings, but in my basement (where my toys live) the detail isn't as pronounced as on most of the other figures... minus the glow-in-the-dark one, of course. Get an Armorvor Infection if you can... and I hope this is one of very few times I ever encourage you to get an infection.
--Adam Pawlus
Additional Images


Click here to see more Onell Design figures in Figure of the Day.
Click here to see more Glyos Compatible figures in Figure of the Day.