Cyclops
The Man from Beyond the Milky Way

Outer Space Men Alpha Phase Comic-Con 2012 Exclusive
Item No.: n/a
Manufacturer: Four Horsemen
Includes: 2-piece helmet, flight cap, 2-piece armor, 2 blasters, alternate hands
Action Feature: n/a
Retail: $50.00 (sold as a set with yellow Gemini and pink Orbitron)
Availability: July 2012
Other: First release of Cyclops in this line

PREVIOUS
RSS
NEXT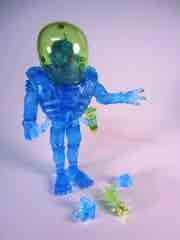 The tallest Glyos-compatible figure yet, Cylcops debuted in the summer of 2012 in this swell blue color. It matches similar Inferno, Alpha 7, Electron+, and Astro-Nautilus figures sold since 2010 and is part of a 3-figure, $50 set. That's a bit of an increase, but well, that's life. New tooling costs money and rising costs in China are going to make a lot of people remember the good old days when companies only charged six bucks for a figure. Towering over the other Outer Space Men, Cyclops also has the most gear with removable armor, a giant helmet, and swappable hands. This time around, the character had open hands or closed fists to carry his twin ray guns. It's an impressive specimen, although one that almost feels like it might collapse under its own weight.
Most Glyos figures come from the same factory in China (Banimon, Onell Design, Spy Monkey, etc.) and as such are cast from the same materials by the same people. This provides a sense of continuity. Most of the figures are also on the small side, ranging from about 1 1/2-inches to 4-inches high with few exceptions like Cyclops here, a hefty 5-inches tall without the helmet. He weighs a lot more too, and sometimes he'll sag as his heavy body causes him to lean forward on your display shelf. As such, be careful as you don't want him doing a nosedive. This is no fault of the designers, maintaining a consistent system like Glyos with the right tolerances is tough and, well, this is one of the more ambitious figures in terms of what it is and what it can do. Cast in blue, he's still good... but hardly exciting. But the painted one? Oh, that is supremely exciting, and we'll look at him shortly.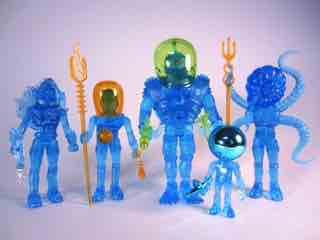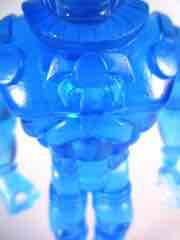 See that little head in the torso? It's like Pheyden. This little detail was present on the original prototype as well, but some eyes were added to bring out its Pheyden-ness. I love it. The bumpy armor looks like a mix of 1980s chic combined with quasi-gladitorial warriors, resulting in a pretty magnificent, if bizarre, giant figure. And you can store his guns in holsters if you like, making him (so far) unique in the line as this is the kind of normal action figure detail that Glyos figures don't normally get for one reason or another. Of course, this figure is a lot more expensive so it makes sense.
The size and detail on this figure make it worthy upgrade to the original character, minus the fact that the only paint is in his guns and on his big eye. The articulation and engineering are good, but it does show that the Glyos system may have limitations as we get into bigger, heavier figures. Be sure to add at least one Cyclops to your toybox, as it really does do a bang-up job of showing what a more deluxe figure in this style could look like. And then hope that another license or manufacturer tries to do something similar, a larger figure really does look magnificent. Just, you know, a little top-heavy.
--Adam Pawlus
Additional Images

Click here to see more Four Horsemen figures in Figure of the Day.

Click here to see more Outer Space Men figures in Figure of the Day.

Click here to see more Glyos Compatible figures in Figure of the Day.