Orbitron
The Man from Uranus

Outer Space Men Galactic Holiday Comic-Con 2012 Exclusive
Item No.: n/a
Manufacturer: Four Horsemen
Includes: Ray gun, star weapon
Action Feature: n/a
Retail: $50.00 (sold as a set with red Cyclops and clear colorless Orbitron)
Availability: December 2012
Other: Third release of Orbitron in this line, accessories come in green or red

PREVIOUS
RSS
NEXT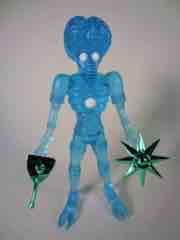 There were some pretty big price changes in 2012, and this version of Orbitron came out at the lower end of the wave near the end of the year. Heck, you could even get free shipping if you ordered at the right time! As the third clear Orbitron figure, one would think the mold was getting a little played out but one would be wrong. The figure sizzles in blue, and the opaque accessories look way better than the clear ones we're always getting.
Like all Galactic Holiday figures, this one annoyingly has a variant. Due to budget/sanity reasons I just get one of each figure and I wound up with vac-metal green accessories. Red are also available. (I'd still like to cast my vote for more silver.) The unusual weapons look fantastic, with the star being especially pointy and dangerous looking. His ray gun also looks fine, although it photographs oddly. They still look good and fit into his hands just fine, which is really all you can ask for these days.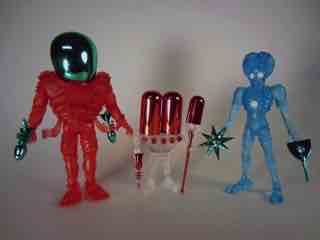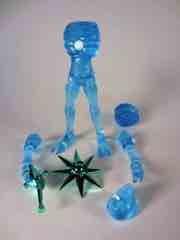 Unlike most other figures in this line, Orbitron has no extra pieces. There are no bent arms, spare helmets, or other bits to store and/or lose. He can hold everything all at once and because of that, causes me less anxiety.
This makes just about a half dozen blue Outer Space Men figures, and it's the third "Galactic Holiday" blue release. His white deco matches the other Galactic Holiday figures nicely, and the parts are easily swapped with most other Glyos figures. The biceps joints are the smaller Glyos peg as seen in the hands and feet of Gemini and Alpha 7. Your swapping options are, therefore, slightly more limited.
Just because of the big blue brain, you'll probably want this figure. It detaches from the head so you can pop it on other figures' necks, and the whole thing just looks pretty amazing. I can't say the green or red accessories sing to me, but the figure itself is about as good as they come. Orbitron is made from 14 blue plastic body parts, were you to dismember him and store his corpse in some sort of alien autopsy.
--Adam Pawlus
Additional Images

Click here to see more Four Horsemen figures in Figure of the Day.

Click here to see more Outer Space Men figures in Figure of the Day.

Click here to see more Glyos Compatible figures in Figure of the Day.