Catwoman
Crraack!

Batman Classic TV Series Action Figure
Item No.: Asst. Y9633 No. Y9639
Manufacturer: Mattel
Includes: Oversized retro trading card, display stand
Action Feature: n/a
Retail: $15.99-$19.99
Availability: October 2013
Other: Julie Newmar is Catwoman, as is Eartha Kitt and also Lee Meriweather

PREVIOUS
RSS
NEXT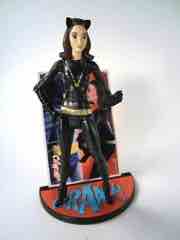 There are four villains that are basically required for production of any successful Batman action figure line, and this Catwoman rounds out the 1966 cast of baddies. Sort of. We have the Joker, the Penguin, and the Riddler, but Catwoman is famous for having been played by three separate actresses - is this the first of many? Probably not. Julie Newmar played her on the TV show, Lee Meriweather played her in the movie, and Eartha Kitt played her on the later episodes of the series. This one probably turned out better than the rest of the line, but her face does have that doll-like quality about it which I previously mentioned with the Penguin.
Measuring 6-inches tall, Catwoman looks taller courtesy of her slimming suit, shiny plastic, and high heels. The heels are articulated, too, so you can, uh, keep her standing I guess. The figure is easy to pose and the joints fade in nicely to the plastic, making this figure the best in the line, easily. The sculpt works nicely, the costume works well as an action figure.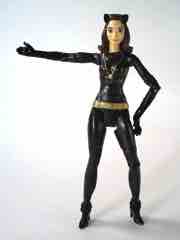 Catwoman's 20 points of articulation are probably enough to get any pose you'd like to replicate from the TV show. She won't be able to do as much in the way of high-kicking antics or acrobatics or whip cracking, but you could come up with something pretty close anyway. It's good, you'll like it.
Her face and make-up are close to the original, with the pointy eyebrows. I don't know much about the terms for these things but there's a little swoosh/sweep around her eyes in photos that are not present in the figure, and her waist is ridiculously tiny. The outfit is appropriately tight as well, giving you a full view of where her belly button would go, and of course a clean look at whatever junk she may be carrying in her trunk. By and large the figure works great, although the eyelashes look a little weird if you get close and squint. So don't do that. I see the same thing on a lot of dolls and girl figures in my line of work, since you can't exactly have actual lashes sticking out - you just paint them on the face. The illusion looks pretty good, but when they're a little separated from the eye it doesn't always work.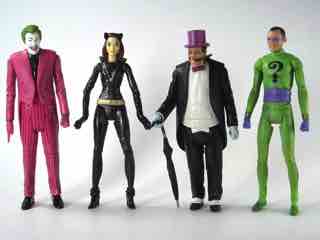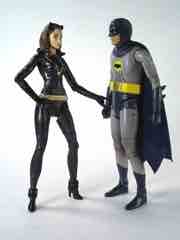 Mattel seems extremely fond of making one or two of its 6-inch figures per TV or movie line impossible to buy. I skipped the Dark Knight Rises line completely because I never saw an Alfred and didn't want an incomplete set. While the body type is clearly idealized and probably has a little more in the way of modern influence than the rest of the line, well, it's not like they would have difficulty selling it. I would strongly suggest buying this figure if the chance comes up, it's pretty fantastic and is going to look great on a shelf next to the rest of them. Or if you play with toys, you're going to like her, too.
--Adam Pawlus
Additional Images

Want to buy this figure? Check Batman availability at our sponsors:
Entertainment Earth

See more Batman figures in Figure of the Day:
Day 1: Funko Force 2.0 Comic-Con Exclusive Batman
Day 398: Kenner Batman: The Animated Series Clayface
Day 408: Kenner Legends of Batman Future Batman
Day 441: Kenner Batman: The Animated Series Harley Quinn
Day 443: Kenner Batman: The Animated Series Machine Gun Joker
Day 444: Kenner Batman: The Animated Movie Mask of the Phantasm Phantasm
Day 445: Ertl Batman Returns Penguin Commando Die-Cast Metal Figure
Day 446: Kenner Legends of Batman Knightquest Batman
Day 447: Mattel DC Universe Classics All-Stars Batman
Day 457: Kenner Batman: The Animated Series Ra's Al Ghul
Day 685: Mattel Hot Wheels Batmobile (Tim Burton, 2013)
Day 708: Mattel Hot Wheels Batman Live Batmobile
Day 714: Mattel Matchbox Batmobile Die-Cast Metal Vehicle
Day 735: Mattel Batman Classic TV Series Batman & Robin Action Figure Set
Day 740: Mattel Batman Classic TV Series The Penguin Action Figure
Day 742: Mattel Hot Wheels Batcopter Die-Cast Metal Vehicle
Day 756: Mattel Batman Classic TV Series The Joker Action Figure
Day 761: Mattel Batman Classic TV Series The Riddler Action Figure
Day 778: Mattel Batman Classic TV Series Batman Action Figure
Day 780: Mattel Batman Classic TV Series Catwoman Action Figure
Day 783: Mattel Batman Classic TV Series Surf's Up Batman Action Figure
Day 898: Mattel Batman Batman
Day 1.172: Mattel Batman The Joker
Day 1,197: Funko Batman Ice Freeze Batman Reject
Day 1,305: Funko Pop! DC Comics Super Heroes Orange Batman Vinyl Figure
Day 1,312: DC Collectibles Batman Tony Millionaire Batman Statue
Day 1,383: Mattel Hot Wheels Dawn of Justice Batmobile
Day 1,388: Bif Bang Pow! Peg Pals Batman Armored
Day 1,400: Funko Dorbz DC Comics Super Heroes Orange Batman Vinyl Figure
Day 1,512: Jakks Pacific Batman v. Superman: Dawn of Justice Jokers Wild Batman
Day 1,539: Mattel Batman v. Superman Mighty Minis Series 2 Silver Batman
Day 1,680: The LEGO Batman Movie Catman
Day 1,753: Funko 9POA Batman 1966 TV Series Batman and Robin Action Figures with Batmobile


Click here to see more Mattel figures in Figure of the Day.