Red Army Muscle Men
Matches OMFG, MUSCLE, etc.

Banimon Action Figures
Item No.: n/a
Manufacturer: Banimon
Includes: Alternate head, 2 guns, sword, backpack/head thing
Action Feature: 15 swappable parts
Retail: $6.00
Availability: October 2013
Other: Allow 2 weeks for delivery

PREVIOUS
RSS
NEXT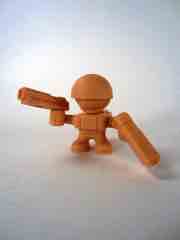 I've been trying to cut back on some recolors, but the Banimon Red Army Muscle Men were impossible to resist. They're roughly the same size and color as OMFG figures, which come out of the same factory. The unpainted pink figure has all the same parts as the previous release, with one big exception - the robot "face" has a large peg nose which is now removable. Assuming we ever get more Glyos-compatible nose pieces, you're in for a bunch of fun here.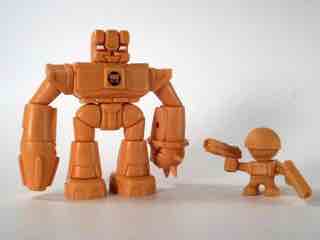 The style departs from the traditional Glyos a bit, in that the figure is smaller and has fewer moving parts. The panel lines aren't as pronounced, the grooves feel thinner and the design is a smidgen more cartoony. Matt Doughty engineered this guy well, with the heads accurately mimicking Boris Savic's nifty designs quite nicely. The figure is articulated at the waist, shoulders, and head and includes weapons which can be altered slightly to be used by your other action figures. It wouldn't surprise me if people bought these just to swipe the guns and sword for other Glyos figures, they're quite nice and the price ain't bad.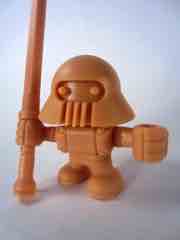 Previous Banimon releases had tampos or painted eyes, this has neither - the unpainted figure mimics the old Mattel MUSCLE mini-figures, except this is articulated and costs more. Rocket North dropped the price by a buck, but I went ahead and ordered two due to shipping charges.
My order also included a couple of bonus heads - a plain white Red Army head, and an "Apocalypse" Pheyden head. Oh, and a Rocket North sticker.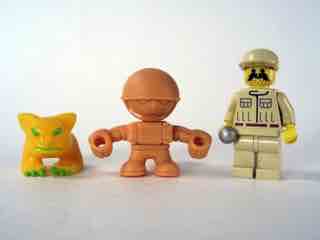 $6 is a lot for a figure of this size, but the high piece count makes it more or less worth it. I don't regret ordering mine, and as soon as I put him next to my OMFG figures I think I found his home. I doubt I'll be futzing with him much or swapping his parts around with other figures much after I finish this photo shoot, but he's fun to play with and will probably sit on my coffee table while I watch TV frequently, so I have something to do during commercials. Get one if you can, but I wouldn't suggest getting this one unless you're into MUSCLE, OMFG, or other minifigure lines.
--Adam Pawlus
Additional Images

See more Banimon figures in Figure of the Day:
Day 521: Banimon Red Army 51st Corps Action Figure
Day 612: Banimon Fire Eaters (Red Army Men) Action Figure
Day 800: Banimon Custom Corps Series 1 #11 Action Figure
Day 814: Banimon Red Army Muscle Men Action Figure
Day 1,134: Banimon Red Army T-011 Bunkerbuster Tank Vehicle

Click here to see more Glyos Compatible figures in Figure of the Day.