Ultra Mammoth
Year One, Figure #6

Transformers Timelines Club Exclusive
Item No.: Asst. 37986 No. A2377
Manufacturer: Hasbro
Includes: 2 rockets, 2 hooked projectiles
Action Feature: Transforms from mammoth to robot
Retail: $79.00
Availability: July 2013
Other: Year One, Figure #6

PREVIOUS
RSS
NEXT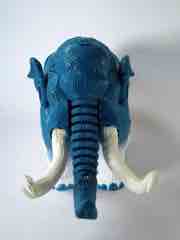 For various reasons I swore off Transformers Club exclusives around 2011, and a friend let me know that Ultra Mammoth was in stock, and that he was a member, and that I could order one. Damn him. This figure is a recolor of Big Convoy, a Japanese Beast Wars Neo toy I saw in the late 1990s as a prototype which convinced me I needed to collect Transformers again. How could I not? It was a big wooly mammoth that could turn into what was effectively the most baddest-ass Optimus Prime yet. The transformation was awkward, and the beast mode brick-like, but it was utterly charming. A chubby little furry mammoth, or bulked-up Optimus with built-in clubs and a Matrix? This is the best thing ever! I'm also a fan of Ultra Magnus, so when I saw this coming I wanted it - but David Willis' Ultra Mammoth comics in Shortpacked! nudged me over the edge. I had to have it, and as I write this the box has only been open for a few hours. I still like it. Oh, and in addition to Big Convoy, I also got the US Nemesis Prime recolor - I just love mammoths.
Oh - if he looks vaguely familiar there was a Lucky Draw Blue Big Convoy in Japan, limited to 10 pieces. It sells for around $2,000, which seems low given the run.
Packed out in mammoth mode, you'll note that converting him from the pachyderm to a robot is a snap - everything explodes out nicely, although a few panels tend to pop off (just like the previous releases.) The mammoth doesn't do a lot - if you move his ears, the tusks wiggle. If you pull back on the lever, his trunk curls up a bit. It's quite stiff, and my Big Convoy is similarly stiff. I hear some people say it has more give, I just got lucky. The snowy mammoth is molded in blue plastic with some white fur that looks like it has been covered in snow, which works nicely. Even in beast mode, this figure looks like a leftover from the 1990s - which, if you weren't there, was a glorious period of time where people didn't seem to care about Transformers as much, Hasbro and Takara were a smidgen more experimental, and the fiction went beyond "Optimus Prime has a new form, and some new friends, so let's watch him fight." It got weird, regularly, but it was also amazingly fun. (Having said that, the toys today are relatively cheaper and higher quality if you adjust for inflation.) Where was I? Right, transforming - mammoth to robot is a breeze. Robot to mammoth is deeply unpleasant.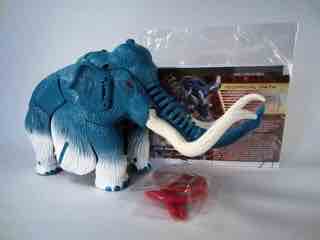 His giant gun - which includes a non-removable trunk and two launching projectiles - requires some massaging to get in his arms. It's also roughly 20% of his beast mode. It stores awkwardly on his back and greatly alters his center of gravity, so I'd suggest displaying it near him, not on him. If you have a spare weapon from another figure, or are holding out for BMOG, a smaller firearm may be a decent display option. You can also give him a chrome silver Matrix from his chest, which is a pretty neat little accessory. He also has two hook-firing cannons in the calf of each leg, and the rockets don't feel like the fit quite right - I'm having difficulty massaging the launchers back in to his Beast Mode while armed. My previous versions were not so quarrelsome.
The robot itself is wonderful. Over 20 points of articulation let him be posed in numerous ways as long as the mammoth kibble doesn't get in the way - he's covered in ball joints, which means some of those mammoth chunks are likely to pop off during play. Each forearm has a tonfa club hidden inside, but the furry panel covering them on my sample are much looser than on other Big Convoy samples I've seen. The chrome silver behind the Maximal symbol is gorgeous, and the figure is slathered in paint to make him look right - there's a red painted chest, the head is painted white, and you can tell the fan club made sure that this figure looked right for the nitpicky Magnus fan. The paint isn't too thick, and it matches nicely.
Due to his bulk and kibble, you won't be able to squeeze a ton of poses out of this guy - he's going to stand and look cool for you, and that's about it. He can look around, but if you've been spoiled by the Generations line then this mold from 1999 will likely not "wow" you too much. It is remarkable to see how a figure like this is loaded with articulation when compared to today's robots in disguise, but the shell of a beast mode and a few other shortcomings reveal that nothing's absolutely perfect. The Beast toys of the 1990s were really wonderful, and while not perfect it's hard not to love this guy.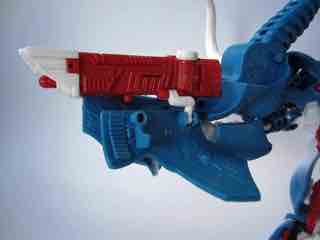 Is he worth the $79.00 (or $91 shipped) the club asked? Probably not. I also don't care - there are some toys that you see and you just gotta have, and this is one of them. Yes, he's awkward, and bulky, and covered in kibble... but when is the last time you bought a Maximal that wasn't a straight-up reissue of a character you already owned, or another Optimus Primal/Megatron? I'm voting with my dollars - I want more Beast Wars. We never got whales (micro doesn't count), nor guinea pigs, nor goldfish, nor... I could go on. There's not a lot of top-notch choices in the zoo left to cover, but I'd jump in for another round of Maximals and Predacons.
If you just want the mold, Big Convoy has been released a couple of times - Korea got a late-in-the-game reissue a few years ago, and even the original Japanese release goes for around $40 these days - that's pretty close to the original price in Japan. The US black Nemesis Prime toy (at press time) sells for $80-$130, and while I like it, I'd go with Ultra Mammoth as you approach $100. You'll have a never ending flow of black Optimus repaints, but as Ultra Magnus Beasts go, you may never see another one.
--Adam Pawlus
Additional Images


Click here to see more Hasbro figures in Figure of the Day.
Click here to see more Transformers figures in Figure of the Day.

Want to buy this figure? Check Transformers availability at our sponsors:
Entertainment Earth