Metamorpho
Whiter, Made of Clear Colorless Painted Plastic

Outer Space Men 2.0 Edition
Item No.: n/a
Manufacturer: Four Horsemen
Includes: Ray gun, other ray gun, bent arm, more figures
Action Feature: n/a
Retail: $50.00 (sold as a set with Inferno, Astro-Nautilus, and Xodiac)
Availability: Summer 2012
Other: Brings the total to 7 Metamorphos, 8 if you count weapon variants

PREVIOUS
RSS
NEXT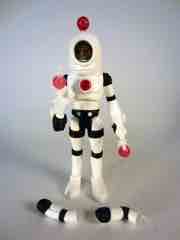 Thousands of years ago, series creator Mel Birnkrant posted on a forum that the original Metamorpho did not quite meet his expectations. He was hoping the figure's helmet would be cast in a translucent white color and suggested you swap the painted figure's helm with a glow-in-the-dark one to achieve the desired effect to allow more light in to help the face glow while inside the helmet. A tricky innovation, to be sure, but Mr. Birnkrant is quite the lightsmith when it comes to his toys. He knows what light can do to make them look better.
Two years later, he and the Four Horsemen have redecorated the figure with a similar, but different, take on letting more light in. For this release, the entire figure plus his accessories were cast in clear, colorless plastic and painted. The good news, it lets the original intent of clear pink weapons exist. Now they're painted pink, and they look better than ever. The good (?) news is that the figure is painted in a much whiter color than the light grey of the 2010 release, but as it's cast in clear colorless plastic some light can go through. Paint adds to the opacity, so it's a compromise between the aforementioned desires of a clear weapon and clearer helmet. I assume. I don't want to speak for the guy.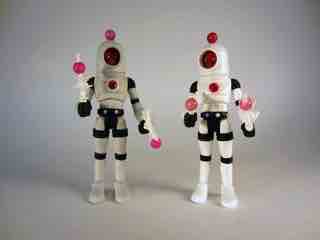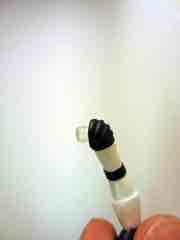 As long as your figure has a good paint job, this new one is arguably better. If there's a paint scrape, the clear plastic will be exposed and this can look a little wonky. The inside of my figure's helmet is scraped pretty good, plus the head-spinning mechanism seems to be stiff and won't spin as well as my many, many other Metamorpho figures. If this is your umpteenth Metamorpho it probably doesn't matter. However if it's your only one, well, you probably want it to be perfect, and while it looks pretty perfect the play action isn't as slick as the other ones I have. (As always your mileage may vary.)
As always, the figure is constructed with the Glyos system so you can swap parts between the OSM as well as Glyos, Callgrim, Banimon, Weaponeers of Monkaa, and other awesome toy lines for grown-ups. Its 3 3/4-inch scale means it's just the right size to hang out with your Star Wars and G.I. Joe figures plus it isn't really all that expensive given the lower edition size for collector-driven toys of this nature. $50 for 4 figures, sculpted by the Four Horsemen, fully-painted and packaged in 2012 is quite the deal. Sure, it could be better, but it's not like anyone is putting this level of work into refining a figure with such a specialized market. Get it if you like the design, but in some respects the 1.0 release is functionally a little better plus the 3 rotating heads inside the helmet look a smidgen sharper on my 1.0 sample. 2.0 is still, of course, plenty good and you can always swap between the two to create some sort of ultimate Metamorpho using whichever parts tickle your fancy. It's by no means as stunning an update as the new Inferno, but it's definitely different enough to be notable.
--Adam Pawlus
Additional Images

Click here to see more Four Horsemen figures in Figure of the Day.

Click here to see more Outer Space Men figures in Figure of the Day.

Click here to see more Glyos Compatible figures in Figure of the Day.