Alpha 11 (Alpha 7)
The Man from Mars

Outer Space Men Cosmic Creators Mel Birnkrant Edition TheOuterSpaceMen.com Exclusives
Item No.: n/a
Manufacturer: Four Horsemen
Includes: 2-piece helmet, rocket pack, bent arms, ray gun, 3 other figures
Action Feature: n/a
Retail: $80.00 (sold as a set with Fire and Ice Electron+, Red Devil Mystron, and Blue Angel Commander Comet)
Availability: July 19, 2013
Other: The Sixth (or seventh, counting accessory deco variants) Alpha 7

PREVIOUS
RSS
NEXT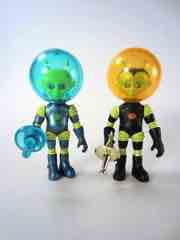 The idea behind the Outer Space Men Cosmic Creators Edition was seemingly new takes on the existing figures, but the funny thing is that Alpha 11 (Alpha 7) is an actual, unrealized vintage concept. Mel Birnkrant posted his shots of the original, which gives it a Mickey Mouse-esque head and a super-cool "Star Hopper" vehicle that I would really love to have had included with this new release. Instead, we get the 2011 Alpha 7 with new paint, which isn't a bad thing.
Cast in clear plastic, this little green man is painted in metallic colors to really make him pop. He looks like he could be Alpha 7's next door neighbor, and I would wager it's a rich neighbor since he now has a golden gun. (That or he's here to kill James Bond.) Click here to see thoughts on the mold, which is largely pretty good except for some challenges holding his weapon (open hands rather than closed fists) and the leg movement, which I frankly don't care for. The whole "v-crotch" thing doesn't work well for me. As a more expensive repaint, it's less about the engineering than it is about the deco and dadgummit, it looks cool.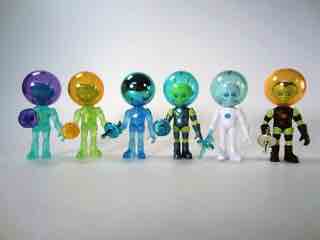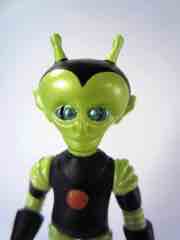 As the smallest figure in the line, it's a little tougher to get really excited about it other than the nonstalgia kick - it's a thing you want that you never knew didn't exist. Made of about 15 parts, the figure has an ethereal glow to it courtesy of the metallic paint over a clear colorless plastic body. It also fits right in with the other figures on the shelf, and looking at it - just from a size perspective - it's a little unfortunate Alphas 7 and 11 weren't initially sold as a two-pack.
His ray gun is now metallic gold, vac-metal rather than the dull finish seen in early product shots. It's pretty fantastic. The two-piece helmet is a bright orange, and depending on how you light it under black light it glows and almost goes opaque. It's rather impressive and quite bright. I found the helmet harder to pry open than previous Alpha 7 releases, but it could just be my sample.
I really like the design and the painted figures in this line in general, although we do seem to be in a point of diminishing returns where we have figures like these - a little more expensive, but imaginative and generally pleasant to look at - next to solid white figures that don't quite provide the same bang for the buck. At $20 (as 1 of 4 figures in an $80 set) it's not exactly a bargain, but the limited run of 200 pieces may be enough to warrant interest down the road when combined with the fact that it's the only Cosmic Creators figure to have some weighty history behind it so far. With only a couple of painted Alpha 7 figures on the market right now, I figure people will kick themselves in a few years when they realized they missed this one - assuming the final few units sell out, as there have been 12 Cosmic Creators figures to date and all 8 of the 2012 ones were available over a year after release.
--Adam Pawlus
Additional Images
Additional Outer Space Men 2013 TheOuterSpaceMen.com Exclusive Cosmic Creators Mel Birnkrant Edition Images

Click here to see more Four Horsemen figures in Figure of the Day.

Click here to see more Outer Space Men figures in Figure of the Day.

Click here to see more Glyos Compatible figures in Figure of the Day.