Star Legions Land Rovers featuring Lt. Rob-Bart
Build a Universe of Battle Machines!

Legions of Power Construction Sets
Item No.: No. 8110
Manufacturer: Tonka
Includes: Lt. Rob-Bart, Trooper, 40 total parts
Action Feature: Rebuild vehicle
Retail: $9.99 (estimated)
Availability: ca. 1986
Other: 5 different models are shown on the packaging

PREVIOUS
RSS
NEXT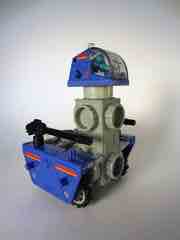 The Star Legions Land Rovers featuring Lt. Rob-Bart is pretty cool in the sense that it provides a ton of history in one quick shot. For example, Tonka used to be its own company and was not always a wholly-owned subsidiary of Hasbro. There was a period in the 1980s where the whole action figure market evolved with an emphasis on the vehicle and away from the figure, although much of the early major successes in the 3 3/4-inch lines were thanks in part to the strong vehicles and playsets. At a hair over 1 1/4-inches tall, Lt. Rob-Bart is pretty tiny but he held up quite well. Numerous lines were made along a similar pattern, like M.A.S.K., Dino-Riders, and StarCom but the reconfigurable nature of this line was unique and the names of the humans and bad guys were terminally stupid. Rob-Bart, Jeffron, Lt. P.C.... this is 1980s toy marketing schlock at its finest.
The backstory is basically this: humans (Prolon/Star Protectors) have fancy technology that can be used to explore or make war machines. The evil Commander Wartech of the Tech Dynasty (planet Konn) gets some of these parts when they're dropped over his planet and now he wants control over the galaxy or something. And now, they fight. That's the 1980s and late Cold War-era toys in a nutshell: good guys vs. bad guys, locked in an ideological stalemate for eternity, and sometimes some other poor sap will get sucked in to the conflict.
A mystery behind this line is that the parts were sometimes labeled "MADE IN JAPAN BANDAI 1985," and I have been unable to find if Tonka just licensed an existing toy line or if this was somehow developed for Tonka by BanDai or what. I asked around and it appears that the answer is PLEX, a legendary Japanese design team known mostly by not being known, but who was responsible for numerous Power Rangers toys as well as goodies from other lines. As far as the US market was concerned, it was just another toy line and it performed below par, being unceremoniously dumped at half price (or cheaper) at the Lionel PlayWorlds and other toy stores which are sadly no longer with us. This is something of a shame, because the toys were well-made and nearly 25 years later they seem to be in pretty good shape. The bulk of the pieces haven't discolored, the stickers are all still sticking, and the rubber tires haven't yet cracked. I've had a few Transformers with rubber tires that didn't even survive a decade.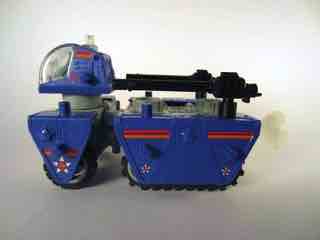 "Star Legions Land Rovers" was more of a construction kit than a specific model. The set shares parts with the bulk of the rest of the line, but the instruction sheet gives kids numerous modes to build out of the simple blue, grey, black, and glow-in-the-dark parts. The idea is similar to LEGO, except you build a grey core with things like wheel spokes and body pieces, and then add a blue cockpit with blue armor panels. After that, slap on some guns or glow-in-the-dark pieces, and you're good to go! I was not fully able to comprehend the purpose of the glow-in-the-dark funnels and lumps, but I like things that glow. They're very cool.
Other than the figure, the entire set comes unpainted. Deco comes from a sticker sheet, and here's the interesting thing: the painting on the front of the box shows a totally different batch of stickers, as do the product photographs. I'd love to know why these were changed, or if anyone got the other styles. The final release of this set had sort of goofy star designs with the bulk of stickers being red, orange, and white.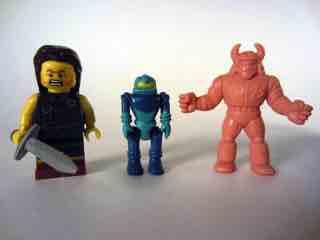 Construction is quick and easy, with only 2 kinds of connection points used. A smaller, 5mm system is very close in size to what has been used with Transformers Mini-Cons and weapons, but the two won't match. Larger connection points are closer to 4/5 of an inch, and the amazing thing is how smoothly the pieces fit together. You don't need to use your teeth or brute force to get things apart, and none of them are remotely loose. I've experienced no broken parts, and I have to say you do feel like something of a bigshot when getting the tank treads on the wheels. The play value here is incredibly high, because you can rip it apart and start over to build another vehicle. One looks like a bug, one sort of looks like a snow plow, and the "search mode" reminded me of a dinosaur... but to be fair, at that age, pretty much everything did.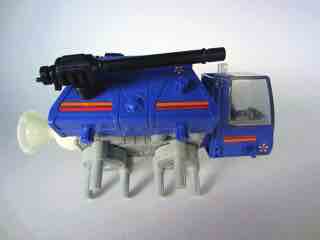 The set feels older than most action figure lines of its era, as the coloring almost feels like a 1970s throwback and the figure seems vaguely similar to Jason of Blaster Master fame. The green-helmeted main guy can stand, sit, and raise his arms but has no real accessories or action of his own. He is the accessory, and the puffy space man really does still look neat all of those years later. The sculpting is good but not remarkable, memorable mostly because he feels derivative of so many video games and cartoons of the era. It's adorable, but you probably wouldn't shell out fifty cents to buy one out of a gumball machine. Heck, I don't even know if I would.
Like most StarCom and quite a few other toy lines of this era, this was a dud that helped to pave the way of nearly every new toy line requiring a license - a few modern toy lines were initially pitched as a license-free concept, only to have Marvel or Star Wars slapped on it so buyers for stores would give it a second look. Sealed or complete with box samples of this set should be $10 or under before shipping, although a few samples have gone as high as $40. Don't pay $40. The entire line is roughly a dozen boxed sets and one mail-in offer, none of which are particularly expensive. I no longer have my boxes, but they had gorgeous painted art on the fronts. I had a lot of fun with these as a kid and was fairly aware that it was a clearanced-out dead toy line, and I'm pretty glad I saved most of them and have found most of the parts. I don't know if this would be inspiring to new toymakers or collectors, but it sure made me happy to pull these out of my archives to share with all of you.
Toy fans, a fun historical footnote: Hasbro tried to relaunch a similar toy line in 2012 with Star Wars Amp'd, with slightly larger figures and licensed characters spanning the movies and The Clone Wars. It got as far as the packaged sample stage, but it has yet to see release and it probably never will. Perhaps it was too similar to LEGO, but hey, we'll always have Legions of Power.
--Adam Pawlus
Additional Images

See more Legions of Power figures in Figure of the Day:
Day 679: Tonka Legions of Power Star Legions Land Rovers featuring Lt. Rob-Bart

See more Tonka figures in Figure of the Day:
Day 487: Tonka Go-Bots Breez Action Figure
Day 679: Tonka Legions of Power Star Legions Land Rovers featuring Lt. Rob-Bart
Day 967: Tonka Go-Bots Turbo Action Figure
Day 2,301: Tonka GoBots Road Ranger Action Figure