Sonesidar Mimic Armorvor
Brown fur, Orange armor, Green visor

Glyos Action Figures
Item No.: n/a
Manufacturer: Onell Design
Includes: Alternate helmet head, backpack
Action Feature: n/a
Retail: $8.00
Availability: February 1, 2013
Other: The Bright Orange Repaint

PREVIOUS
RSS
NEXT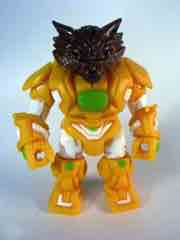 Armorvors sell out fast, always. At 2 per customer, the Sonesidar Mimic Armorvor sold out rather quickly - I waited a while to write this review so I forget exactly how long, but I know it was under 20 minutes. It was part of the "Operation Sonesidar" series, which was the first series of 2013 which was inspired by the classic Fisher-Price Adventure People action figure line. The bright colors are evocative of the 1970s-1980s line, and this guy matches the driver of the Alpha Star vehicle which I had as a kid. As such, I'm biased - and I like this a lot.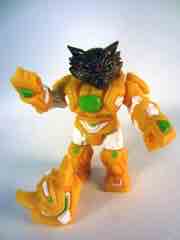 As always, the 2 1/2-inch figure is made of 18 pieces which pop apart at each joint. This figure was the eighth Armorvor to get an official release, and as of when I write this at least 10 known releases exist (not counting prototypes, hand-casts, and customs). Bright green and white paint decorate an orange plastic body, and the head has brown painted fur with a grey painted neck. It's easily the brightest Armovor money can buy, and as such it looks right at home next to a number of vintage 1980s Battle Beasts action figures. In terms of color, anyway. He's obviously much larger.
The Sonesidar Mimic version of the Armorvor has a layout similar to the Verexxan or Venjorun versions. The black core (and other details) are now green, with the body accents white. The same color template has been used for numerous figures with the colors swapped out, and they always look great.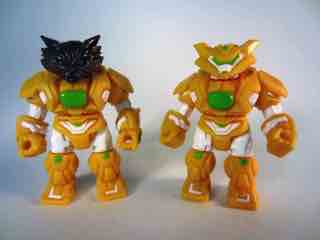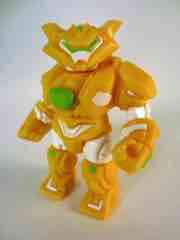 If you read the other reviews, you know what to expect - this one is no different. The helmeted head has a "wolf" and "dog" face when you spin it around, sort of like the Power Lords toys of old. This can be removed and replaced with a wolf head or pretty much any Glyos-compatible piece, as the peg fits in the neck and you could cram an arm in there if you really wanted to. I don't want to, but you could. The backpack makes a swell alternate robot head, too.
These figures are chunky, durable, and fun - for $8 you probably can do no better as designer toys go, because Matt Doughty and his crew at Onell Design and beyond engineered a figure that's actually fun to play with. It's not terribly cheap on eBay, but if you just want an Armorvor to play with realize that they're all pretty much the same figure in new colors. They're all good for different reasons, and while I adore this one I can't say he's actually more fun than the rest. He is sufficiently oranger, though, and that makes him a real winner. Get one if you can!
--Adam Pawlus
Additional Images


Click here to see more Onell Design figures in Figure of the Day.
Click here to see more Glyos Compatible figures in Figure of the Day.