Genesis Edition
Debut Edition

Robo Force Debut Action Figure
Item No.: n/a
Manufacturer: ToyFinity
Includes: 41 pieces, including guns, alternate heads, and knives
Action Feature: n/a
Retail: $15.00
Availability: October 27, 2013
Other: NYCC got an unpainted version, online we got a version with a few black highlights

PREVIOUS
RSS
NEXT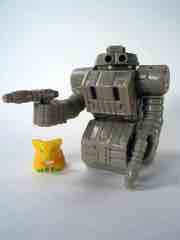 The Genesis Edition of the Robo Force line is something of a surprise, as I do not believe there were many people who love the 1980s line of Pepsi cans with huggable arms and also expected them to make a return to the toy world. Ideal ran this line and it had some nice toys in it, but it ran its course quickly and went into the wood chipper of time. ToyFinity snagged the rights to the brand, along with many others, which brings us to today. Long gun is the suction cup and huggable arms. Instead, we have tank treads which may be swapped for full legs, changing the figure from a scooting 3-inch figure to a towering PVC creation of roughly 4 1/4-inches in height. Also, the figure ships to you as Maxx Zero (the new name of Maxx Steele, thanks for nothing Mattel) but has sufficient parts to create Hun-Dred plus a head for Enemy the Dictator. (Did I mention this line had preposterous names?)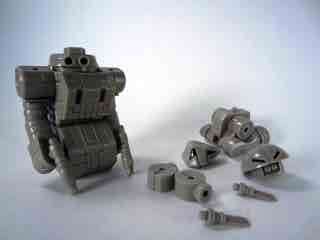 Despite being under the ToyFinity brand, this toy was engineered by Glyos poobah Matt Doughty of Onell Design. His fingerprints are all over the line, as his toy DNA shows multiple heads, parts with numerous uses, and an astonishing number of alternate models built into this set. His most famous creation, Pheyden, usually has about 13 parts and was described as a sort of an action figure LEGO set. That description much better fits this release just because of the sheer number of options at a reasonably low price. I have to assume this is an introductory price because with more paint (and frankly, labor and materials) $15 seems relatively cheap.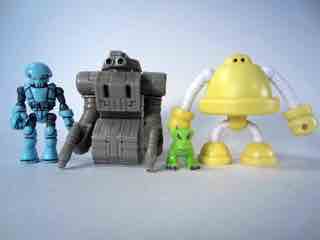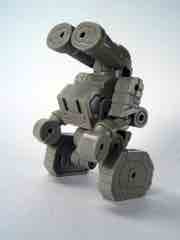 By default, the figure is Maxx Zero. The canister shape has been modified to a boxy shape not unlike Tomy's 1980s toy robots, with a form that mimics the original toy. You can dismantle the figure at numerous spots, and action/play features have been sacrificed for enhanced customization potential. My main interests as a toy fan are to get something that's fun to play with, and while this figure offers limitless creation possibilities it's the sort of thing that may trip any compulsions you have about retaining the figure's original form. After getting it, I had a tough time bringing myself to rip it apart to try some of the alternate builds (thank you for them Matt Doughty) which you will see below. If you don't like Maxx, how about Zoids Iron Kong? Or Wall-E? Or anything you can think up? I'm seeing people make wonderful mini vehicles for their Glyan figures, too.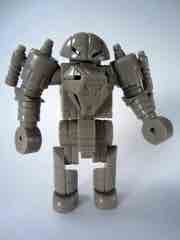 While it is fun to make new things out of these parts, the same limitation always rears its head. Sore fingers await you after extended building, as the pieces do fit tightly together while allowing for movement. It's both a blessing and a curse - you can pose these things to your liking, but it's easy to knock a panel askew when putting your creation back on a shelf. Simpler figures like Gobon or Pheyden have less to move around, while Maxx Zero has numerous elements which can be placed out of whack if you weren't careful. You don't need me to tell you this, but this is a figure more suited to adult fans of 1980s toys than today's young male buyer.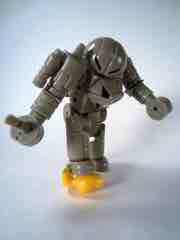 Maxx has articulated arms with 5 joints each - not including the shoulder touching the body. He can also be positioned at the neck and waist, and if you add legs he's got bending knees and swivel ankles too. Considering the original figure wasn't capable of too much movement, it's quite impressive to see a downsized upgrade such as this one. While some may lament his lack of a suction cup, well, who can say they were really surprised?

I don't believe I've seen a proper Hun-Dred build yet, but you can forge one out of the parts in this set while we wait. The claw hands, knives, and alternate head should make it easy with the head being of particular interest. There are two faces on the dome, plus a second piece that can go under the head to provide the mouth guns. It simulates the look of the original toy while updating it a bit.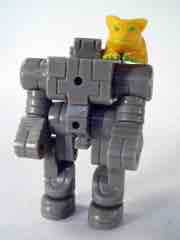 While Outer Space Men and Power Lords sought to recreate the original toys in a visually similar way alongside numerous repaints, Robo Force is shaping up to be more of a reimagining. There are certain elements of these characters which have been retained, so it's strange to think that in many respects Maxx got the same kind of rethinking that Batman gets every few years. His head and chest are unquestionably similar, while the arms are close and the lower body is something new. I look forward to seeing painted releases in the future, especially in vintage toy colors should that come to pass. I find the grey color incredibly drab, so if you missed this one consider it a mixed blessing. This figure is so nifty that it no doubt hurts to wait until December for the next release, but at the same time you may be getting a more interesting hue.
What this figure represents in the grand scheme of things is quite interesting - ToyFinity just up and grabbed much of Ideal's catalog of brands, and with these very small runs we're seeing 1980s toy nostalgia being mined even deeper than before. There are many brands we haven't seen given a proper comeback yet, many of which will no doubt remain in the history books. Along with the Mordles, ToyFinity's acquisition of Robo Force proves fans can obtain a toy line and direct its future on a small scale. What does this mean for the future? I have no idea - but I wouldn't be surprised to see more lines like this one in a few years.
--Adam Pawlus
Additional Images

See more ToyFinity in Figure of the Day:
Day 680: ToyFinity Mordles Crawler (Blue) Mini-Figures
Day 690: ToyFinity Mordles Standard Edition (Yellow) Mini-Figures
Day 733: ToyFinity Mordles Solar Storm (Hot Pink) Mini-Figures
Day 787: ToyFinity Mordles Club Mordle Packet Mini-Figures
Day 790: ToyFinity Robo Force Genesis Edition Action Figure
Day 794: ToyFinity Mordles Rampaging Storm Edition (Green) Mini-Figures
Day 798: ToyFinity Mordles Imbalance of Blood Vinyl Figure
Day 859: ToyFinity Mordles Geihoza Vinyl Figure
Day 896: ToyFinity Mordles Quinhozs Vinyl Figure
Day 941: ToyFinity Mordles Geist Mordles
Day 975: ToyFinity Mordles EGD Vinyl Figure
Day 1,026: ToyFinity Mordles Night Mordle Vinyl Figure
Day 1,105: ToyFinity Robo Force Basic Edition Action Figure
Day 1,124: ToyFinity Mordles Electra-Geist Mordles
Day 1,152: ToyFinity Mordles Deluxe Flesh with OMFG Logo Mordles
Day 1,168: ToyFinity Mordles Club Mordle Packet

See more Robo Force in Figure of the Day:
Day 790: ToyFinity Robo Force Genesis Edition Action Figure
Day 1,105: ToyFinity Robo Force Basic Edition Action Figure

Click here to see more Glyos Compatible figures in Figure of the Day.