Club Mordle Packet
Year 2 Kit

Mordles Fan Club Kit
Item No.: n/a
Manufacturer: ToyFinity
Includes: Promo card (2), comic, membership card, checklist card, certificate
Action Feature: n/a
Retail: $20.00 or $12.00 for renewing members
Availability: June 2014 (on-sale), February 2015 (delivered)
Other: Pretty Blah

PREVIOUS
RSS
NEXT

The first one of these was a pleasant surprise, but year 2 for the Club Mordle Packet is pretty much just what you see here. The first year under-promised and over delivered, on time to boot. Year two was promised in September and didn't deliver on new molds or even all that many new colorways of the existing molds. If you got year 1, it looks a lot like a slightly more plump version of year 2.
With no Vision Mordle (we got some with our Club merchandise orders, though) the most interesting pieces here are the Comic Book and the trading card. The comic book is basically remixed content from the web site with a few hints as to what may come next from ToyFinity. You'll flip through it in about two minutes and it's mostly ads for other products. There's a "color in Maxx!" page as well, so it really doesn't add much to the whole Mordles mythos and there are still no rocks or bugs to speak of in the fiction or the toy line. Basically if you've been reading the fun and endearing comics on the web site, you've seen all of what the comic has to offer - and then some.
The Trading Card (of which I got two, I don't know if this was a fluke) is my favorite part of the set. As a promotional item you'd get for free at a convention, you wouldn't think much of it - as part of a package it takes on a little more significance. The look and feel is perfect - that chipboard stock of old trading cards has been replicated nicely, with a cardstock that is like what Topps gave you with a stick of gum. The art is really nice, plus it has a swell story that gives you more to go on than the comic book. (Apparently the Manglors are mutated Mordles!) It's a neat and novel piece, which promises 55 cards and 11 stickers. If each card has as much meat as this promo card, this set will arguably be more interesting than the bulk of Glyos-related comics from all parties over the past several years. As a mechanism to get me excited about things, the promo card is working.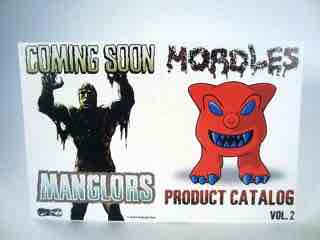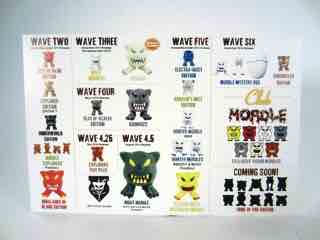 The Checklist Card keeps us up to date on the new colors available now - and it's pretty up-to-date as of the last one. Since the first checklist came out early in year one, this one has everything else from year one as well as some year two stuff - I hope there's more to come as we haven't had any new molds yet. The card shows some promo items plus teases that Manglors are coming soon. It also teases the Tribe of Fire packet which just went out to club members, and shows just how much stuff (that is, not much stuff) we got between 2014 and 2015 so far.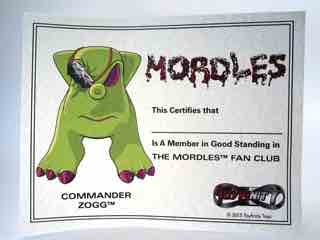 A Club Mordle Membership Certificate rounds out the set, featuring the green Commander Zogg with an eyepatch. He must have had a rough year.
Not shown here are various Vision Mordles peppered in orders throughout the year, which are a neat extra - easily worth the money if you placed regular orders.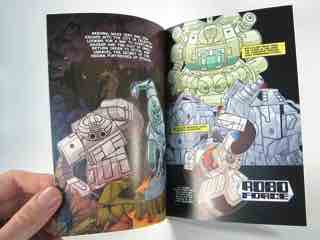 Was it worth the $12-$20? Sort of - I'm glad I got that big green Mordle. If you're an all-in collector, there haven't been all that many releases so the "get to order it first!" benefit is pretty worthless other than the Night Mordle which, as far as I know, didn't sell online outside the club. The Vision Mordles are awesome and welcome, plus we're all subsidizing this line. The packet itself isn't really $12 worth of fun stuff as there were few mailings and some things - like the Mordle color vote - that haven't come to fruition yet.
The first club packet was clever and cute (and includes the same membership card as this set - not shown here). With nice cheap extras like stickers to keep it exciting, it was a nice little mailing. Getting the first Vision Mordle in the box made a big difference, simply because you had something to dwell on inside the box. Here, well, they could have kept the packets for a few more months and I don't think I'd have missed it.
--Adam Pawlus

See more ToyFinity in Figure of the Day:
Day 680: ToyFinity Mordles Crawler (Blue) Mini-Figures
Day 690: ToyFinity Mordles Standard Edition (Yellow) Mini-Figures
Day 733: ToyFinity Mordles Solar Storm (Hot Pink) Mini-Figures
Day 787: ToyFinity Mordles Club Mordle Packet Mini-Figures
Day 790: ToyFinity Robo Force Genesis Edition Action Figure
Day 794: ToyFinity Mordles Rampaging Storm Edition (Green) Mini-Figures
Day 798: ToyFinity Mordles Imbalance of Blood Vinyl Figure
Day 859: ToyFinity Mordles Geihoza Vinyl Figure
Day 896: ToyFinity Mordles Quinhozs Vinyl Figure
Day 941: ToyFinity Mordles Geist Mordles
Day 975: ToyFinity Mordles EGD Vinyl Figure
Day 1,026: ToyFinity Mordles Night Mordle Vinyl Figure
Day 1,105: ToyFinity Robo Force Basic Edition Action Figure
Day 1,124: ToyFinity Mordles Electra-Geist Mordles
Day 1,152: ToyFinity Mordles Deluxe Flesh with OMFG Logo Mordles
Day 1,168: ToyFinity Mordles Club Mordle Packet

See more Mordles and Rocks and Bugs and Things in Figure of the Day:
Day 680: ToyFinity Mordles Crawler (Blue) Mini-Figures
Day 690: ToyFinity Mordles Standard Edition (Yellow) Mini-Figures
Day 733: ToyFinity Mordles Solar Storm (Hot Pink) Mini-Figures
Day 787: ToyFinity Mordles Club Mordle Packet Mini-Figures
Day 794: ToyFinity Mordles Rampaging Storm Edition (Green) Mini-Figures
Day 798: ToyFinity Mordles Imbalance of Blood Vinyl Figure
Day 859: ToyFinity Mordles Geihoza Vinyl Figure
Day 896: ToyFinity Mordles Quinhozs Vinyl Figure
Day 941: ToyFinity Mordles Geist Mordles
Day 975: ToyFinity Mordles EGD Vinyl Figure
Day 1,026: ToyFinity Mordles Night Mordle Vinyl Figure
Day 1,124: ToyFinity Mordles Electra-Geist Mordles
Day 1,152: ToyFinity Mordles Deluxe Flesh with OMFG Logo Mordles
Day 1,168: ToyFinity Mordles Club Mordle Packet