Grand Scourge
Decepticon Dark Commander

Transformers Unite Warriors e-Hobby Exclusive
Item No.: No. n/a
Manufacturer: Takara-Tomy
Includes: Comic book, large sword, purple guns
Action Feature: Changes from robot to truck
Retail: 7,800 yen (or $65-$95 at importers)
Availability: September 2015
Other: Recolor of Optimus Prime

PREVIOUS
RSS
NEXT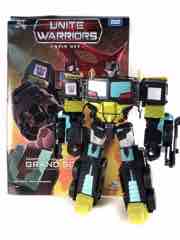 I actually thought I canceled my order for Grand Scourge at HobbyLink Japan but that was not the case - my heart sank when I saw the credit card charge notice, because the surge in other exclusive Combiner Wars sets meant I was no longer going to be complete on the line's various molds. I didn't really need another Combiner Wars Optimus Prime, even if it is a super-cool black repaint. This toy was announced for the Japanese market before they got a version of Convoy or Optimus Prime, making it a little more interesting. Even with Japan's higher retail prices, it's still quite a mark-up. I'd be lying if I said it felt like a good deal, but it's almost a good deal with the paint, the comic, and the sword. It's worth noting the Matrix Breaker Sword is a recolor of Ultimate Beast Hunter Optimus Prime's bladed weapon, complete with sharp edges that also look something like motion lines.
The toy itself is exactly the same mold you got before - possibly more than once. Grand Scourge shares parts with Motormaster as well as Optimus Prime and the white Battle Core Optimus Prime, so you might have four torso combiner trucks by now. According to the comic, Grand Scourge is an interdimensional Matrix Bearer Slayer who pops into "our" reality and crushes Menasor, stealing his car limbs for his own. The comic is translated about as poorly as you could hope for, leading to one of the grand gems in toy fiction when Megatron says "You... made a fool of Megatron, of all people. You'll pay for this, dude!" Grand Scourge is a super-powerful entity befitting a high-priced collectible, but functions the same as your other toys based on this mold.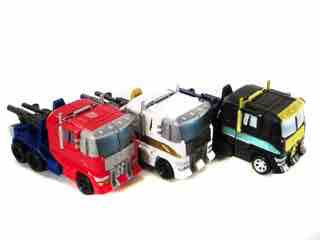 The red plastic is now black, the silver trim is now gold. More windows are painted, as are Optimus' headlights and hubcaps. A few cents on paint goes a long way toward making a good figure look better, and it certainly looks like a better overall toy. The purple guns mount to the back of the truck, and the sword can mount to the guns - it works out quite nicely. The sword itself is textured differently than the version that came with Arcee earlier this year, and I don't have a frame of reference handy for the original use of this mold - so for all I know, Arcee's is the odd one out. Grand Scourge can easily hold his weapons, although getting the sword in the first can be a bit of a squeeze.
My one deco complaint is the sticker quality. While Takara-Tomy do provide four labels for his blank shoulders - all-white, Blendtron, Decepticon, and Combatron (upside-down G2 Autobot) they're a little thin - you can see through the white paper pretty easily. If I over pay for an expensive collector's figure, I would like to think the label quality should be at least as good as whatever the Sticker Guy does - it's a little disappointing. I do appreciate that we got some options, though, and I was supremely tempted to use the Combatron insignia instead of the default Decepticon look.
Transformation from truck to robot is a snap, as you've no doubt done it a few times now. The toy also has a grand combiner torso mode, with tons of extra paint on the inside of his chest to make him look like the black redeco of Grand Convoy that exists primarily as a small model kit from Transformers SuperLink, Japan's Energon line. The sculpted details in the mold match Grand Convoy/Grand Scourge from 10 years ago quite nicely, really all we're missing is the matching limb set. This mode also shows a big fear of mine - gold plastic. We're told that Gold Plastic Syndrome is something Hasbro knows about and claims won't be happening again, but we've seen other manufacturers find new and interesting ways for their toys to decay prematurely on us. I'm still a little worried this toy may be rendered unplayable in a few years, but maybe everything will be OK. Granted, I was not raised to believe that everything will ever be OK.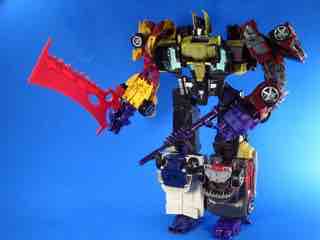 According to the pack-in comic - six pages of story - this character is a big enough threat to our Optimus and Megatron that they both realize he needs to be taken down after Superion and Menasor are slaughtered in short order. That's pretty much all that happens - it's a classic character introduction story, where we meet someone new and they're seemingly unstoppable perfect entities. If you watched Armada and Energon you probably saw this trope a bunch. And if you recall other e-Hobby toys with comics, you'll probably also never see Unite Warriors Grand Scourge in the fiction in this form again.
Since Hasbro used the same sword mold with gorgeous paint in its own Combiner Hunters Comic-Con exclusive with three toys and three big weapons for about the same price, this one robot with one unpainted bonus weapon feels like something of a turkey. The comic is a nice bonus, and the box art is gorgeous, but it's still a $70 repaint of a $20-$25 toy. If it were a $40 exclusive at Comic-Con in the US I suspect there would be much complaining, so even though I do like this item I will not deny that even at the discount price of $65 I paid for mine feels like too much. I've got a lot of black repaints - I suspect I will also buy more of them - but I can't say I feel this provides the kind of value I got out of the Legends toys in the main line.
--Adam Pawlus
Additional Images

See more Takara-Tomy figures in Figure of the Day:
Day 180: Takara-Tomy Transformers Animated Ironhide (Bulkhead) Key Chain
Day 435: Takara-Tomy Transformers Prime Gacha Arms Micron Optimus Prime Blaster
Day 476: Takara-Tomy Transformers Prime Bumblebee Sword Action Figure
Day 495: Takara-Tomy Beast Saga Raioga Action Figure
Day 529: Takara-Tomy Beast Saga Kingdom of Sea Death Action Figure Set
Day 534: Takara-Tomy Beast Saga Dolphin Burst Action Figure
Day 540: Takara-Tomy Beast Saga Kingdom of Gloria Action Figure Set
Day 544: Takara-Tomy Beast Saga Aldyle Action Figure
Day 549: Takara-Tomy Beast Saga Dorfan Action Figure
Day 551: Takara-Tomy Beast Saga Eledram Elephant Action Figure
Day 564: Takara-Tomy Beast Saga DX Starter Set Action Figure Set
Day 568: Takara-Tomy Beast Saga Tarlock Action Figure
Day 573: Takara-Tomy Beast Saga Long Giraf Action Figure
Day 579: Takara-Tomy Beast Saga Garrison G Action Figure
Day 580: Takara-Tomy Beast Saga GachaBooster General Hawk Knight Action Figure
Day 585: Takara-Tomy Beast Saga Beast Machines Sky Darling Vehicle
Day 586: Takara-Tomy Beast Saga Killer Shark Burst Action Figure
Day 593: Takara-Tomy Beast Saga Rynas Action Figure
Day 595: Takara-Tomy Beast Saga Seylas Action Figure
Day 597: Takara-Tomy Transformers Prime Zad Action Figure
Day 601: Takara-Tomy Beast Saga Bamet Burst Action Figure
Day 616: Takara-Tomy Beast Saga Long Giraf Burst Action Figure
Day 622: Takara-Tomy Beast Saga Bamet Action Figure
Day 626: Takara-Tomy Beast Saga Killer Shark Action Figure
Day 637: Takara-Tomy Beast Saga Liorga Action Figure
Day 642: Takara-Tomy Beast Saga Aldyle Burst Action Figure
Day 663: Takara-Tomy Beast Saga Janjan Action Figure
Day 669: Takara-Tomy Beast Saga Ogre Burst Action Figure
Day 678: Takara-Tomy Beast Saga Swordbill Action Figure
Day 693: Takara-Tomy Beast Saga Guarl Burst Action Figure
Day 715: Takara-Tomy Beast Saga Guarl Action Figure
Day 824: Takara-Tomy Beast Saga Mantaray Action Figure
Day 828: Takara-Tomy Beast Saga Aljaylo Action Figure
Day 839: Takara-Tomy Beast Saga Ogre Action Figure
Day 846: Takara-Tomy Beast Saga Dakker Action Figure
Day 856: Takara-Tomy Beast Saga Moreek Action Figure
Day 873: Takara-Tomy Beast Saga Wonderriver Action Figure
Day 905: Takara-Tomy Transformers Masterpiece Edition Lambor G-2 Ver.
Day 937: Takara-Tomy Beast Saga Rynas Burst Action Figure
Day 974: Takara-Tomy Beast Saga Super Win Deck Impact Set Action Figure Set
Day 993: Takara-Tomy Beast Saga Kannigal Burst Action Figure
Day 1,127: Takara-Tomy Transformers Sega Genesis Megatron Action Figure
Day 1,207: Takara-Tomy Transformers United Rumble & Frenzy
Day 1,224: Takara-Tomy Transformers Adventure Roadblock
Day 1,242: Takara-Tomy Transformers Go! Go
Day 1,247: Takara-Tomy Transformers Go! Sen
Day 1,259: Takara-Tomy Transformers Go! Geki
Day 1,262: Takara-Tomy Transformers Masterpiece Bumble G-2 Ver.
Day 1,273: Takara-Tomy Transformers Go! Ex
Day 1,284: Takara-Tomy Transformers Go! Shou
Day 1,310: Takara-Tomy Transformers Legends Slipstream
Day 1,327: Takara-Tomy Transformers Unite Warriors Grand Scourge
Day 1,328: Takara-Tomy Transformers Unite Warriors Nightbird Shadow
Day 1,326: Takara-Tomy Beast Saga Buffam Action Figure
Day 1,328: Takara-Tomy Transformers Adventure Override
Day 1,332: Takara-Tomy Beast Saga Bunikis Action Figure
Day 1,339: Takara-Tomy Beast Saga Aljaylo Burst Action Figure
Day 1,357: Takara-Tomy Transformers United Stepper
Day 1,381: Takara-Tomy Beast Saga Eledram Burst Action Figure
Day 1,429: Takara-Tomy Transformers Legends Armada Starscream Super Mode
Day 1,468: Takara-Tomy Transformers Unite Warriors Grand Galvatron
Day 1,471: Takara-Tomy Zoids Masterpiece Shield Liger
Day 1,496: Takara-Tomy Beast Saga Dacker Burst Action Figure
Day 1,627: Takara-Tomy Transformers Legends Convobat
Day 1,670: Takara-Tomy Transformers Legends Leo Prime
Day 1,814: Takara-Tomy Beast Saga Mantaray Burst Action Figure
Day 1,842: Takara-Tomy Transformers Legends Blackarachnia
Day 1,911: Takara-Tomy Beast Saga Wolfen Burst Action Figure
Day 1,964: Takara-Tomy Beast Saga Buffam Burst Action Figure
Day 2,000: Takara-Tomy Zoids Wild ZW-05 Gannontoise Figure Kit
Day 2,006: Takara-Tomy Beast Saga Raioga Burst Action Figure
Day 2,008: Takara-Tomy Zoids Wild ZW-01 Wild Liger Figure Kit
Day 2,013: Takara-Tomy Zoids Wild ZW-03 Kabtor Figure Kit
Day 2,017: Takara-Tomy Zoids Wild ZW-04 Scorpear Figure Kit
Day 2,039: Takara-Tomy Zoids Wild ZW-06 Gabrigator Figure Kit
Day 2,075: Takara-Tomy Zoids Wild ZW-07 Kuwaga Figure Kit
Day 2,191: Takara-Tomy Transformers Generations Selects Deluxe Gulf (Skalor) Action Figure
Day 2,200: Takara-Tomy Transformers Generations Selects Deluxe Turtler (Snaptrap) Action Figure
Day 2,213: Takara-Tomy Beast Saga Kannigal Action Figure
Day 2,273: Takara-Tomy Transformers Generations Selects Voyager Super Megatron Action Figure
Day 2,463: Takara-Tomy Beast Saga Moreek Burst Action Figure

Click here to see more Transformers figures in Figure of the Day.

Want to buy this figure? Check Transformers availability at our sponsors:
Entertainment Earth