Eledram
The Elephant

Beast Saga Action Figures
Item No.: BS-05
Manufacturer: Takara-Tomy
Includes: Lance, shield, 2 dice, trading card
Action Feature: Dice launch out of stomach
Retail: 525 yen (or about $7)
Availability: September 2012
Other: Early name translation was "Eredoramu"

PREVIOUS
RSS
NEXT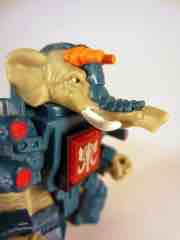 Since I can't read Japanese and there aren't many fan sites yet, the Beast Saga name I see for the elephant is Eledram. So let's go with that. A distant cousin of Sledgehammer Elephant of Battle Beasts fame, this new guy has tons of sculpted personality but loses the nifty, dedicated arm weapon. Oddly, it has an upgrade lance/spear weapon similar to the old 1980s toy, which I don't think is a coincidence.
Oh, a quick tangent. People in Atlanta are making and handing out free art if you follow the right person on Twitter. Elly Font Art is making slick elephants. (No, I don't have one. I live in Arizona. We don't have free elephants, Henry from Chunklet, or Man or Astro-Man? nearby here.) Anyway.
For this one, we got massive shoulder cannons, huge tank-like treads on the shoulders for reasons I can't fathom, and swell night-vision goggles. I assume. The blue-and-orange armor looks great, and it offsets the rather bland grey skin tone. Not that anything is wrong with grey, but the ancestor for this figure was purple with bright yellow eyes... it was incredibly striking. THe new one is good, but I'll be curious to see if it's as memorable. Well, that's not true, I don't think any American kids are ever going to get these so they can wax nostalgic about them in 25 years.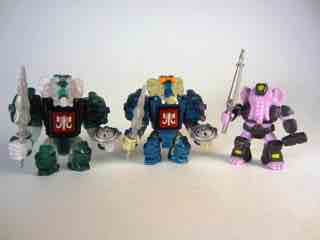 With just 4 points of articulation and the dice launcher, it's a nice collectible figure. It's very bulky compared to the rest of the range, as it should be, with big fist and the largest shoulders you could hope to see. There's a decent amount of sculpted detail work between the wrinkly skin and the robust armor, so it's a safe bet this will go down as one of the better ones. There's also a clear blind-boxed version on the market, which is mostly unpainted but looks pretty neat if you like such things.
If the price is right, it's a good figure. $5+ seems like a lot, but it's not like you can get one at the store just yet. The dice launcher is a little less charming with each subsequent release, but hey, at least it's pretty colorful and the rest of the figure is good. My only real complaint is that the articulation isn't great. The legs don't really swing forward at all, but they move back pretty nicely. The legs are just adjustable enough so that you can make them stand pretty easily, but if ever there are full-size vehicles for which the figures to sit in, well, he's not going to do that. I still like him despite this, and his odd pie-like shield.
--Adam Pawlus
Additional Images

See more Beast Saga figures in Figure of the Day:
Day 495: Takara-Tomy Beast Saga Raioga Action Figure
Day 529: Takara-Tomy Beast Saga Kingdom of Sea Death Action Figure Set
Day 534: Takara-Tomy Beast Saga Dolphin Burst Action Figure
Day 540: Takara-Tomy Beast Saga Kingdom of Gloria Action Figure Set
Day 544: Takara-Tomy Beast Saga Aldyle Action Figure
Day 549: Takara-Tomy Beast Saga Dorfan Action Figure
Day 551: Takara-Tomy Beast Saga Eledram Elephant Action Figure
Day 564: Takara-Tomy Beast Saga DX Starter Set Action Figure Set
Day 568: Takara-Tomy Beast Saga Tarlock Action Figure
Day 573: Takara-Tomy Beast Saga Long Giraf Action Figure
Day 579: Takara-Tomy Beast Saga Garrison G Action Figure
Day 580: Takara-Tomy Beast Saga GachaBooster General Hawk Knight Action Figure
Day 586: Takara-Tomy Beast Saga Killer Shark Burst Action Figure
Day 585: Takara-Tomy Beast Saga Beast Machines Sky Darling Vehicle
Day 593: Takara-Tomy Beast Saga Rynas Action Figure
Day 595: Takara-Tomy Beast Saga Seylas Action Figure
Day 601: Takara-Tomy Beast Saga Bamet Burst Action Figure
Day 616: Takara-Tomy Beast Saga Long Giraf Burst Action Figure
Day 622: Takara-Tomy Beast Saga Bamet Action Figure
Day 626: Takara-Tomy Beast Saga Killer Shark Action Figure
Day 637: Takara-Tomy Beast Saga Liorga Action Figure
Day 642: Takara-Tomy Beast Saga Aldyle Burst Action Figure
Day 663: Takara-Tomy Beast Saga Janjan Action Figure
Day 669: Takara-Tomy Beast Saga Ogre Burst Action Figure
Day 678: Takara-Tomy Beast Saga Swordbill Action Figure
Day 693: Takara-Tomy Beast Saga Guarl Burst Action Figure
Day 715: Takara-Tomy Beast Saga Guarl Action Figure
Day 824: Takara-Tomy Beast Saga Mantaray Action Figure
Day 828: Takara-Tomy Beast Saga Aljaylo Action Figure
Day 839: Takara-Tomy Beast Saga Ogre Action Figure
Day 846: Takara-Tomy Beast Saga Dakker Action Figure
Day 856: Takara-Tomy Beast Saga Moreek Action Figure
Day 873: Takara-Tomy Beast Saga Wonderriver Action Figure
Day 937: Takara-Tomy Beast Saga Rynas Burst Action Figure
Day 974: Takara-Tomy Beast Saga Super Win Deck Impact Set Action Figure Set
Day 993: Takara-Tomy Beast Saga Kannigal Burst Action Figure
Day 1,326: Takara-Tomy Beast Saga Buffam Action Figure
Day 1,332: Takara-Tomy Beast Saga Bunikis Action Figure
Day 1,339: Takara-Tomy Beast Saga Aljaylo Burst Action Figure
Day 1,381: Takara-Tomy Beast Saga Eledram Burst Action Figure
Day 1,496: Takara-Tomy Beast Saga Dacker Burst Action Figure
Day 1,814: Takara-Tomy Beast Saga Mantaray Burst Action Figure
Day 1,911: Takara-Tomy Beast Saga Wolfen Burst Action Figure
Day 1,964: Takara-Tomy Beast Saga Buffam Burst Action Figure
Day 2,006: Takara-Tomy Beast Saga Raioga Burst Action Figure
Day 2,213: Takara-Tomy Beast Saga Kannigal Action Figure

See more Takara-Tomy figures in Figure of the Day:
Day 180: Takara-Tomy Transformers Animated Ironhide (Bulkhead) Key Chain
Day 435: Takara-Tomy Transformers Prime Gacha Arms Micron Optimus Prime Blaster
Day 476: Takara-Tomy Transformers Prime Bumblebee Sword Action Figure
Day 495: Takara-Tomy Beast Saga Raioga Action Figure
Day 529: Takara-Tomy Beast Saga Kingdom of Sea Death Action Figure Set
Day 534: Takara-Tomy Beast Saga Dolphin Burst Action Figure
Day 540: Takara-Tomy Beast Saga Kingdom of Gloria Action Figure Set
Day 544: Takara-Tomy Beast Saga Aldyle Action Figure
Day 549: Takara-Tomy Beast Saga Dorfan Action Figure
Day 551: Takara-Tomy Beast Saga Eledram Elephant Action Figure
Day 564: Takara-Tomy Beast Saga DX Starter Set Action Figure Set
Day 568: Takara-Tomy Beast Saga Tarlock Action Figure
Day 573: Takara-Tomy Beast Saga Long Giraf Action Figure
Day 579: Takara-Tomy Beast Saga Garrison G Action Figure
Day 580: Takara-Tomy Beast Saga GachaBooster General Hawk Knight Action Figure
Day 585: Takara-Tomy Beast Saga Beast Machines Sky Darling Vehicle
Day 586: Takara-Tomy Beast Saga Killer Shark Burst Action Figure
Day 593: Takara-Tomy Beast Saga Rynas Action Figure
Day 595: Takara-Tomy Beast Saga Seylas Action Figure
Day 597: Takara-Tomy Transformers Prime Zad Action Figure
Day 601: Takara-Tomy Beast Saga Bamet Burst Action Figure
Day 616: Takara-Tomy Beast Saga Long Giraf Burst Action Figure
Day 622: Takara-Tomy Beast Saga Bamet Action Figure
Day 626: Takara-Tomy Beast Saga Killer Shark Action Figure
Day 637: Takara-Tomy Beast Saga Liorga Action Figure
Day 642: Takara-Tomy Beast Saga Aldyle Burst Action Figure
Day 663: Takara-Tomy Beast Saga Janjan Action Figure
Day 669: Takara-Tomy Beast Saga Ogre Burst Action Figure
Day 678: Takara-Tomy Beast Saga Swordbill Action Figure
Day 693: Takara-Tomy Beast Saga Guarl Burst Action Figure
Day 715: Takara-Tomy Beast Saga Guarl Action Figure
Day 824: Takara-Tomy Beast Saga Mantaray Action Figure
Day 828: Takara-Tomy Beast Saga Aljaylo Action Figure
Day 839: Takara-Tomy Beast Saga Ogre Action Figure
Day 846: Takara-Tomy Beast Saga Dakker Action Figure
Day 856: Takara-Tomy Beast Saga Moreek Action Figure
Day 873: Takara-Tomy Beast Saga Wonderriver Action Figure
Day 905: Takara-Tomy Transformers Masterpiece Edition Lambor G-2 Ver.
Day 937: Takara-Tomy Beast Saga Rynas Burst Action Figure
Day 974: Takara-Tomy Beast Saga Super Win Deck Impact Set Action Figure Set
Day 993: Takara-Tomy Beast Saga Kannigal Burst Action Figure
Day 1,127: Takara-Tomy Transformers Sega Genesis Megatron Action Figure
Day 1,207: Takara-Tomy Transformers United Rumble & Frenzy
Day 1,224: Takara-Tomy Transformers Adventure Roadblock
Day 1,242: Takara-Tomy Transformers Go! Go
Day 1,247: Takara-Tomy Transformers Go! Sen
Day 1,259: Takara-Tomy Transformers Go! Geki
Day 1,262: Takara-Tomy Transformers Masterpiece Bumble G-2 Ver.
Day 1,273: Takara-Tomy Transformers Go! Ex
Day 1,284: Takara-Tomy Transformers Go! Shou
Day 1,310: Takara-Tomy Transformers Legends Slipstream
Day 1,327: Takara-Tomy Transformers Unite Warriors Grand Scourge
Day 1,328: Takara-Tomy Transformers Unite Warriors Nightbird Shadow
Day 1,326: Takara-Tomy Beast Saga Buffam Action Figure
Day 1,328: Takara-Tomy Transformers Adventure Override
Day 1,332: Takara-Tomy Beast Saga Bunikis Action Figure
Day 1,339: Takara-Tomy Beast Saga Aljaylo Burst Action Figure
Day 1,357: Takara-Tomy Transformers United Stepper
Day 1,381: Takara-Tomy Beast Saga Eledram Burst Action Figure
Day 1,429: Takara-Tomy Transformers Legends Armada Starscream Super Mode
Day 1,468: Takara-Tomy Transformers Unite Warriors Grand Galvatron
Day 1,471: Takara-Tomy Zoids Masterpiece Shield Liger
Day 1,496: Takara-Tomy Beast Saga Dacker Burst Action Figure
Day 1,627: Takara-Tomy Transformers Legends Convobat
Day 1,670: Takara-Tomy Transformers Legends Leo Prime
Day 1,814: Takara-Tomy Beast Saga Mantaray Burst Action Figure
Day 1,842: Takara-Tomy Transformers Legends Blackarachnia
Day 1,911: Takara-Tomy Beast Saga Wolfen Burst Action Figure
Day 1,964: Takara-Tomy Beast Saga Buffam Burst Action Figure
Day 2,000: Takara-Tomy Zoids Wild ZW-05 Gannontoise Figure Kit
Day 2,006: Takara-Tomy Beast Saga Raioga Burst Action Figure
Day 2,008: Takara-Tomy Zoids Wild ZW-01 Wild Liger Figure Kit
Day 2,013: Takara-Tomy Zoids Wild ZW-03 Kabtor Figure Kit
Day 2,017: Takara-Tomy Zoids Wild ZW-04 Scorpear Figure Kit
Day 2,039: Takara-Tomy Zoids Wild ZW-06 Gabrigator Figure Kit
Day 2,075: Takara-Tomy Zoids Wild ZW-07 Kuwaga Figure Kit
Day 2,191: Takara-Tomy Transformers Generations Selects Deluxe Gulf (Skalor) Action Figure
Day 2,200: Takara-Tomy Transformers Generations Selects Deluxe Turtler (Snaptrap) Action Figure
Day 2,213: Takara-Tomy Beast Saga Kannigal Action Figure
Day 2,273: Takara-Tomy Transformers Generations Selects Voyager Super Megatron Action Figure