Swerve
Asian Market (and U.S. Toys R Us) Exclusive

Transformers Generations Deluxe-Class Toy
Item No.: Asst. 98573 No. 98895
Manufacturer: Hasbro
Includes: Rifle
Action Feature: Transforms into red truck
Retail: $12.99
Availability: October 2012
Other: New head for the this mold

PREVIOUS
RSS
NEXT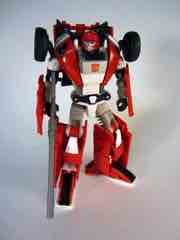 Everybody hates Swerve! The figure is pretty good, but the name may be the one associated with the most abuse. There's a Universe Swerve made from a Chevrolet Aveo that's preposterously tough to find and is officially sort of not talked about. A great number of red repaints are named Swerve. But this one? This one is pretty cool, but it also had the misfortune of being yet another weirdo exclusive that became yet another mini-controversy after it and about a dozen other figures were announced as Asia-only, Hasbro-made exclusives. Thankfully Hasbro decided it would be stupid not to tack on to the run and sell them at Toys R Us, because free money. The heavy lifting was already done and Swerve is notable in that it's basically 2011 Generations Kup with a new head.
Since this mold hasn't been used much, new toys based on it are pretty welcome. Japan got two unique Kup toys, while all we got was the one... which is still easily found on Toys R Us pegs and TJ Maxx shelves.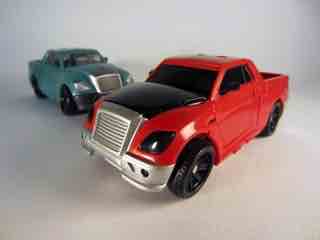 As a truck... it's a truck. The deco is more than just Kup with color swaps, and the clear colorless windows are now a heavily tinted almost-black color. You can shine a flashlight through them and tell they're still technically clear, but they're pretty gosh darned dark. I think it works nicely. There's a bug Autobot logo on the roof of the car, and I love that, plus the hood is painted a mismatched black color. If the car had more wear-and-tear on it, I'd love the mismatched bit even more but as is it's quite nice. The vehicle has some nice functionality with rolling wheels and a working tailgate, plus a couple of places to stick c-clamp weapons on the roof. As a toy, it works pretty well.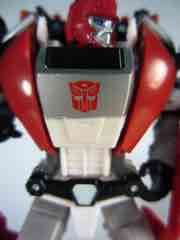 In robot mode there are few surprises beyond the traditional "here's a good robot" surprise. The head is sculpted to look less robotic and more like a human-ish face in silver, sort of like some of the later Marvel comics.
With about 19 joints in robot mode, this is a flexible little guy. His hands can hold most 5mm weapons, and his hands are opened so they should have a little give in them. It would be nice if they were a smidgen softer so they could avoid stress completely, but that's not how Hasbro is designed toys right now.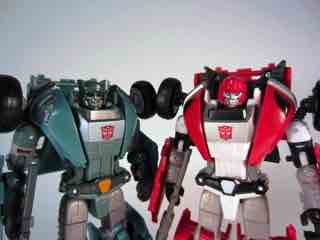 Semi-kudos to Hasbro for not making the red Kup repaint into Ironhide, although, I gotta admit, I'd like to see that too. Swerve is a colorful candy-like figure, and his painted head really pops nicely. If you like new toys that sort of look like G1 characters, Swerve is an excellent pick.
--Adam Pawlus
Additional Images

Click here to see more Hasbro figures in Figure of the Day.
Click here to see more Transformers figures in Figure of the Day.

Want to buy this figure? Check Transformers availability at our sponsors:
Entertainment Earth