Brawl
Series 01 #007

Transformers Generations Deluxe
Item No.: Asst. 37986 No. A0175
Manufacturer: Hasbro
Includes: Blaster
Action Feature: Transforms from Cybertronian Tank to robot
Retail: $14.99
Availability: September 2012
Other: Forms the Leg (or Arm) of Bruticus

PREVIOUS
RSS
NEXT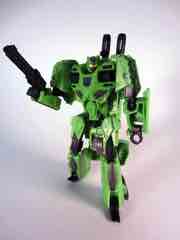 Good, but not remarkable, is Brawl. The robot mode is acceptable, the tank mode is also acceptable, and the limb is pretty good. The figure is a bright green, while the SDCC version is a darker green, and the G2 version is practically the same green with some purple splatter camo on it. Each is good for different reasons, although no one really seems superior or inferior to the rest. It's green, it's Brawl, it's basically fun.
As a robot you have a decent guy with good articulation. Getting the head to stay up just right is a bit of a challenge, and his neck is sunken below his shoulders in a way I don't find particularly pleasing. His proportions are pretty good, as are the overall joints. The shoulders are, unsurprisingly, not my favorite part of the toy. He can hold his gun just fine, and the robot mode can basically stand acceptably. It's good, but not impressive. The deco is pretty nice with a large Decepticon symbol on the chest, yellow eyes, and some silver on the head giving him some decent personality.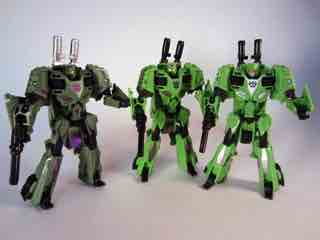 Hovertanks are increasingly common in this line, and this one has some funky protrusions on the front and quasi-treads on the sides. It's a fun design, very retro vector graphics-era gaming, but it isn't going to win any beauty contests. Other than storing his handheld blaster on the tank turret, there's not a lot of interaction here. It's a tank, you can pick it up, or you can move it around. Or stare at it. It's not bad, but the paint job is pretty lacking. Not that it needs a fancy paint job, although more than it being mostly green with some black.grey bits would be nice. What you see is basically what you get, although for some reason they designed it so the barrels on the cannon can rotate, and I don't know why. It sort of plays in to the transformation, but they could have just designed them differently, too.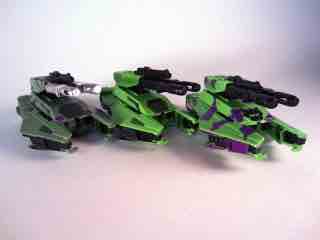 As a foot, he works nicely. The turret unfolds and becomes the toes, while the cannons... just sort of add stability, I guess. It's an ugly limb, but it at least looks more like it "transformed" than, say, Swindle. You actually have to do stuff to make it work right. I should also note, its leg mode is mistransformed on the individual Brawl cardback. The toy itself is mistransformed in the SDCC and G2 Bruticus sets. So be sure to pay attention to and futz with this one, as it's going to need a little massaging to get it just right. The instructions aren't a big help, and the toy is a decent addition to the set. I like it, but I don't love it. It's a decent part of the team and I hope Hasbro's next attempt at a big combiner is this good, and maybe makes a few refinements. They did a great job with all 5 parts to function as individual toys, a huge step up from the Power Core Combiners which didn't have as much character, so to speak.
--Adam Pawlus
Additional Images
Additional Combined and Team Fall of Cybertron Bruticus Images

Click here to see more Hasbro figures in Figure of the Day.
Click here to see more Transformers figures in Figure of the Day.

Want to buy this figure? Check Transformers availability at our sponsors:
Entertainment Earth