Commander Comet
The Man from Venus, decked out for the space holidays

Outer Space Men Galactic Holiday Red Variant
Item No.: n/a
Manufacturer: Four Horsemen
Includes: Two-piece helmet, alternate arms, staff, pistol
Action Feature: n/a
Retail: $50.00 (sold as a set with Alpha 7, Mystron, and Electron+)
Availability: December 2011
Other: Available with either turquoise/blue or purple accessories

PREVIOUS
RSS
NEXT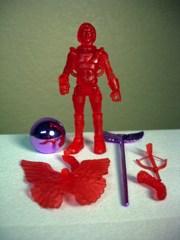 I wasn't quite expecting Commander Comet, the Man from Venus to be the token clear red figure in Galactic Holiday 2011-- I was actually expecting it to be the man from the red planet, for obvious reasons. Commander Comet looks really good in red, but obviously a little devilish with his glowing eyes and firey skin.
As before, Commander Comet stands about 4-inches tall. He has 12 joints and, as always, can be popped apart at each one as they are connected with Glyos plugs. The wings are removable, as is his chest symbol-- you can pop that little triangle right out, and pop in a tentacle or an arm if you're so inclined. I like this, it's a nice and goofy feature which is fun to play with and would work well for customizing purposes.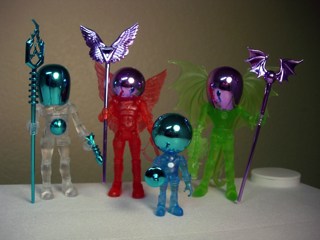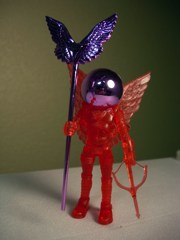 The staff is vastly improved by its vac-metal finish, the purple looks good and brings out a lot of amazing detail. It really comes to life, and I wish we could see more opaque weapons with these figures. The helmet matches the staff, but it also completely blocks the head from being seen-- which I guess is the point, as it gives him a Christmas ornament appearance. Me, I like seeing the heads. And not me reflected in the helmet.
While I am getting pretty worn down with the clear repaints, I still like it and the red color suits this mold well. Take him as an "evil angel" or just a slightly more sunburned version of the man from the second planet from the Sun, either way it's worth picking up if you don't have any Commander Comet figures. The metalized helmet reminds me of Micronauts/Microman and some other 1980s figures, and I really do wish it was silver rather than purple-- but I still like it.
--Adam Pawlus
Additional Images

Click here to see more Four Horsemen figures in Figure of the Day.

Click here to see more Outer Space Men figures in Figure of the Day.

Click here to see more Glyos Compatible figures in Figure of the Day.