Alpha 7
The Man from Mars, decked out for the space holidays

Outer Space Men Galactic Holiday Blue Variant
Item No.: n/a
Manufacturer: Four Horsemen
Includes: Two-piece helmet, alternate arms, jetpack, pistol
Action Feature: n/a
Retail: $50.00 (sold as a set with Electron+, Mystron, and Commander Comet)
Availability: December 2011
Other: Available with either turquoise/blue or purple accessories

PREVIOUS
RSS
NEXT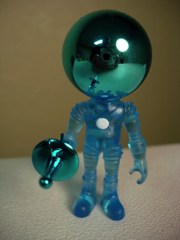 The original Alpha 7 seemed like a sensible choice back in the 1960s, a small Martian which basically showcased everything mankind might have thought about when it came to benevolent "little green men" on the red planet. When these were larger, 6-inch tall figures, a shorter character was less of a big deal-- the wholesale pricing was different on each figure, and it didn't feel like-- forgive the pun-- you were being short-changed. While still a nice figure, the rising costs of the set combined with the positively tiny character tend to wear a little thin, even if it does look really cool. The Galactic Holiday collection still looks wonderful and the bright colors go well with the rest of the line, but it's hard to be as excited when it comes down to bang for the buck on the third clear set of figures.
Once again, Alpha 7 sports 9 points of articulation and unique tiny-sized Glyos plugs at the hands and feet. The jetpack is removable, as is the helmet, and the ray gun looks pretty dang awesome in vac metal blue. All of the accessories in the assortment look great, but this one is particularly striking. It also has a round helmet which reflects, well, anyone nearby. You can even see me in the photos, which I honestly do not care to see in a toy review like this one.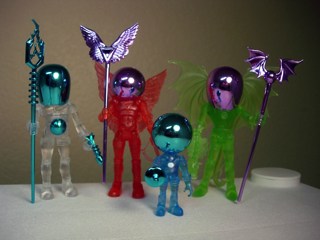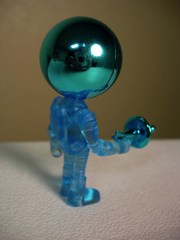 The figure is seemingly just as good as other releases-- with white eyes and a white mark on his chest, he matches the 2010 Galactic Holiday Inferno quite nicely. He also matches the Beta Phase Astro-Nautilus and the Beta Phase Electron+, bringing the blue figure tally up to 4 so far. I do worry about the long-term integrity of the vac-metal helmet as this kind of paint has been known to flake or wear over time, but I'll be taking good care of it to ensure this doesn't happen quickly. I advise you to do the same.
For cost reasons alone I won't suggest you run out and buy just this one figure if the chance arises. As part of the set, he's perfectly OK-- were he paired up with a larger character (say, the as-of-yet unavailable Colossus Rex) it would be a bit easier to swallow-- but Electron+ is sort of short too. The sculpting of the suit, complete with simulated accordion joints and rivets, looks as good as always and there's nothing really wrong with the design except for the fact that it seems the value just isn't here. It's like when Hasbro decided it's time to stop selling Ewoks as $8 2-packs and instead charge $9 for just one-- it stings. It may be necessary, but it does hurt a little bit.
--Adam Pawlus
Additional Images

Click here to see more Four Horsemen figures in Figure of the Day.

Click here to see more Outer Space Men figures in Figure of the Day.

Click here to see more Glyos Compatible figures in Figure of the Day.