Inferno
Just Different Enough to Make You Mad It's Part of a Set

Outer Space Men 2.0 Edition
Item No.: n/a
Manufacturer: Four Horsemen
Includes: Gun, bent arms, helmet, flame backpack, 3 more figures
Action Feature: n/a
Retail: $50.00 (sold as a set with Astro-Nautilus, Metamorpho, and Xodiac)
Availability: Summer 2012
Other: Brings the total to 7 Infernos, 8 if you count weapon variants

PREVIOUS
RSS
NEXT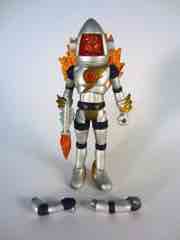 The 2.0 edition of Inferno feels that it actually succeeds in the mission to make these figures as close to the 1960s bendable concepts as possible. While Xodiac has slightly different accessories and Astro-Nautilus is like 10% different, Inferno has undergone some interesting changes to give the figure non-electronic "light-up" properties, similar to Blazing Inferno from earlier in the year.
While the original Inferno was cast in opaque silver plastic, the new 2.0 version is a mix of opaque silver and translucent yellow. The blaster, chest symbol, head, back flame, upper chest, hands, and feet are clear yellow so if you shine a really bright light behind them, you might notice they glow a little. Part of Inferno's back and helmet was left unpainted so light can pass through the flame to make his head and chest symbol glow without incorporating costly, customs-intensive things like electronics.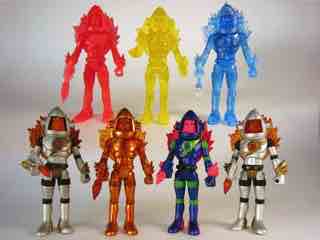 If you back-light this figure, you'll get to see some nifty glowing properties. It also highlights any flaws in the painting process, and you can sort of see where the paint is a little thinner in the chest as the entire upper-chest will light up if light is shined through the back of it. The hands and feet on my sample were painted pretty well, though, and overall it's a notable improvement over the original.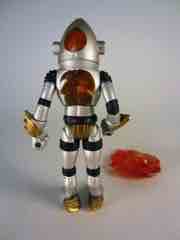 Like before, Inferno is made of about 18 individual parts which can be removed and swapped for your amusement. 2 additional arms are included for a grand total of 20 pieces. Since the head is now clear and more flame-esque, it's hard to say anything other than this figure is an improvement and a step in the right direction. The original release was good, but who can deny that this one is a better example of a Flame Man of Mercury?
If you already bashed together a figure like this one using parts from other Inferno releases, you can skip this one. If you have no Inferno figures, or none with any clear red elements, I would suggest doing what you can to track this figure down. The set itself is good, but if you have the original 2010 releases it may not seem like a worthwhile upgrade. In the grand scheme of things I expect this to be the version of Inferno to get. Newbies, make sure you get this one. Long-haul completeists, I assume you've already bought it. Curious newcomers, go ahead and get the set. It's fun, it's a nice mix of 1980s and 1960s nostalgia, and they're all fun.
--Adam Pawlus
Additional Images

Click here to see more Four Horsemen figures in Figure of the Day.

Click here to see more Outer Space Men figures in Figure of the Day.

Click here to see more Glyos Compatible figures in Figure of the Day.