C2E2 Giveaway Black Alligator
More Or Less Free

Battle Beasts Minimates C2E2 Giveaway
Item No.: No. 100108KK
Manufacturer: Diamond Select
Includes: Gun, removable armor (with tail)
Action Feature: n/a
Retail: n/a
Availability: April 2010
Other: Redeco 2 of 4 (so far)

PREVIOUS
RSS
NEXT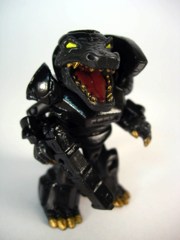 I totally missed this Battle Beasts Minimates figure when it first came out, as, well, nobody was reporting on this stuff much. The Black Alligator was distributed at Chicago's C2E2 by Diamond Select, and for a while was one of very few figures in the line. Only 4 were made prior to 2012, and they were all repaints of the same basic mold. The funny thing is that the mouths are opened at different angles, so they each are slightly different in terms of their expression. I appreciate this.
The black incarnation is a little more freaky due to the colors used. The red one looked sort of dragon-like, but the black one looks like some sort of ashy death. He has gold-painted teeth, glowing yellow eyes, and fiendish gold claws which are presumably some sort of implant designed to tear creatures to shreds. His shiny black armor goes with his dark grey skin quite nicely, and the interior of his mouth is a dark red. It tends to "pop" well, as do the yellow eyes, creating a fine Black Repaint in a line which, at the time, was defined by its repaints. (Vorin in 2012 would be Diamond's second mold for Battle Beasts.)

The figure's design is nice and weird, but the gun falls short. It's black, and it looks cool, but that only gets you so much. His clawed hands are not sculpted to deal with this particular accessory particularly well, so mine drops his gun if I mess around with him. On the shelf, he has no problem hanging on to it lo these many months, but sadly it just wasn't designed to hold it. It's not a huge deal given this item's life as a promotional piece given largely to adult collectors (who probably sold them on eBay to suckers like me who couldn't make it to Chicago) but I digress. It looks cool and fits right in with the rest of the line at the time, which, uh, was one figure. Heck, it's only 10 now. His bulky armor is much more similar to the 1980s figures than the new 2012 figures, so it makes for a fun transitional piece and in the context of Diamond's new character designs, a sort of a missing link or a fun "what if." The Alligator design makes me positively giddy.
I dislike overpaying for repaints on the secondary market. Having said that, I did, and I'll probably do it again some day. It's a nice looking figure and I really like Battle Beasts toys in their various forms. If you collect black repaints-- and hey, why shouldn't you?-- this is a good one to track down. Just remember, Alligators don't like guns.
--Adam Pawlus
Additional Images

See more Diamond Select Toys figures in Figure of the Day:
Day 76: Diamond Select Toys Black and White Wolfman
Day 82: Diamond Select Battle Beasts Minimates SDCC Gold Alligator Action Figure
Day 373: Diamond Select Battle Beasts Minimates Case Red Alligator Action Figure
Day 390: Diamond Select Battle Beasts Minimates C2E2 2012 Red Vorin
Day 395: Diamond Select Battle Beasts Minimates C2E2 2012 Grey Vorin
Day 450: Diamond Select Battle Beasts Minimates SDCC 2012 Vorin & Zik
Day 460: Diamond Select Battle Beasts Minimates SDCC 2012 Gold Vorin
Day 463: Diamond Select Battle Beasts Minimates C2E2 Exclusive Black Alligator
Day 610: Diamond Select Battle Beasts Minimates Gruntos the Walrus & Tate Reynolds
Day 720: Diamond Select Battle Beasts Minimates Shadow Merk
Day 1,324: Diamond Select Toys Aliens vs. Colonial Marines Figure Set
Day 1,756: Diamond Select Independent Comic Book Minimates Battle Beasts Ruminant and Spyrnus
Day 1,815: Diamond Select Battle Beasts Minimates Stealth Vorin
Day 1,905: Diamond Select Battle Beasts Minimates Antalor and Nychirix

See more Battle Beasts figures in Figure of the Day:
Day 82: Diamond Select Battle Beasts Minimates SDCC Gold Alligator Action Figure
Day 373: Diamond Select Battle Beasts Minimates Case Red Alligator Action Figure
Day 374: Hasbro Battle Beasts Sawtooth Shark Action Figure
Day 375: Hasbro Battle Beasts Wolfgang Walrus Action Figure
Day 376: Hasbro Battle Beasts Diving Duckbill Action Figure
Day 377: Hasbro Battle Beasts Spark Shark Action Figure
Day 390: Diamond Select Battle Beasts Minimates C2E2 2012 Red Vorin
Day 391: Hasbro Battle Beasts Anarchy
Day 395: Diamond Select Battle Beasts Minimates C2E2 2012 Grey Vorin
Day 417: Hasbro Battle Beasts Run Amuck Duck
Day 436: Hasbro Battle Beasts Horny Toad
Day 450: Diamond Select Battle Beasts Minimates SDCC 2012 Vorin & Zik
Day 451: Hasbro Battle Beasts Sledgehammer Elephant
Day 460: Diamond Select Battle Beasts Minimates SDCC 2012 Gold Vorin
Day 463: Diamond Select Battle Beasts Minimates C2E2 Exclusive Black Alligator
Day 451: Hasbro Battle Beasts Pillaging Polar Bear
Day 577: Hasbro Battle Beasts Slasher Seahorse
Day 610: Diamond Select Battle Beasts Minimates Gruntos the Walrus & Tate Reynolds
Day 639: Hasbro Battle Beasts Triple Threat Snake
Day 674: Hasbro Battle Beasts Hare Razing Rabbit
Day 720: Diamond Select Battle Beasts Minimates Shadow Merk
Day 723: Hasbro Battle Beasts Pillager Pig
Day 914: Hasbro Battle Beasts Rainbow Sam
Day 972: Hasbro Battle Beasts Pixilated Pointer
Day 1,084: Hasbro Battle Beasts Sir Sire Horse
Day 1,278: Hasbro Battle Beasts Hardtop Tortoise
Day 1,291: Hasbro Battle Beasts Tanglin Pangolin
Day 1,306: Hasbro Battle Beasts Eager Beaver
Day 1,313: Hasbro Battle Beasts Bodacious Bovine
Day 1,756: Diamond Select Independent Comic Book Minimates Battle Beasts Ruminant and Spyrnus
Day 1,815: Diamond Select Battle Beasts Minimates Stealth Vorin
Day 1,827: Hasbro Battle Beasts Sabre Sword Tiger
Day 1,890: Hasbro Battle Beasts Battling Deer Stalker Chariot
Day 1,905: Diamond Select Battle Beasts Minimates Antalor and Nychirix
Day 1,906: Hasbro Battle Beasts Killer Carp
Day 2,024: Fisher-Price Imaginext Series 11 Collectible Figures Triple Threat Snake
Day 2,074: Hasbro Battle Beasts Octillion Octopus

Want to buy this figure? Check Minimates availability at our sponsors:
Entertainment Earth