Tanglin Pangolin
Japanese name "Pangol"

Battle Beasts Series 3
Item No.: #65
Manufacturer: Hasbro
Includes: Living Stone Spear, seven additional figures
Action Feature: n/a
Retail: approx. $9.99
Availability: ca. 1987
Other: This sample has a "Wood" rubsign

PREVIOUS
RSS
NEXT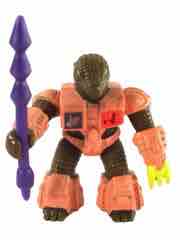 Since American toymakers tended to have (and still have) an allergy to really cheap toys, Tanglin Pangolin came out as part of an eight-pack. In the USA, series 3 was sold only in boxes of eight while the other series were two-packs or packaged with vehicles. This is one I didn't have as a kid and tracked down a few years ago. I didn't even really know what a pangolin was, but I dug armadillos and penguins and other creatures so why the heck not? These are tree-dwelling insect-eating armored mammals, and they're endangered which means kids of the 1980s probably were super into them. (I was a manatee fanatic myself.)
Molded in brown plastic, the figure has the same hurdles to overcome that we saw on Hardtop Tortoise. The dark skin pokes through the light pink/peach armor, and if you play with it I assume it could get nasty fast. His eyes and claws are yellow, plus there are some red bits on his chest. The sculpting is quite good, similar to the rest of the line with simple armored skin and nifty techie armor bits. He's rubbery but sturdy, unlikely to topple over despite only have jointed arms. His center of gravity does him well. Also present is the famous heat-sensitive sticker which reveals a symbol for fire, wood, or water. Some (but not all) later figures had full-color illustrations while the earlier ones had "mood ring" colors that changed based on the level of heat. As you can see, Tanglin' Pangolin has wood.
Speaking of having wood, the weapon is a Living Stone Spear. Based on its shape, you should be aware that it does not have a flared base and as such is inappropriate for use by adventurous couples. The top of it has three conical ridged shapes, while the bottom has a pointy bit that looks like it's poking out of a tumbler. Really all I can do here is get myself in trouble, so let's just say it fits in his right fist just fine and seems like a formidable tool.
If you had this figure as a kid, you probably had a soft spot for it. If you didn't, it's hard to deny the handiwork of Takara's 1980s sculptors. Subtle wrinkles, robotic eyes, and the squat sculpting you love are all here. If you're in to these figures, it's worth getting what you can find - they're all good, they all stand, they all hold their weapons. Really the only variables to worry about are picking your favorites, and your budget - they're very much worthwhile. They have fun little details, like teeny tiny pangolin ears.
--Adam Pawlus
Additional Images

Click here to see more Hasbro figures in Figure of the Day.
See more Battle Beasts figures in Figure of the Day:
Day 82: Diamond Select Battle Beasts Minimates SDCC Gold Alligator Action Figure
Day 373: Diamond Select Battle Beasts Minimates Case Red Alligator Action Figure
Day 374: Hasbro Battle Beasts Sawtooth Shark Action Figure
Day 375: Hasbro Battle Beasts Wolfgang Walrus Action Figure
Day 376: Hasbro Battle Beasts Diving Duckbill Action Figure
Day 377: Hasbro Battle Beasts Spark Shark Action Figure
Day 390: Diamond Select Battle Beasts Minimates C2E2 2012 Red Vorin
Day 391: Hasbro Battle Beasts Anarchy
Day 395: Diamond Select Battle Beasts Minimates C2E2 2012 Grey Vorin
Day 417: Hasbro Battle Beasts Run Amuck Duck
Day 436: Hasbro Battle Beasts Horny Toad
Day 450: Diamond Select Battle Beasts Minimates SDCC 2012 Vorin & Zik
Day 451: Hasbro Battle Beasts Sledgehammer Elephant
Day 460: Diamond Select Battle Beasts Minimates SDCC 2012 Gold Vorin
Day 463: Diamond Select Battle Beasts Minimates C2E2 Exclusive Black Alligator
Day 451: Hasbro Battle Beasts Pillaging Polar Bear
Day 577: Hasbro Battle Beasts Slasher Seahorse
Day 610: Diamond Select Battle Beasts Minimates Gruntos the Walrus & Tate Reynolds
Day 639: Hasbro Battle Beasts Triple Threat Snake
Day 674: Hasbro Battle Beasts Hare Razing Rabbit
Day 720: Diamond Select Battle Beasts Minimates Shadow Merk
Day 723: Hasbro Battle Beasts Pillager Pig
Day 914: Hasbro Battle Beasts Rainbow Sam
Day 972: Hasbro Battle Beasts Pixilated Pointer
Day 1,084: Hasbro Battle Beasts Sir Sire Horse
Day 1,278: Hasbro Battle Beasts Hardtop Tortoise
Day 1,291: Hasbro Battle Beasts Tanglin Pangolin
Day 1,306: Hasbro Battle Beasts Eager Beaver
Day 1,313: Hasbro Battle Beasts Bodacious Bovine
Day 1,756: Diamond Select Independent Comic Book Minimates Battle Beasts Ruminant and Spyrnus
Day 1,815: Diamond Select Battle Beasts Minimates Stealth Vorin
Day 1,827: Hasbro Battle Beasts Sabre Sword Tiger
Day 1,890: Hasbro Battle Beasts Battling Deer Stalker Chariot
Day 1,905: Diamond Select Battle Beasts Minimates Antalor and Nychirix
Day 1,906: Hasbro Battle Beasts Killer Carp
Day 2,024: Fisher-Price Imaginext Series 11 Collectible Figures Triple Threat Snake
Day 2,074: Hasbro Battle Beasts Octillion Octopus