Decepticon Drag Strip
Asian Exclusive, also HasbroToyShop.com, later Marshalls

Transformers Universe Deluxe Class SE-03
Item No.: No. 89787
Manufacturer: Hasbro
Includes: Gun
Action Feature: Transforms from Car to Robot
Retail: $15.99
Availability: Fall 2008
Other: Nice Box, Get One

PREVIOUS
RSS
NEXT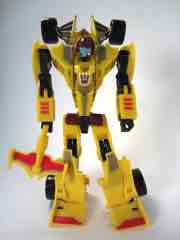 10 years ago we were in the waning days of Transformers Energon. Transformers Cybertron was about to hit and a proper "classic" line wasn't even on the radar yet! That would kick off in 2006 with a couple of quick products, and a few years later we got a much wider line with Transformers Universe. Some were new molds, and some like Decepticon Drag Strip were redecorated takes on the existing molds. This one was 2006's Mirage in a mustard yellow color, a super-articulated figure that looks more than a little bit like a non-combining take on the original Stunticon. It's nice! You should like it.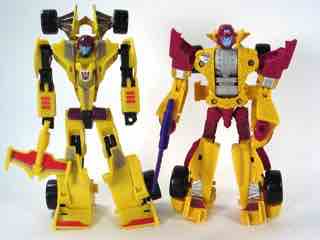 The Combiner Wars one in stores now is arguably more worth your while, but this is a solid toy. It's loaded with articulation including double elbow joints plus swivels galore. Each leg has four points of articulation, making this the go-to figure if you want to do some special action diorama thing. All the joints are pretty nice and tight, with a reasonably simple sculpt which is augmented nicely - but not ridiculously - with paint. The robot chest looks nothing like Drag Strip thanks to the reuse of a Mirage mold, but it was certainly close enough to make me pretty happy with it over the last few years.
Red eyes peer through a blue face, replacing the "goggles" of some of the earlier animation models and toys. Red stripes on the forearms and some silver and even more red marks do a bang-up job of making it look like Drag Strip, but compared to the inspired decoration on Mirage it's merely OK. After all, Mirage had amazing racing markings and was packed with in-jokes - none of which appear here. The color is pretty good, though, with a nice purple Decepticon tampo with a strong white outline. There's not much left to say other than "they did a good job."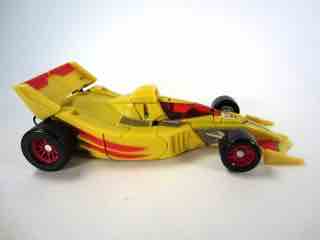 The Formula racer car of this release doesn't really look a lot like the weird six-wheeled toy of the 1980s. I'm happy with this. The mold itself is wonderful, with robot bits tucked into the vehicle mode and a bang-up transformation which helped to give the figure a minimal amount of junk hanging off the robot. The wheel have black hubcaps and spokes, plus a smattering of silver components bringing some life to the mustardy car.
Despite some official comments to the contrary, Transformers have gone through numerous changes over the past decade and change. This particular one is a notable take on how things went during a more "realistic" approach. You get a fun transformation with an exceptional amount of articulation for the time, plus this mold was two years old by the time Drag Strip came out. It's not a perfect match to the original toy, but it isn't bad either. It's also not rendered redundant by the new Combiner Wars release as each mold is not only different, but it means you can keep this one out in robot mode while the new one becomes an arm or a leg for Menasor. As evolutionary steps go this one stands out as a great fun toy, absolutely worth getting if the price is right.
--Adam Pawlus
Additional Images

Click here to see more Hasbro figures in Figure of the Day.
Click here to see more Transformers figures in Figure of the Day.

Want to buy this figure? Check Transformers availability at our sponsors:
Entertainment Earth