Raptorian Guard
As Seen in the TV Special

Toy Story That Time Forgot Apparently Not Walmart Exclusive
Item No.: Asst. CDL89 No. CDL89
Manufacturer: Mattel
Includes: Non-removable armor, battle staff
Action Feature: n/a
Retail: $8.96
Availability: December 2014
Other: Token Toy Trooper

PREVIOUS
RSS
NEXT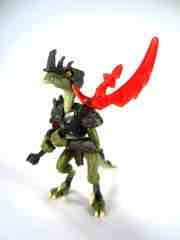 I assume the Raptorian Guard was a play on the Gamorrean Guard, a pig guard - also green, also silver armored - from Return of the Jedi. 1980s toy lines had more than a few "trooper" figures between them, giving the already mega-popular line a shot in the arm by pushing kids to buy two or four or six of a guy and, to borrow a line from Kenner's marketing playbook, "Build Your Armies!" The Empire from Star Wars and Cobra from G.I. Joe made great work of this, while Masters of the Universe snuck in Horde Troopers and a wide variety of Snake Men, although a "generic" one wouldn't come to pass until a few years ago. The TV special Toy Story That Time Forgot did a pretty good job of making a gag toy line, complete with TV show, with one tiny problem - it seemed to have only one faction. There are figures that are clearly "good" by design, and others that have the colors of "evil," but they're all part of the same team. That, I don't get.
This figure appears in the show with or without the helmet, and fills the role of the generic trooper quite nicely. The figure itself is about 3 3/4-inch tall and unlike the fake figures on the show, has only 5 points of articulation. Each arm, the legs, and the neck do rotate easily but balance is something of an issue. The figure's center of gravity has resulted in him falling over after a few hours, so you may want to try to lean him back or find an appropriate stand for him to use. The pose with both hands on the staff reminds me a lot of the old Weequay figure, although I'm sure nobody at Mattel had old Star Wars in mind when making this ugly little guy.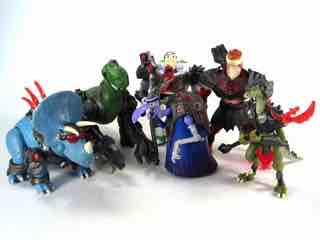 Mattel Toy Story figures have good sculpting and this one is no exception. They also continue the cruel tradition of sculpting in fake joints - you can see where the figure should move, but can't. Fake knee and elbow joints are par for the course for this line, and you may also remember seeing them - I believe for the first time - in the Small Soldiers series. Boy howdy, that stuff got expensive - everybody loves Joe Dante. But I digress! This is a nice figure with nifty sculpted teeth and big claws on his feet. The hands have no problems holding his weapon, but without the weapon he just looks kind of stupid. The helmet looks like separate rubbery plastic, but it's non-removable. I have to say they did a fantastic job making sure this figure looks better than it actually is, and even once you get past the facade of fake removable parts and fraudulent joints it's still a pretty killer design.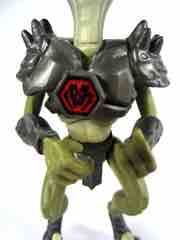 The deco really shines, mostly because the shortcuts they took make it look great. Rather than trotting out silver paint - which can be rubbed off - the bulk of the armor is molded separately in grey plastic. The chest has a fighting dinosaur faction symbol of some sort, painted clearly with black and red paint. It's clear and sharp, and I have no idea if it's a "good guy" or a "bad guy" or even if it's just some sort of general "we're all fighting each other" kind of a thing. It's hard to tell. Anyway, his claws are painted, as are the spines on his back. The teeth are each individually painted white - very nice - and there's a white fade on his underside. The yellow eyes are nice and glossy, making this one of the nicer-looking figures of the wave. Having said that, he's also probably the smallest figure in this line.
Since it seems this guy sold out at most of the Walmarts I haunt, I'm calling it a winner. It performed well and was just so goofy I had to get it the second I found out it existed. The very notion of it is delightfully goofy, and I have to be honest I'm incredibly jealous of the guys and gals at Pixar who are able to invent entire fake toy lines, their fake animated series, and their marketing campaigns in addition to seeing these things hit plastic. What a wonderful strange funhouse mirror of a world they must inhabit. Despite falling over a bunch, this figure is just so amusing I can't not recommend it to you. Get it if you see it!
--Adam Pawlus
Additional Images

Click here to see more Mattel figures in Figure of the Day.

See more Pixar figures in Figure of the Day:
Day 166: McDonalds Toy Story 2 Hamm Action Figure
Day 207: Funko Disney Pop! Vinyl Mr. Incredible Vinyl Figure
Day 293: Funko Disney Pop! Vinyl Mike Wazowski Vinyl Figure
Day 345: Funko Disney Pop! Vinyl Sulley Vinyl Figure
Day 1,006: Thinkway Toys Wall-E 15-Pc Bag O' Bots Figure Set
Day 1,072: Mattel Toy Story That Time Forgot Battle Armor Trixie Action Figure
Day 1,099: Mattel Toy Story That Time Forgot Battle Armor Rex Action Figure
Day 1,106: Mattel Toy Story That Time Forgot Raptorian Guard Action Figure
Day 1,382: Funko Hikari Vinyl Toy Story Original Buzz Lightyear
Day 1,850: Funko Pop! Disney Coco Ernesto Pop! Vinyl Figure