Armada Megatron
13th Anniversary Remake, Typical

Transformers Generations Combiner Wars Leader
Item No.: Asst. B0975 No. B1137
Manufacturer: Hasbro
Includes: Trading Card, rocket, two-piece gun
Action Feature: Transforms from Robot to Tank
Retail: $44.99
Availability: February 2015
Other: Not bad, not bad at all

PREVIOUS
RSS
NEXT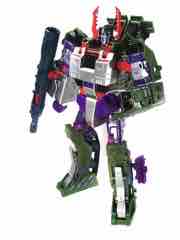 I got an Armada Megatron because it references a toy tank my now-wife bought me when we were dating. (This night may or may not have involved an empty office while I was working the night shift. That is not meant to be a euphemism.) It was a great little toy packed with fun things to do, which most toy Transformers lack now. The 2002 version was slightly taller, more brick-like, but one of the most gimmick-laden toys of the new century. There are so many moving parts and pieces that it's a ridiculous amount of fun, and it was pretty cheap all things considered. This new version has no electronics and very few gimmicks. The "antlers" are purely ornamental on the 2015 robot, you only get one launching rocket, and there are no clamping jaws or moving pegs for Mini-Cons. Or for that matter, included Mini-Cons. This is a "pretool" or "cotool" of the G1-themed Megatron in the same assortment, which means Hasbro gets a lot more mileage out of its tooling investment. Jetfire became Thundercracker, and Megatron becomes a less desirable Megatron. At least as far as the nostalgists are concerned, I think this one turned out adequately as the third major Armada remake over the last six years. It's also worth noting that you can probably get the original 2002 one for less than 2015 new one.
Standing tall over all non-combining Generations toys so far, this green and silver robot is just a hair under 10-inches at the antlers. He's functionally identical to the G1 casemate with deco and a new head being the only significant differences on the toy - in other words, it's not exactly Armada-esque in its form. As a robot, he's got 20 meaningful points of articulation and a nifty Easter Egg - his chest flips up for transformations and reveals a spark chamber modeled after the one seen in the Beast Wars episode "Master Blaster." It's a nifty nod, particularly on the silver one. Armada Megatron retains the purple face, purple Decepticon symbols on his arms, and purple fists - but really it's just a G1 Megatron with a new head and paint. And he's taller than Jetfire, so there's that.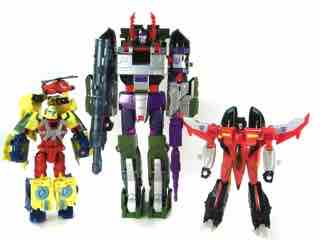 Transformation is simple. Very simple. Not Jetfire-level simple, but easy enough to figure out without consulting the instructions on the whole, other than the robot crotch placement in tank mode. Everything fits together nicely and the result is a tank with "working" treads, a feature I would like to see Hasbro kill because the rubbery elements seem to decay quickly at times. That and they don't turn particularly well, so a solid tank tread with functional wheels underneath is a generally better move - especially since you don't ever see the treads in robot mode.
This tank looks better as a tank than G1 Megatron. The green plastic and chevrons are spiffy, hiding most of the purple and red other than the aforementioned crotch and his handguns. The telescoping cannon is a nice touch, and it seems to work better when fully extended. (Yes yes, I am sure that is what she said.) The sculpting is quite good and it looks similar to Revenge of the Fallen movie Bludgeon, minus the annoying tank tassels and bendy swords.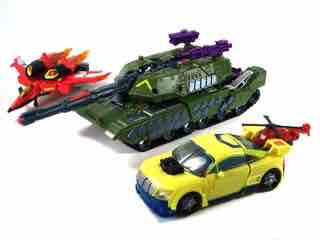 This figure has good, sturdy joints and doesn't feel hollow or light like the previous leader, Jetfire. Unfortunately, the price increases do not correspond with improved functionality so this $45-$50 toy really isn't all that better than a $25 toy. He stands a bit over an inch taller and has more paint and moving parts, but the $45 Leaders don't look quite as impressive side by side with $25 Voyagers. However, I've paid more for less and for that reason I'd say this is as interesting and more fun than many of the Masterpiece toys I've snagged. If you're a collector or fan on a budget you won't get much more enjoyment out of this than a Deluxe or a Voyager, but if you've got the cash and the space I'm sure you'll be as delighted as I was to go grab 2009 Hot Shot and 2014 Starscream to boost your Armada remake collection to a whopping three figures.
--Adam Pawlus
Additional Images

Click here to see more Hasbro figures in Figure of the Day.
Click here to see more Transformers figures in Figure of the Day.

Want to buy this figure? Check Transformers availability at our sponsors:
Entertainment Earth