Rumble & Frenzy
Decepticon Demolitions

Transformers United UN-20
Item No.: No. 205020
Manufacturer: Takara-Tomy
Includes: 2 transforming figures with 2 clip-on guns each
Action Feature: Changes from Robot to Tank
Retail: 3,780 yen (or $40-$60)
Availability: March 2011
Other: Molds originally skipped over for US release

PREVIOUS
RSS
NEXT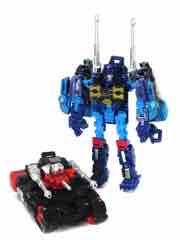 Some molds come out and a few don't. Hasbro.com posted a picture of a Transformers Reveal the Shield toy for 2011 called "Demolition Rumble," a blue Scout-class tank that (along with a couple of others) never made it out. One of the rumblings (hee hee) out of Hasbro was that the increasing costs of manufacturing caught up with the entire toy line, which makes a lot of sense. In the USA, a single Rumble would be about $7-$9, but the Japanese Rumble & Frenzy was closer to $40, or the price of a Japanese Voyager-class toy. At the time it's possible that a two-pack at a higher price might not have sat well with fans, but a few things (some of which have yet to be discussed) from that era just got swept under the rug - repaints got lost, marketing plans went unused, and you can thank the Unicron-shaped event on the horizon that is a new Transformers movie for at least some of the sudden change in the line. "Classic" toys disappeared in the USA, meaning if you wanted these you needed to pre-order the Japanese versions - and if you didn't, they got expensive, and you had to wait a few years to get them like I did.
The Transformers Collectors Club used the mold to make Eject and Rewind toys, but these molds with these heads are (as of today) unavailable in the USA. I waited until May of this year for the price to get to a level I was willing to pay, which is still a lot more expensive than it needed to be. They're larger (and about as complex) than the Masterpiece versions of these characters, so the similarity in pricing stings a tiny bit. You're paying 2015 deluxe prices - or higher - for smaller-than-average 2010 and 2011 Scout toys. And they're OK - not great, but not as good as some of the others.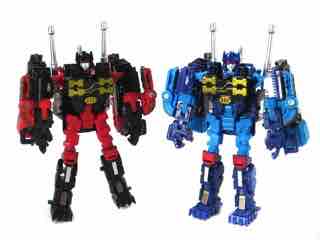 Each 4-inch tall robot is sized pretty well for most of your "Classic" toys - the Classics, Universe, United, Generations, Henkei, match them nicely. Each figure is the same mold with (surprisingly) the same paint job. The colors are applied to a blue figure and a red figure, and it seems like the packaging does its best to not necessarily clearly label which if Frenzy and which is Rumble. Old-school fans will remember Rumble is blue on the cartoon, but the toy was red - so feel free to argue to your heart's content.
Each figure has roughly 16 points of useful articulation and they're mostly a little stiff. The head's range of movement is a little jerky, and each limb feels a little stiff and chunky. I've heard some people say the legs are loose and pop off, but I haven't had this problem as of yet. The hands can't actually hold anything, but there are 3mm rods to use the c-joint clamps if you're so inclined - two silver guns are included for each figure. They also work on the figure's back, and you can use other guns if you have them. This is a nifty gimmick which more or less faded away, unlike the 5mm pegs and Mini-Con ports which we've had pretty regularly for quite some time.
These figures feel a lot more complicated than their siblings of the era, in that each has an overly bulky arm with a spring-loaded pile driver on it. You can flip the arm over, fold down the hand, and fold down the pylons - hit the silver button, and it slams down. It's a nifty action feature and fun to play with, but no doubt added to the cost of each figure to a point where Hasbro said "nevermind." The extra limb part - when not in use - hangs impotently off the back of the figure, making it look really odd if viewed from an angle.. If you view it head-on, though, it seems totally fine.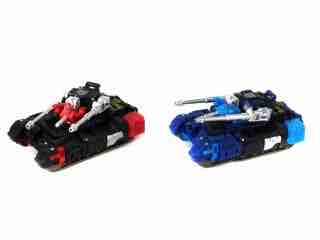 Transformation is not terribly complex, but some bits are a little stiff or weird. For example, you'll probably accidentally activate the pile drivers a few times, and rotating those silver c-clamp guns around is a tough maneuver. Everything fits together pretty nicely, and the end result is a new Cybertronian tank with a rotating turret on it rotating turret, which is pretty cool. The wheels roll under the treads fairly well, and what you have here is a decent little pair of toys. It's not as fun or simple as the others at this scale, but if you like the idea of a Deluxe toy crammed into a Scout size, you might dig this.
Without a companion Classics Soundwave still - which surprises me after nearly 9 years of "classics" - these little guys will stand on their own with Ravage (from Hound) and Overkill (from HasbroToyShop.com). The cassettes are memorable toys and the whole concept of "deployers" makes old fans salivate, but these are not those - and given the price of this import set, American fans would no doubt be best served by having bought the Masterpiece set which got you 5 tapes and a Leader-sized Soundwave for a little over $100. Still, I couldn't keep away from this set and if you can get it for $40-$50, and you're curious, it's arguably worth the asking price. More than that, and you're probably better off getting the Masterpiece toys or waiting for the next inevitable update from Hasbro.
--Adam Pawlus
Additional Images

See more Takara-Tomy figures in Figure of the Day:
Day 180: Takara-Tomy Transformers Animated Ironhide (Bulkhead) Key Chain
Day 435: Takara-Tomy Transformers Prime Gacha Arms Micron Optimus Prime Blaster
Day 476: Takara-Tomy Transformers Prime Bumblebee Sword Action Figure
Day 495: Takara-Tomy Beast Saga Raioga Action Figure
Day 529: Takara-Tomy Beast Saga Kingdom of Sea Death Action Figure Set
Day 534: Takara-Tomy Beast Saga Dolphin Burst Action Figure
Day 540: Takara-Tomy Beast Saga Kingdom of Gloria Action Figure Set
Day 544: Takara-Tomy Beast Saga Aldyle Action Figure
Day 549: Takara-Tomy Beast Saga Dorfan Action Figure
Day 551: Takara-Tomy Beast Saga Eledram Elephant Action Figure
Day 564: Takara-Tomy Beast Saga DX Starter Set Action Figure Set
Day 568: Takara-Tomy Beast Saga Tarlock Action Figure
Day 573: Takara-Tomy Beast Saga Long Giraf Action Figure
Day 579: Takara-Tomy Beast Saga Garrison G Action Figure
Day 580: Takara-Tomy Beast Saga GachaBooster General Hawk Knight Action Figure
Day 585: Takara-Tomy Beast Saga Beast Machines Sky Darling Vehicle
Day 586: Takara-Tomy Beast Saga Killer Shark Burst Action Figure
Day 593: Takara-Tomy Beast Saga Rynas Action Figure
Day 595: Takara-Tomy Beast Saga Seylas Action Figure
Day 597: Takara-Tomy Transformers Prime Zad Action Figure
Day 601: Takara-Tomy Beast Saga Bamet Burst Action Figure
Day 616: Takara-Tomy Beast Saga Long Giraf Burst Action Figure
Day 622: Takara-Tomy Beast Saga Bamet Action Figure
Day 626: Takara-Tomy Beast Saga Killer Shark Action Figure
Day 637: Takara-Tomy Beast Saga Liorga Action Figure
Day 642: Takara-Tomy Beast Saga Aldyle Burst Action Figure
Day 663: Takara-Tomy Beast Saga Janjan Action Figure
Day 669: Takara-Tomy Beast Saga Ogre Burst Action Figure
Day 678: Takara-Tomy Beast Saga Swordbill Action Figure
Day 693: Takara-Tomy Beast Saga Guarl Burst Action Figure
Day 715: Takara-Tomy Beast Saga Guarl Action Figure
Day 824: Takara-Tomy Beast Saga Mantaray Action Figure
Day 828: Takara-Tomy Beast Saga Aljaylo Action Figure
Day 839: Takara-Tomy Beast Saga Ogre Action Figure
Day 846: Takara-Tomy Beast Saga Dakker Action Figure
Day 856: Takara-Tomy Beast Saga Moreek Action Figure
Day 873: Takara-Tomy Beast Saga Wonderriver Action Figure
Day 905: Takara-Tomy Transformers Masterpiece Edition Lambor G-2 Ver.
Day 937: Takara-Tomy Beast Saga Rynas Burst Action Figure
Day 974: Takara-Tomy Beast Saga Super Win Deck Impact Set Action Figure Set
Day 993: Takara-Tomy Beast Saga Kannigal Burst Action Figure
Day 1,127: Takara-Tomy Transformers Sega Genesis Megatron Action Figure
Day 1,207: Takara-Tomy Transformers United Rumble & Frenzy
Day 1,224: Takara-Tomy Transformers Adventure Roadblock
Day 1,242: Takara-Tomy Transformers Go! Go
Day 1,247: Takara-Tomy Transformers Go! Sen
Day 1,259: Takara-Tomy Transformers Go! Geki
Day 1,262: Takara-Tomy Transformers Masterpiece Bumble G-2 Ver.
Day 1,273: Takara-Tomy Transformers Go! Ex
Day 1,284: Takara-Tomy Transformers Go! Shou
Day 1,310: Takara-Tomy Transformers Legends Slipstream
Day 1,327: Takara-Tomy Transformers Unite Warriors Grand Scourge
Day 1,328: Takara-Tomy Transformers Unite Warriors Nightbird Shadow
Day 1,326: Takara-Tomy Beast Saga Buffam Action Figure
Day 1,328: Takara-Tomy Transformers Adventure Override
Day 1,332: Takara-Tomy Beast Saga Bunikis Action Figure
Day 1,339: Takara-Tomy Beast Saga Aljaylo Burst Action Figure
Day 1,357: Takara-Tomy Transformers United Stepper
Day 1,381: Takara-Tomy Beast Saga Eledram Burst Action Figure
Day 1,429: Takara-Tomy Transformers Legends Armada Starscream Super Mode
Day 1,468: Takara-Tomy Transformers Unite Warriors Grand Galvatron
Day 1,471: Takara-Tomy Zoids Masterpiece Shield Liger
Day 1,496: Takara-Tomy Beast Saga Dacker Burst Action Figure
Day 1,627: Takara-Tomy Transformers Legends Convobat
Day 1,670: Takara-Tomy Transformers Legends Leo Prime
Day 1,814: Takara-Tomy Beast Saga Mantaray Burst Action Figure
Day 1,842: Takara-Tomy Transformers Legends Blackarachnia
Day 1,911: Takara-Tomy Beast Saga Wolfen Burst Action Figure
Day 1,964: Takara-Tomy Beast Saga Buffam Burst Action Figure
Day 2,000: Takara-Tomy Zoids Wild ZW-05 Gannontoise Figure Kit
Day 2,006: Takara-Tomy Beast Saga Raioga Burst Action Figure
Day 2,008: Takara-Tomy Zoids Wild ZW-01 Wild Liger Figure Kit
Day 2,013: Takara-Tomy Zoids Wild ZW-03 Kabtor Figure Kit
Day 2,017: Takara-Tomy Zoids Wild ZW-04 Scorpear Figure Kit
Day 2,039: Takara-Tomy Zoids Wild ZW-06 Gabrigator Figure Kit
Day 2,075: Takara-Tomy Zoids Wild ZW-07 Kuwaga Figure Kit
Day 2,191: Takara-Tomy Transformers Generations Selects Deluxe Gulf (Skalor) Action Figure
Day 2,200: Takara-Tomy Transformers Generations Selects Deluxe Turtler (Snaptrap) Action Figure
Day 2,213: Takara-Tomy Beast Saga Kannigal Action Figure
Day 2,273: Takara-Tomy Transformers Generations Selects Voyager Super Megatron Action Figure

Click here to see more Transformers figures in Figure of the Day.

Want to buy this figure? Check Transformers availability at our sponsors:
Entertainment Earth