Starscream
Rightfully Elected Ruler of Cybertron - a Chosen One

Transformers Generations Combiner Wars Leader
Item No.: Asst. B0975 No. B2444A
Manufacturer: Hasbro
Includes: Trading Card, crown, rocket, blaster, 6 snap-on guns
Action Feature: Transforms from Robot to Plane
Retail: $44.99
Availability: August 2015
Other: Jetfire retool, Thundercracker redeco, Skywarp is next

PREVIOUS
RSS
NEXT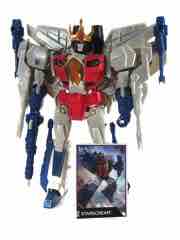 One of the unfortunate facts of the toy business is that main characters tend to sell - so love it or hate it, you probably have seen many a Starscream. This one is big, roughly the same size (and price) as the Masterpiece Edition on shelves at Toys R Us with greatly reduced articulation and detail. However, it is the quasi-Cybertronian look in the current IDW comics, and it's got a crown. I like this. The crown has nowhere to go in jet mode, but such is life. It's neat - it would benefit from a facial expression that matches the box art, as it's pretty bland.
If you have Thundercracker, you know what to expect in this 9-inch tall robot. You know the drill. 20 points of articulation, 6 guns that don't fire rockets, and one that does - plus a crown. Starscream has the light-up eye port and now you know why he's got an ugly hole in his forehead. This is where the crown plugs in, and odds are they could have had the plug on the back and you'd never be the wiser. It smells of poor planning, but for all I know there are safety reasons to do this. The crown isn't quite gold, but it's "gold" in the sense that if this was an animation cel it would pass as gold. A big red gem in the middle looks nice, but the other red tips on the crown were left gold. It doesn't quite match the movie, but since he doesn't have his trademark smirk it's just sort of... off.
The deco is pure Starscream, with light grey plastic and red with blue highlights. A fake orange cockpit on his chest looks pretty slick, and a too-small Decepticon symbol on his arm is something of a distraction. A bigger one, or none at all, would probably have looked wonderful - this is acceptable. Blue plastic fists easily hold the included weapons, and the firing gun is a cool (if unnecessary) extra. Who can say no to something this fun? It doesn't hurt anything. It's a good, if unremarkable, toy. The eyes are a little off and the look is mostly acceptable, but it's annoying in that it could be better.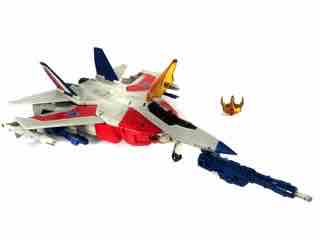 Transformation is nearly identical to Jetfire, and the same as Thundercracker. Guns pop into place, nosecones rotate out, and while some of the wings move not all of them do. You can figure this one out pretty easily without the instructions, and I would say it's about as complicated as an above-average deluxe toy. The vehicle itself has the same connection points - so you can add a booster, if you want - as well as the retractable landing gear and rolling wheels. What's notable are the wings - the big ones don't move, but the smaller ones on the back are jointed as one might expect. The jet is smooth and sleek, with a retooled area with the intakes giving it a slightly different look than Jetfire. You still have the opening canopy with seating for some smaller figures, assuming you have any handy. (See: Zoids, Starriors.)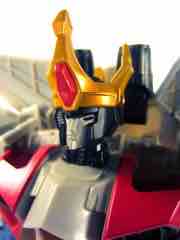 You've got a moving wheeled landing strut and that's about it - the cockpit opens and really all that you need to be concerned with is "robot mode or jet mode?" I assume you'll go with robot so you don't have to stash the crown somewhere. It's fun and nice, sure, but we're also getting four flavors of a $45-$50 mold - and if you cared, you probably bought Jetfire last year. I'm assuming I won't need Skywarp but I might still buy it anyway. Figure like this are kind of annoying - I wanted to have it, but I'm pretty sure it's going to live on a shelf for a few years after I snap the last couple of photos for the review. Unless this is your only Starscream, I assume the same will happen for you. It's a very nice Starscream, but if you just want a good one for your shelves the $60 Masterpiece may be a better buy.
--Adam Pawlus
Additional Images

Click here to see more Hasbro figures in Figure of the Day.
Click here to see more Transformers figures in Figure of the Day.

Want to buy this figure? Check Transformers availability at our sponsors:
Entertainment Earth