Brocotal
Designed/Sculpted by George Gaspar

OTMFG Mini-Figures
Item No.: n/a
Manufacturer: October Toys
Includes: n/a
Action Feature: Glows in the dark!
Retail: $2.00
Availability: November 15, 2014
Other: Original debut at Designer Con 2014

PREVIOUS
RSS
NEXT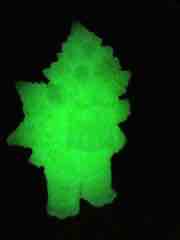 October Toys makes good stuff, and when they debuted Brocotal in green I bought it on the spot. Fortunately - or unfortunately - I liked it so much that I didn't feel the need to get it in another color. It was perfect! But there's always room for one more, so the glow-in-the-dark version issued last November was a must.
The figure has an excellent form, with the sculpt being partially actual vegetation integrated into a sculpted figure that's sort of a little gnome guy. It's hard to tell thanks to the properties of most glowing plastic, which absorbs much of the sculpted detail as its semi-translucent skin lets light bounce through it in weird ways giving you more of a general idea of its shape, but not really of the finer details.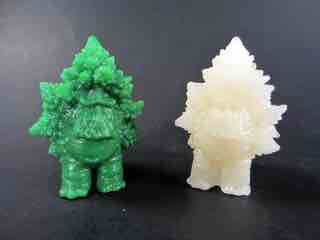 Since the sculpted detail is tough to see, what matters is if the figure glows brightly. And it does! October Toys' (and indeed, anything that comes out of the Axis of Onell Design) glow plastic may be the best money can buy today, or any day. I've got a big shelf filled with glowing toys from over the years and it's really interesting to see how some (but not all) of the newer glowing figures tend to be the best. Some of the new guys are also the worst - but not from this factory or these guys. Ask me about them if you see me in person somewhere. All that matters for this guy is if he's bright, and he's plenty bright.
For two bucks, this is a steal - your not having one is a crime against indie toy collecting. October Toys' wares are consistently the cheapest with the highest quality, and the only real disappointment you may feel is that there is too much variety in terms of colorways. If you're able to restrain yourself and only buy a couple, you're going to have a good time. Since October Toys understands just how much some of us love our glowing figures, glow in the dark Brocotal is a winner. Even at $4 he'd still be pretty fantastic. If you can still get one for two bucks, you owe it to yourself to get one for your home. Not office, as it will likely never be dark enough to glow there. This is the kind of figure you put in a room that's dark when you turn off the lights - like above your TV or home computer, if you're old enough to still use a computer and not do everything on your phone or iPad.
--Adam Pawlus
Additional Images


See more October Toys in Figure of the Day:
Day 315: October Toys Outlandish Mini Figure Guys (OMFG) Series 1 Minifigures
Day 481: October Toys Outlandish Mini Figure Guys (OMFG) Series 1 Glow in the Dark Minifigures
Day 494: October Toys Zillions of Mutated Bodies Infecting Everyone (ZOMBIE) Series 1 Neon Orange Minifigures
Day 570: October Toys Outlandish Mini Figure Guys (OMFG) Series 2 Minifigures
Day 590: October Toys OTMF Baby Deadbeet Mini-Figure
Day 751: October Toys Zillions of Mutated Bodies Infecting Everyone (ZOMBIE) Series 1 Blue Glow in the Dark Minifigures
Day 775: October Toys Outlandish Mini Figure Guys (OMFG) Series 3 Minifigures
Day 813: October Toys OTMFG Zombie Pheyden Mini-Figure
Day 885: October Toys OTMFG Brocotal Mini-Figure
Day 909: October Toys OTMF Glow in the Dark Toy Break Mini-Figure
Day 929: October Toys OTMFG Flesh 3DRetro Robot Mini-Figure
Day 943: October Toys OTMFG Glow in the Dark Baby Deadbeet Mini-Figure
Day 1,113: October Toys OTMFG Glow in the Dark Brocotal Mini-Figure
Day 1,142: October Toys Outlandish Mini Figure Guys (OMFG) Series 2 Glow in the Dark Minifigures
Day 1,184: October Toys Skeleton Warriors Bone Titan Skeleton Action Figure
Day 1,191: October Toys Skeleton Warriors Baron Dark Action Figure
Day 1,214: October Toys Skeleton Warriors Glow-in-the-Dark Titan Skeleton Action Figure
Day 1,300: October Toys Outlandish Mini Figure Guys (OMFG) Series 4 Minifigures
Day 1,261: October Toys October Toys Mini Figure Guys (OTMFG) Brainwaves Minifigures
Day 1,547: October Toys October Toys Mini Figure Guys (OTMFG) Glow-in-the-Dark Mini Gwin Minifigure
Day 2,324: October Toys Outlandish Mini Figure Guys (OMFG) Series 3 Glow-in-the-Dark Minifigures

See more October Toys Mini Figures (OTMF) and October Toys Mini Figure Guys (OTMFG) in Figure of the Day:
Day 590: October Toys OTMF Baby Deadbeet Mini-Figure
Day 813: October Toys OTMFG Zombie Pheyden Mini-Figure
Day 885: October Toys OTMFG Brocotal Mini-Figure
Day 909: October Toys OTMF Glow in the Dark Toy Break Mini-Figure
Day 929: October Toys OTMFG Flesh 3DRetro Robot Mini-Figure
Day 943: October Toys OTMFG Glow in the Dark Baby Deadbeet Mini-Figure
Day 1,113: October Toys OTMFG Glow in the Dark Brocotal Mini-Figure
Day 1,261: October Toys October Toys Mini Figure Guys (OTMFG) Brainwaves Minifigures
Day 1,547: October Toys October Toys Mini Figure Guys (OTMFG) Glow-in-the-Dark Mini Gwin Minifigure