Slog
Amazon Exclusive

Transformers Age of Extinction Generations Voyager Class
Item No.: No. B2954
Manufacturer: Hasbro
Includes: 2 swords, 2... coral things?
Action Feature: Transforms from Apatasaurus to robot
Retail: $24.99 $9ish
Availability: December 2014
Other: M4 Series #005 (same as regular Slog)

PREVIOUS
RSS
NEXT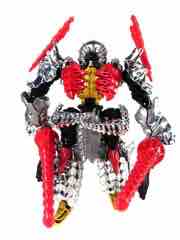 I am such a sucker for clearance toys. Amazon's exclusive G1 Slog is #18 of the "Thrilling Thirty" imprint, which is a mix of exclusive and special toys that, let's be honest, nobody bought all of. (I got maybe 9.) The prospect of a faux-G1 Sludge out of movie Slog was too much to pass up on clearance, as the toy's late December delivery made it miss Amazon's traditional "this just arrived let's mark it down for Christmas" window - check their site in early December for most of their exclusives. Instead, they waited about 9 months to really mark it down, and for nine bucks it's probably worthwhile.
As a robot, it looks way more interesting than the bland original release - silver chrome, faux stickers are painted on, it's just a lot more colorful and shiny. It's also a lot like Charlie Brown's experience with football - we know it's going to hurt, but we go for it anyway. At about 7-inches tall, the figure is, visually, sort of a mess. The coloring helps set apart limbs a bit, but it's still Slog, and Slog has iffy elbow joints and stability issues.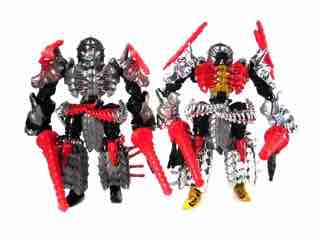 Transformation is a mix of clever and frustrating. His dino chest is soft rubber so it's sort of cheaty, and numerous panels shift and rotate to not quite lock into position. I'm quite keen on how the robot legs come to be, but his dinosaur tail looks like a pair of schlongs dueling over his codpiece. A flexible rubber mudflap covers his chest area, and is sort of bent out of shape out of the box - so it doesn't quite fit right. To use a phrase I'm deploying all too often these days, it's undercooked. It's almost good.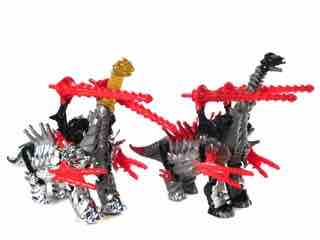 Our plastic dinosaur pal looks a lot like what a G1 Sludge might look like today - his head is golden and partially transparent, his tail is silver, and his body is a mix of grey, red, and silver. The eyes are blue (a nod to the original cartoon) with an articulated jaw. If you try moving his dino limbs, he starts to fall apart - the dinosaur mode was not designed to hold together in a particularly sturdy way. Really, here the excessive spines and parts tolerance come to the fore as you no doubt will have a hard time resisting trying to fix his transformation and get a superior dinosaur mode. You won't get it perfect, though, which is kind of obnoxious given that the 1980s Transformers rarely if ever had problems transforming. They may have been bricks, or unpanited, or relied on stickers, or crumbled in your hands due to gold plastic, but dagnabbit you could transform them!
I rarely note the packaging, but it's worth noting here - Hasbro took an interesting shortcut. The box is the same one as the normal Slog, with a special sticker over the UPC and SKU of the original toy. The printed box is otherwise identical, so Hasbro managed to come up with a sneaky shortcut to give you the same box with a new toy, instead of the same toy in a new box. The back of the box showcases the regular retail release of Slog, which is mostly grey and red.
A modified take on this toy came out as part of the Platinum Edition Dinobots set, which is basically the same toy with no chrome and a new robot head. It's sort of neat, until you realize Hasbro probably made it in an attempt to satisfy fan demand for G1 Dinobots, of which few updates have been made over the years. (Grimlock. And that's about it.) They're very similar toys, and I went with the one that was cheaper - also I got the SDCC Ark Dinobots, and had a hard time coming up with a reason to spend that much money on the same toys of the same characters with new heads. They're neat, but not worth the extra money. Similarly, G1 Slog is neat, but not worth the extra money. Because of my problems with the original mold, which basically caused me to not play with it after the initial review, I waited over a year to get him because it simply was not worth the asking price to me. He's cute shelf candy for about ten bucks, but more than that and I suspect you'll be disappointed. If you're just going to leave it on a shelf, though, it's a charming design and once you massage everything in place, and never touch it, it's probably fine. Just buy two to leave in each mode - they've been cheap enough lately.
--Adam Pawlus
Additional Images


Click here to see more Hasbro figures in Figure of the Day.
Click here to see more Transformers figures in Figure of the Day.

Want to buy this figure? Check Transformers availability at our sponsors:
Entertainment Earth