Bombshell
Meet the Beetles

Transformers Generations Combiner Wars Legends
Item No.: Asst. B0971 No. B1181
Manufacturer: Hasbro
Includes: Trading Card
Action Feature: Transforms from Robot to Insecticon
Retail: $9.99
Availability: December 2014
Other: Beetles for Sale

PREVIOUS
RSS
NEXT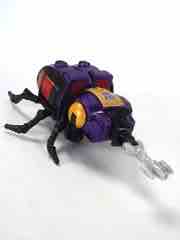 Despite their early G1-ness, I was never a huge fan of the Insecticons. I enjoyed their interesting speech patterns and their appearances on the cartoon, but as a thing I spend money on they never particularly excited me. Last year's Skrapnel was perfectly nice but I was more interested in Reflector. When it comes to Bombshell, though, I'm actually quite impressed. With no weapon (boo) or sidekick figure (hissss) Hasbro instead added a lot of really nice paint applications to this figure, resulting in a pretty stunning release. You'll just need to use whatever spare parts you have until I can successfully convince the BMOG dudes to make some chrome guns.
While the figure has 2 modes, I see some evidence of a third. Figures in this line are a mix of repaints and new molds, the new molds generally intending to be weapons or accessories for the bigger combiner guys sold separately. When you look at the packaged Bombshell figure you can't miss a pair of 5mm poles in his knees which serve zero aesthetic or functional purpose. I refuse to believe they're merely an ornament, and given how each hand looks a lot like a barrel of a gun there's undoubtedly some sort of unfinished (or just undocumented) weapon mode here. What it is, I don't know, I'm not good at finding special builds.
The robot, while unarmed, is exquisite. The figure has red eyes and a silver face plate with black openings in it. A lush, thick metallic orange paint has been applied to the chest and shoulders, complete with a nice big Decepticon logo and some silver outlining. The legs even have a wonderful red on them, under the feet as well as on the calf area. It seems like Hasbro realized that they had a good mold that wasn't pulling its weight at $10, so they added some extra paint and did a bang-up job. By comparison, last year's Skrapnel had a thinner orange and only two colors of paint. The silver painted button elements on Bombshell's chest are almost too much for me to take - they did a nice job here. Also notable as the figure is 4-inches tall, the arms race between providing the best value in Star Wars and Transformers seems to be back on - and this one is most certainly earning my favor.
The robot has 13 points of articulation and a wonderful metallic purple plastic that, once again, puts Skrapnel to shame. If Hasbro sent this figure out with a press release informing me of the droppage of the sidekick Micro figures, I'd probably just say "well, seems fair to me." When I was originally informed that the little guys were going away for trading cards, let me assure you, there was much complaining. From me. Because I'm a child.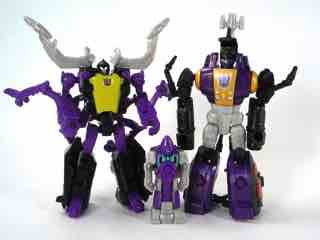 Transformation is, as one might hope at this scale, simple with no parts popping off. His arms fold back, his waist turns around, his feet fold back, and the "helmet" covers his non-articulated head. One of the big surprises for me was discovering that each insect leg is jointed separately, so you can rotate them a tiny bit during the transformation or in insect mode.
Unlike the somewhat large and awkward Skrapnel, Bombshell is basically perfect in both modes with the minimal recommended daily allowance of kibble. The bug is, for lack of a better word, adorable. The legs are there, he's sort of chubby, and the silver part of his head is articulated. Admittedly my expectations for this particular toy weren't high, but I think I can say with absolute certainty that this is probably the best 4-inch "Legends" figure in the G1 remake parade and if TakaraTomy puts out their higher-priced version of this, I think it's going to be tough to make it much better. Other than adding silver paint to the silver plastic parts, or a new sculpted gun, improving on this seems unlikely.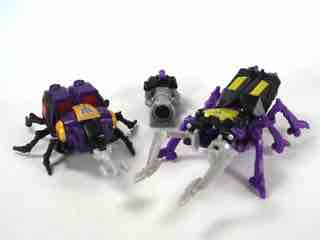 The figure also comes with a trading card from the Transformers Legends smart phone card game. I was originally under the impression the card should do something in-game, but it does not appear that this is the case, nor does the card really mention the game or promote it. It's thicker than most trading cards I've ever owned by a considerable margin and as a replacement for the sidekick figures, is pointless on all levels. Without integration into the software it seems like a waste of space plus it's hidden behind the figure - if (or perhaps I should say when) they phase this out the next time labor costs in Vietnam go up, you won't even remember that these were here. They're nice in terms of art, sure, but once you open it you'll throw it in a drawer and never look at it again. I wish they used the back of the card to do something interesting - print the instructions, add a longer character bio, or even just upsell me on the game. I don't play it - why not take this chance to sell me on it?
Since I wasn't particularly looking forward to Bombshell at all, the surprise sense of joy I feel having just opened him and played around with him is really something of a stunner. He's great, he's fun, and at ten bucks I was prepared to say "wait for a sale" but I'm not going to do that. If you're an adult fan - particularly one who buys third party stuff or the higher-priced Japanese imports due to their improved deco - I would urge you to run out and buy (or at least examine) Bombshell and tell me you're not impressed. Now that I see what you are capable of, Hasbro, I expect something equally awesome if and when you give S.shtmlray, Warpath, or Kickback another shot. Between Robots in Disguise and Combiner Wars, Hasbro just dropped 24 figures in the last month - more if you count the final 3 of "last year"'s Generations line. It's too early to be talking best of 2015 but if we're going to count this late-December release, I'm going to say Bombshell is the small robot to beat for the next 12 months.
--Adam Pawlus
Additional Images

Click here to see more Hasbro figures in Figure of the Day.
Click here to see more Transformers figures in Figure of the Day.

Want to buy this figure? Check Transformers availability at our sponsors:
Entertainment Earth