Oilmaster
The Bounty Hunter

Transformers Timelines BotCon 2015 Boxed Set Toys
Item No.: No. 337077 / 7655000651
Manufacturer: Hasbro
Includes: Sword, gun, ape shell, SUV, plane
Action Feature: Backpack opens to store smaller toys
Retail: $300-$400
Availability: June 2015
Other: New ape, Swerve redeco, Constructbots weapons

PREVIOUS
RSS
NEXT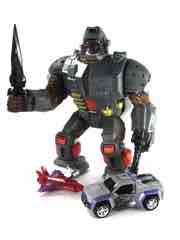 Thanks to a good pal, I got Oilmaster in the mail on the same day as the new Devastator. If you're not merely a fan, but a fanatic, this makes for a tremendous day. Oilmaster is a (largely) new toy based on an unreleased Generation One concept and Devastator delivers on the promise of a giant, legit threat of a toy. Both are unusually big, although one is textbook obscure while the other may as well be the posterboy for the franchise. Fan reaction being what it is - immediate, knee-jerk expressions of the id - was mixed. Some loved it. Some hated it. What this piece represents is completely fascinating on multiple levels, because this is the first toy to do something that Hasbro has, so far, largely ignored - the "vintage" aspect.
Hasbro mines the characters and names for all they're worth, as it is nearly impossible to go to a store today and not recognize at least one robot containing DNA from something dating back as far as 1984. Even the new kid stuff has at least one toy per line that looks similar to something kids have known for decades. Hasbro and Funko have played a lot with this convention giving us, in many cases, literal recreations of classic toys. Funko's ReAction line gives you an action figure through a warped 1970s lens as well as the "nonstalgic" take on Alien - toy toys you were denied as a child. Hasbro's The Vintage Collection toys for Star Wars and G.I. Joe's 25th Anniversary lines focused on the packaging nostalgia button which, interestingly, Hasbro hasn't pressed outside a few reissues for Transformers. "G1 packaging" with its purple/red graphic design, grids, gorgeous paintings, and window boxes is scarce stuff in the USA. Hasbro proper has yet to make a new toy in the slavish style of the 1980s. While an all-new mold developed by the ex-Hasbro people at Boss Fight Studios, Oilmaster's gorilla shell trades heavily on this nostalgia button - it isn't the 1980s prototype, but functionally it's not unlike the kinds of toys from the late 1980s.
For this reason, I knew I had to have it. It's the first legit new Pretenders toy since the late 1980s! So even though I've got a giant, 18-inch Devastator, this novelty-sized 8-inch robo ape packs a surprisingly potent punch to the gut - it's a thing you almost had as a kid. But fate intervened...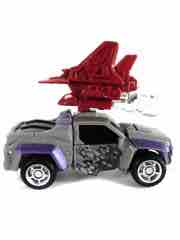 The main selling point of this toy is the 8-inch entirely new ape shell. Two colorways were shown at a BotCon many years ago, one matching this version - brown fur, grey armor - the other was a lighter fur with pink armor. I'm actually a little stunned we didn't get that version as an at-show souvenir of some sort to amortize the new mold costs, but here we are. The toy is not perfect but very good - it has articulated shoulders and a jointed neck. It doesn't mention Hasbro or Tomy anywhere on the toy, but it does say "2015 FUN PUBLICATIONS INC MADE IN CHINA" on the foot in a serif font, as is the way of Fun Publications. (Seriously, look at their magazine.) My sample has legs which are bent a little bit, leading to a slightly awkward pose - the plastic is a little more rubbery than my other Pretenders toy, Catilla.
Each ape hand is open and has a 5mm opening. This means he can use pretty much any 5mm accessory, from the included sword or gun to the preposterously great Combiner Hunters mega-weapons. There are 5mm ports in his backpack, but it seems they're a little too tight for most weapons to fit right and the angle is a tiny bit off. The backpack hatch opens to store his transforming components, both parts of Swerve from the 2014 line.
the sculpt is very 1980s, in that his expression owes much to the expressive action figures of that era - and not Takara's unique animal face sculpting from Battle Beasts and the Pretenders. The asymmetrical mouth and the round eyes aren't how Takara usually did things, and as such this one isn't a dead-ringer for a vintage-era shell. Of course, there's also the reason that they slathered it in paint. Brown fur has light brown highlights, there are panel lines all over his armor, you can see red, silver, and gold trimming, and his face sports white teeth and blue eyes. Even the back of the toy has gold triangles, black panel lines, and other fairly significant paint applications - it is staggering that his toy has this level of detail. It's not the club toys aren't good, it's just that to have a wholly original molded figure - and a big one, at that - it's surprising to see the paint budget was generous.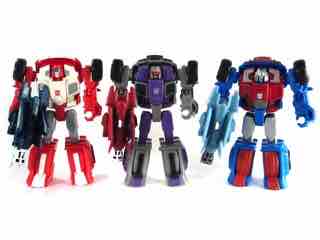 Inside the lightly-jointed figure, you'll find Oilmaster's transforming components. If you bought Swerve and Flanker, you'll recognize the molds. Oilmaster's SUV is grey with purple and black trim, plus silver wheels and black windows. It's quite impressive. There's a Decepticon logo on the hood - the shell features no such markings - and the transformation is just as easy as Swerve's. He's great! The robot mode actually looks better than Swerve, with whiter teeth painted more evenly than any of the dozens of Swerves I saw. His coloring carries over nicely, and I should add that plugging Oilmaster (plane) into the roof of the car mode poses no problems - my Gears had issues getting Eclipse in there. If you like how Oilmaster (SUV) looks, you're going to like this one.
Oilmaster (Plane) looks a lot like the Micromasters you love but can never remember their names, making it a distant cousin of Airwave from the Airport Base set. The little plane looks like a drone with no real hints of a cockpit, but it does have blue stripes on his wings and the Decepticon symbols you crave. It goes from a red plane to a white robot to a red-and-white blaster easily, without any obvious tooling changes from previous releases of this mold. I like it. It's good. It's dang expensive, but it's interesting.
I rarely buy these sets due to the high cost of repaints, but the high piece count and the Oilmaster ape shell made me want this one. A new Pretenders toy? That's worth shelling out for, plus the bagged 5-pack was peppered with Microns, sidekicks, and Targetmasters to drive the actual robot tally to about 11. The figure commands a high secondary market price for the time being, but history usually shows these things go down with time and sometimes will stay that way. If you can get the set of "5" for $300 or so, it's arguably expensive but worth it - and if it goes down to less than that, and you have ever overpaid for imports or designer vinyl toys, it's easily worth the asking price for something genuinely unique rather than a recolor with (or without) a new head. You genuinely do not have a big gorilla figure like this in your collection already for a change, so my hat is off to the team over there for executing it. Also, good luck to them for surpass it for next year - this is a pretty high bar to pass.
--Adam Pawlus
Additional Images
Additional Transformers BotCon 2015 Bagged Set Images

Click here to see more Hasbro figures in Figure of the Day.
Click here to see more Transformers figures in Figure of the Day.

Want to buy this figure? Check Transformers availability at our sponsors:
Entertainment Earth