Eager Beaver
Japanese name "Beavop"

Battle Beasts Series 2
Item No.: #44
Manufacturer: Hasbro
Includes: Saw Beat weapon, second randomly-selected figure
Action Feature: n/a
Retail: approx. $3.99
Availability: ca. 1987
Other: This sample has a "Fire" rubsign

PREVIOUS
RSS
NEXT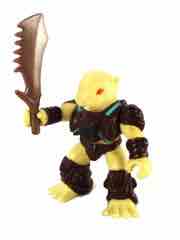 Most of the figures I tracked down as a kid were aquatic in nature - so Eager Beaver was another no-brainer. The figure shows that whole quasi futuristic vibe you've come to love from Takara and Hasbro, with big armor and not much in the way of pants. This unique style was largely cribbed in Beast Saga, and it's not too dissimilar from Masters of the Universe. The outfit is unique in that it doesn't feel slavish to the creature's habitat, and also shows off some of the more distinctive features of the anatomy.
Molded in an off-white, creamy color this little fellow has a generous application of dark brown paint to bring his armor to life. Some aqua highlights and red painted eyes bring this figure to life, as does a color-change sticker and buck teeth painted white. In short, it looks a lot like a hairless beaver. There's a joke there, and I'm not going to make it for you. Our not-so-fuzzy friend here is the same size as all his siblings, roughly 50mm or 2-inches. With no hair detailing and minimal sculpted detail, it's remarkable how nicely this figure evokes its natural namesake.
A little nose and whiskers bring his face to life, with a strangely squirrel-like tail and webbed feet to round things off. His fingers are barely detailed, but you do see lines separating each digit rather than the "mitten" used for most series 1 releases. He's cute, and I appreciate how his armor evokes more than "swamp rodent" or "lumberjack rat."
When buying Battle Beasts, it's important to remember they tend to be more expensive as single figures than as a lot or a group - so try to buy a collection if you can, and sell off the extras. Alone, Eager Beaver will cost you $10-$15, but in a lot he can be as cheap as $3. Buying in bulk works nicely when collecting old action figures, the trick is you'll have to be patient and sometimes be willing to do some reselling or trading of your own. I like this one a bunch, the sample you see here I've had since its release nearly 30 years ago and I love how Takara and Hasbro worked out the design to limit wear and tear on the paint - molded feet and hands helps reduce visible aging on the plastic. Get one if you can, and then buy some more, and then join me in writing letters to Hasbro to make new ones as some sort of Transformers adjunct because it'd be awesome.
--Adam Pawlus
Additional Images

Click here to see more Hasbro figures in Figure of the Day.
See more Battle Beasts figures in Figure of the Day:
Day 82: Diamond Select Battle Beasts Minimates SDCC Gold Alligator Action Figure
Day 373: Diamond Select Battle Beasts Minimates Case Red Alligator Action Figure
Day 374: Hasbro Battle Beasts Sawtooth Shark Action Figure
Day 375: Hasbro Battle Beasts Wolfgang Walrus Action Figure
Day 376: Hasbro Battle Beasts Diving Duckbill Action Figure
Day 377: Hasbro Battle Beasts Spark Shark Action Figure
Day 390: Diamond Select Battle Beasts Minimates C2E2 2012 Red Vorin
Day 391: Hasbro Battle Beasts Anarchy
Day 395: Diamond Select Battle Beasts Minimates C2E2 2012 Grey Vorin
Day 417: Hasbro Battle Beasts Run Amuck Duck
Day 436: Hasbro Battle Beasts Horny Toad
Day 450: Diamond Select Battle Beasts Minimates SDCC 2012 Vorin & Zik
Day 451: Hasbro Battle Beasts Sledgehammer Elephant
Day 460: Diamond Select Battle Beasts Minimates SDCC 2012 Gold Vorin
Day 463: Diamond Select Battle Beasts Minimates C2E2 Exclusive Black Alligator
Day 451: Hasbro Battle Beasts Pillaging Polar Bear
Day 577: Hasbro Battle Beasts Slasher Seahorse
Day 610: Diamond Select Battle Beasts Minimates Gruntos the Walrus & Tate Reynolds
Day 639: Hasbro Battle Beasts Triple Threat Snake
Day 674: Hasbro Battle Beasts Hare Razing Rabbit
Day 720: Diamond Select Battle Beasts Minimates Shadow Merk
Day 723: Hasbro Battle Beasts Pillager Pig
Day 914: Hasbro Battle Beasts Rainbow Sam
Day 972: Hasbro Battle Beasts Pixilated Pointer
Day 1,084: Hasbro Battle Beasts Sir Sire Horse
Day 1,278: Hasbro Battle Beasts Hardtop Tortoise
Day 1,291: Hasbro Battle Beasts Tanglin Pangolin
Day 1,306: Hasbro Battle Beasts Eager Beaver
Day 1,313: Hasbro Battle Beasts Bodacious Bovine
Day 1,756: Diamond Select Independent Comic Book Minimates Battle Beasts Ruminant and Spyrnus
Day 1,815: Diamond Select Battle Beasts Minimates Stealth Vorin
Day 1,827: Hasbro Battle Beasts Sabre Sword Tiger
Day 1,890: Hasbro Battle Beasts Battling Deer Stalker Chariot
Day 1,905: Diamond Select Battle Beasts Minimates Antalor and Nychirix
Day 1,906: Hasbro Battle Beasts Killer Carp
Day 2,024: Fisher-Price Imaginext Series 11 Collectible Figures Triple Threat Snake
Day 2,074: Hasbro Battle Beasts Octillion Octopus