Neo Granthan Cliffstalker
Brown Plastic, Orange Face

Glyos Action Figures
Item No.: n/a
Manufacturer: Onell Design
Includes: Classic Armorvor helmet, backpack
Action Feature: n/a
Retail: $10.00
Availability: January 25, 2015
Other: Triple Granthan Debut

PREVIOUS
RSS
NEXT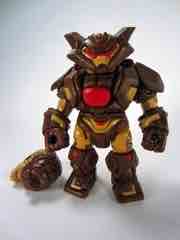 The name is evocative! The Neo Granthan Cliffstalker is a brown, chocolate-flavored take on the Battle Beasts-inspired Glyos figure. With an orange skin and a red Black Core, this feels like many of the popular 1980s robotic toys out of Tomy. While not a perfect match, it immediately reminded me of Robostrux mixed with a little bit of the ever-lovin' blue-eyed Thing. He is orange with blue eyes, after all.
The Armorvor has been around for a few years now, so these new flavors make a big difference in keeping the venerable design interesting. Customizers have cast wondrous unique heads for this design, most of which tended to focus on the entire Battle Beasts.shtmlect of the design. Onell Design instead opted to play up the sci-fi.shtmlects of the figure, giving us a helmeted space dinosaur. It's like the Dinosaucers line Galoob never gave you, yet you still got the cartoon for some reason.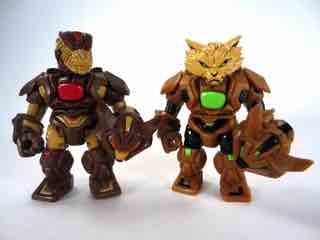 Space dinosaurs are far and few between lately. Sure, Star Trek: Voyager had the Voth, but how about awesome armored fighting ones? It's not a common thing anymore, we saw a lot of this sort of thing in Japanese Beastformers and Triceradon in Teenage Mutant Ninja Turtles back in previous decades. The Armorvor body is versatile enough that, were they willing, Onell Design could probably make hundreds of unique characters with different heads. Unfortunately, that gets expensive - so we'll probably get about 20-30 of each new designed head. This sort of thing is pretty fresh right now, and timed nicely given the upcoming dinosaur toy gambit that is Jurassic World.
But what about the toy? It's good. 14 joints and a backpack are all junctions at which the figure may be split apart. The heavily lined face hides a lot of personality that will undoubtedly be brought to light in customs or future colorways. The sneer is largely implied by the wrinkles on his face, which remind me a bit of the Ggripptogg figure from Power Lords. It helps to make what could be a familiar face into something even more foreign and a little menacing. The colors look great and the bulky armor still seems to hold a lot of opportunity in there should the Glyos people decide to change out the color masks. It's also worth highlighting that the "wolf helmet" head has returned so you've got that option too.
I've had these for a while and I'm still not sure which Granthan is my favorite. At first I thought it was the green one. And then this one. And then maybe the silver one. Each one seems to do a good job with the mold, but I will say that the Cliffstalker looks more than a little like numerous heroic 1980s toys. I can't deny I like that sort of thing. Get one if you can, but if a future one carries some form of faction symbol or perhaps glowing details, get that one instead. Because the head does a marvelous job changing the toy's personality, I strongly suggest giving the Neo Granthan a shot.
--Adam Pawlus
Additional Images


Click here to see more Onell Design figures in Figure of the Day.
Click here to see more Glyos Compatible figures in Figure of the Day.