Dracula
Dig the Vinyl Cape

Universal Monsters ReAction Figure
Item No.: No. 4086
Manufacturer: Funko
Includes: Vinyl cape!
Action Feature: n/a
Retail: est. $9.99
Availability: September 2014
Other: No foot peg holes

PREVIOUS
RSS
NEXT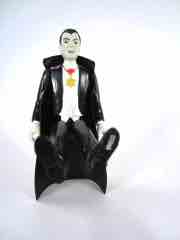 Arguably the most famous of the classic Universal Monsters, Lugosi's Dracula only appeared in two movies (and other places) and helped instill the seemingly endless fascination with vampires in popular culture. Along with zombies, it's a safe bet that in almost any genre show they're going to come across some sort of vampire thing. Maybe Greek Vampires. Maybe Space Vampires. Perhaps Salt Vampires. It's going to happen largely thanks to the surprisingly unnerving performance in the 1931 film. The figure does a good job of picking up many of the significant.shtmlects of his costume, but does a rotten job on getting the head right. The back of the packaging is stamped with the Lugosi licensing logo, but (and this is important for those of you who bought figures in the 1990s and earlier) the Lugosi stamp of approval wasn't always there. Sometimes you have the character's license, but not the actor, and in this case the packaging says they have both. But that ain't Bela. Back in the 1980s, it could go either way, so let's say this was a conscious choice.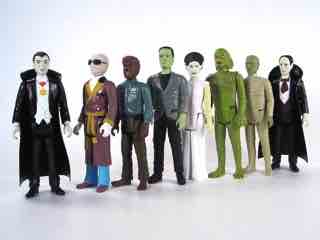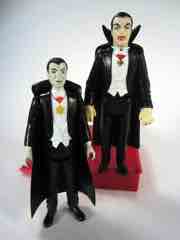 The thing that surprised me the most was just how much this figure was like the 1990s Burger King counterpart. Other than the head, cape, and skin tone, they're remarkably similar albeit clearly sculpted at different times by different people with different goals. The fast food Drac has zero similarity to the movie actor's head, and I guess if you put the two side by side little details like mouth lines and the widow's peak do seem to vaguely recall the legendary Lugosi. The head proportions don't match, but it's still quite expressive - this is an older guy, mouth agape with piercing eyes and fairly restrained deco for the face. The white teeth and dark inner maw feel like departures from how an old figure might look, but white fangs on white skin just wouldn't read well as a vampire - so it's a sensible choice.
Dracula's vinyl cape is just like that of the Phantom or Darth Vader, a tight fit that looks weird to modern eyes. As a kid I never much cared for the vinyl cape, but when trying to replicate a key look from 1978-1980 it's pretty essential. The outfit itself carries the same basic design elements that his suit seems contractually obligated to bring, resulting in a clean, consistent look among most Universal Dracula licensed toys.
As a decent forgery of a 1980s Dracula based on the 1931 design, this is good. The figure's joints are nice and tight, nothing falls apart, and the paint is even throughout. It's a little too good, feeling more like a lost prototype than an actual lost toy. I like it, I like their design choices by and large, but it would have been awesome to see a "ReAction" take on Bela's rounder head. As it stands, this is a fine Dracula figure and arguably one of the better (if not the best) in this scale, but if they felt like doing Dracula 2.0 tomorrow I'd probably throw down a few bucks for that too. For ten bucks, it's fun if you're a child of the 1970s or 1980s. I like it enough to figure out how to display it, which is pretty high praise for figures these days when (as our collections grow) storage seems to trump a lot of other considerations. Like enjoyment.
--Adam Pawlus
Additional Images

See more Super 7 and Funko x Super 7 figures in Figure of the Day:
Day 792: Super 7 ALIEN SDCC Exclusive Sales Samples
Day 821: Super7 x Funko Alien ReAction Ripley
Day 844: Super7 x Funko Alien ReAction Dallas
Day 852: Super7 x Funko Alien ReAction Alien
Day 857: Super7 x Funko Alien ReAction Kane in Space Suit
Day 861: Super7 x Funko Alien ReAction Ash
Day 945: Super7 x Funko The Rocketeer ReAction Rocketeer Action Figure
Day 945: Super7 x Funko Predator (Invisible, Bloody) Action Figure
Day 985: Funko Back to the Future Marty McFly ReAction Figure
Day 1001: Funko Nightmare Before Christmas Jack Skellington (Early Bird Figure) ReAction Figure
Day 1,005: Funko Universal Monsters The Mummy ReAction Figure
Day 1,008: Funko Back to the Future George McFly ReAction Figure
Day 1,008: Funko Back to the Future Doc Brown ReAction Figure
Day 1,029: Super7 x Funko Predator (Attack Mode) ReAction Figure
Day 1,037: Funko Nightmare Before Christmas Saly ReAction Figure
Day 1,038: Funko Universal Monsters Creature from the Black Lagoon ReAction Figure
Day 1,039: Funko Universal Monsters The Invisible Man ReAction Figure
Day 1,040: Funko Universal Monsters The Phantom of the Opera ReAction Figure
Day 1,041: Funko Universal Monsters The Wolf Man ReAction Figure
Day 1,042: Funko Universal Monsters The Bride of Frankenstein ReAction Figure
Day 1,059: Funko Predator (Masked) ReAction Figure
Day 1,068: Funko Universal Monsters Frankenstein's Monster ReAction Figure
Day 1,078: Funko Back to the Future Biff Tannen ReAction Figure
Day 1,082: Funko T800 Endoskeleton (Chrome) ReAction Figure
Day 1,094: Funko Universal Monsters Dracula ReAction Figure
Day 1,059: Funko Predator (Masked) ReAction Figure
Day 1,102: Funko Predator (Unmasked) ReAction Figure
Day 1,108: Funko Universal Monsters The Invisible Man
Day 1,108: Funko Universal Monsters The Invisible Man Clear Entertainment Earth Exclusive
Day 1,111: Funko Predator (Glow Version) ReAction Figure
Day 1,117: Funko The Terminator Sarah Connor ReAction Figure
Day 1,133: Funko The Terminator (Tech Noir Jacket) ReAction Figure
Day 1,138: Funko Pulp Fiction Mia Wallace ReAction Figure
Day 1,149: Super7 x Funko Alien Egg Chamber Action Playset
Day 1,183: Super7 x Funko Alien ReAction Alien (with Metallic Flesh)
Day 1,187: Funko Predator (Invisible) ReAction Figure
Day 1,199: Super7 x Funko Alien ReAction Ripley (Spacesuit)
Day 1,208: Funko Predator (Thermal Vision) ReAction Figure
Day 1,211: Funko The Fifth Element Leeloo ReAction Figure
Day 1,217: Funko The Fifth Element Diva Plavalaguna ReAction Figure
Day 1,222: Funko The Fifth Element Korben Dallas ReAction Figure
Day 1,227: Funko The Fifth Element Mangalore ReAction Figure
Day 1,236: Funko Gremlins Mogwai Stripe ReAction Figure
Day 1,244: Funko The Fifth Element Ruby Rhod ReAction Figure
Day 1,250: Super7 M.O.T.U.S.C.L.E. Set B
Day 1,252: Funko The Fifth Element Zorg ReAction Figure
Day 1,263: Super7 M.O.T.U.S.C.L.E. Set A
Day 1,267: Funko The Fifth Element Leeloo (Straps Costume) ReAction Figure
Day 1,272: Super7 x Funko Alien ReAction Kane (Chestburster)
Day 1,275: Funko Gremlins Billy Peltzer ReAction Figure
Day 1,277: Super7 x Funko Alien ReAction Kane (Facehugger)
Day 1,286: Funko Nightmare Before Christmas Behemoth
Day 1,288: Super7 M.O.T.U.S.C.L.E. Set C
Day 1,295: Funko Nightmare Before Christmas Mayor
Day 1,302: Super7 M.O.T.U.S.C.L.E. SDCC Promo Skeletor
Day 1,327: Super7 x Funko Alien ReAction Nostromo Crew (Dallas, Kane, Lambert)
Day 1,333: Funko Gremlins Cinema Gremlin ReAction Figure
Day 1,342: Funko Gremlins Gremlin Stripe ReAction Figure
Day 1,358: Funko Gremlins Bandit Gremlin ReAction Figure
Day 1,628: Super7 Masters of the Universe M.U.S.C.L.E. Series 2 Set C
Day 1,633: Super7 Masters of the Universe M.U.S.C.L.E. Series 2 Set B
Day 1,637: Funko E.T. The Extra-Terrestrial Elliot, E.T., and Gertie ReAction Figures
Day 1,639: Super7 Masters of the Universe M.U.S.C.L.E. Series 2 Set D
Day 1,639: Super7 Masters of the Universe M.U.S.C.L.E. Series 2 Set A
Day 1,656: Super7 Alien M.U.S.C.L.E. Set A
Day 1,676: Super7 Alien M.U.S.C.L.E. Set C
Day 1,686: Super7 Alien M.U.S.C.L.E. Set B
Day 1,693: Super7 Alien M.U.S.C.L.E. Set D
Day 1,801: Super7 Street Fighter II M.U.S.C.L.E. Set A
Day 1,817: Super7 Street Fighter II M.U.S.C.L.E. Set B
Day 1,834: Super7 Street Fighter II M.U.S.C.L.E. Set D
Day 1,840: Super7 Masters of the Universe M.U.S.C.L.E. Series 3 Set D
Day 1,846: Super7 Aliens M.U.S.C.L.E. Set E
Day 1,843: Super7 Masters of the Universe M.U.S.C.L.E. Series 3 Set E
Day 1,857: Super7 Street Fighter II M.U.S.C.L.E. Set C
Day 1,862: Super7 Masters of the Universe M.U.S.C.L.E. Series 3 Set C
Day 1,864: Super7 Aliens M.U.S.C.L.E. Set A
Day 1,877: Super7 Masters of the Universe M.U.S.C.L.E. Series 3 Set F
Day 1,881: Super7 Mega Man M.U.S.C.L.E. Series 1 Set B
Day 1,884: Super7 Aliens M.U.S.C.L.E. Set D
Day 1,894: Super7 Mega Man M.U.S.C.L.E. Series 1 Set D
Day 1,904: Super7 Mega Man M.U.S.C.L.E. Series 1 Set A
Day 1,914: Super7 Mega Man M.U.S.C.L.E. Series 1 Set C
Day 1,920: Super7 Halloween Series Nosferatu Glow in the Dark
Day 1,922: Super7 Masters of the Universe M.U.S.C.L.E. Series 3 Set B
Day 1,937: Super7 Masters of the Universe M.U.S.C.L.E. Series 3 Set A
Day 2,161: Super7 Masters of the Universe Transforming He-Man Action Figure
Day 2,211: Super7 Toxic Crusaders Glow in the Dark Toxie Action Figure
Day 2,235: Super7 Ultimates Voltron Action Figure
Day 2,237: Super7 Teenage Mutant Ninja Turtles Ultimates Raphael Action Figure
Day 2,253: Super7 Teenage Mutant Ninja Turtles Ultimates Foot Soldier Action Figure
Day 2,358: Super7 Killer Bootlegs Rhamnusia's Revenge Action Playset with Draco Knuckleduster and Phantom Starkiller Action Figures
Day 2,388: Super7 Teenage Mutant Ninja Turtles Ultimates Glow-in-the-Dark Mutagen Man Action Figure
Day 2,454: Super7 Metropolis Silver Maria ReAction Figure
Day 2,458: Super7 G.I. Joe Red Ninja ReAction Figure
Day 2,465: Super7 Godzilla Godzilla '54 (Glow-in-the-Dark) ReAction Figure
Day 2,480: Super7 Transformers Grimlock G2 ReAction Figure
Day 2,526: Super7 Vincent Price Master of Mayhem ReAction Figure
Day 2,530: Super7 Godzilla Mechagodzilla (Glow-in-the-Dark) ReAction Figure
Day 2,534: Super7 Planet of the Apes Mendez XXVI ReAction Figure
Day 2,546: Super7 Planet of the Apes Cornelius ReAction Figure
Day 2,554: Super7 Alien UCCSS Nostromo Action Figure Set 1 with Kane with Facehugger, Ripley with Jonesy, Ash with Removable Head
Day 2,562: Super7 Universal Monsters The Mummy ReAction Figure
Day 2,570: Super7 Universal Monsters The Metaluna Mutant ReAction Figure
Day 2,577: Super7 Transformers Hot Rod ReAction Figure
Day 2,590: Super7 Planet of the Apes General Aldo ReAction Figure
Day 2,594: Super7 Mars Attacks Destroying A Dog ReAction Figure
Day 2,598: Super7 Planet of the Apes Dr. Zaius ReAction Figure
Day 2,606: Super7 Universal Monsters Official World Famous Super7 Monsters! Creature from the Black Lagoon (Super She Creature) Glow-in-the-Dark
Day 2,610: Super7 Planet of the Apes Taylor ReAction Figure
Day 2,626: Super7 Planet of the Apes Zira ReAction Figure
Day 2,630: Super7 Universal Monsters The Metaluna Mutant ReAction Figure
Day 2,634: Super7 Planet of the Apes General Ursus ReAction Figure
Day 2,638: Super7 Universal Monsters Dracula ReAction Figure

See more Universal Monsters and Monsters figures in Figure of the Day:
Day 76: Diamond Select Toys Black and White Wolfman
Day 777: Playmates Toys Monster Force Creature from the Black Lagoon
Day 883: Burger King Universal Monsters Wolf Man Cellar Dweller Action Figure
Day 894: Burger King Universal Monsters Down for the Count Dracula
Day 924: Burger King Universal Monsters Bolts and Volts Frankenstein
Day 931: Burger King Universal Monsters Scary Squirter Featuring the Creature from the Black Lagoon
Day 1,000: Funko Hikari Vinyl Freddy Funko (Creature from the Black Lagoon)
Day 1,005: Funko Universal Monsters The Mummy ReAction Figure
Day 1,038: Funko Universal Monsters Creature from the Black Lagoon ReAction Figure
Day 1,039: Funko Universal Monsters The Invisible Man ReAction Figure
Day 1,040: Funko Universal Monsters The Phantom of the Opera ReAction Figure
Day 1,041: Funko Universal Monsters The Wolf Man ReAction Figure
Day 1,042: Funko Universal Monsters The Bride of Frankenstein ReAction Figure
Day 1,068: Funko Universal Monsters Frankenstein's Monster ReAction Figure
Day 1,094: Funko Universal Monsters Dracula ReAction Figure
Day 1,108: Funko Universal Monsters The Invisible Man Clear Entertainment Earth Exclusive
Day 1,163: Funko Universal Monsters Life Force Metaluna Mutant
Day 1,165: Funko Hikari Vinyl Universal Monsters Glitter Shock Frankenstein
Day 1,257: Funko Hikari Vinyl Antique Verdigris Metaluna Mutant
Day 1,612: Hasbro Hero Mashers Monsters Fish Hook
Day 1,617: Playmobil 6824 Playmo-Friends Werewolf
Day 1,619: Hasbro Hero Mashers Monsters Grim Flame
Day 1,626: Hasbro Hero Mashers Monsters Iron Vulf
Day 1,636: Hasbro Hero Mashers Monsters Sir Jack-O-Lanternus
Day 1,675: Hasbro Hero Mashers Monsters Bone Thrasher
Day 1,920: Super7 Halloween Series Nosferatu Glow in the Dark
Day 2,011: Jack in the Box Universal Monsters Bride of Frankenstein
Day 2,104: Fisher-Price Imaginext Egypt Mummy Guards Action Figures
Day 2,137: Sideshow Toy Universal Monsters Boris Karloff The Mummy Glow in the Dark Action Figure
Day 2,412: Jada Toys Universal Monsters Entertainment Earth Exclusive Creature from the Black Lagoon Action Figure
Day 2,454: Super7 Metropolis Silver Maria ReAction Figure
Day 2,562: Super7 Universal Monsters The Mummy ReAction Figure
Day 2,570: Super7 Universal Monsters The Metaluna Mutant ReAction Figure
Day 2,606: Super7 Universal Monsters Official World Famous Super7 Monsters! Creature from the Black Lagoon (Super She Creature) Glow-in-the-Dark
Day 2,630: Super7 Universal Monsters The Metaluna Mutant ReAction Figure
Day 2,638: Super7 Universal Monsters Dracula ReAction Figure