Mummy Guards
His mommy was a mummy, his daddy was a mummy

Imaginext Egypt Figure Sets
Item No.: Asst. DRM06 No. FDN35
Manufacturer: Fisher-Price
Includes: 3 figures, green coin, staff
Action Feature: n/a
Retail: $6.99
Availability: 2016
Other: Possibly on clearance near you

PREVIOUS
RSS
NEXT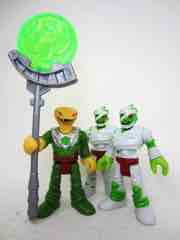 Thanks to their omnipresence in TV, movies, cartoons, museums, and schools, it makes sense that Fisher-Price would sell Mummy Guards. The public domain is jam-packed with monsters, ghouls, and religious figures that can be turned into kid-friendly toys without a licensing program. In this set, Fisher-Price mixes and matches a couple of figure sculpts to give you two unique mummy figures and a very Masters of the Universe King Hiss-looking snake guard.
The figures are notable in how much they're similar to and different from other releases. The two mummies in this set are mostly new parts, with each having uniquely painted facial details and different leg molds. The one with snake legs shares that leg mold with the Snake Guard in this very set - allowing Fisher-Price to mix and match parts to give you something different, even though you might not notice.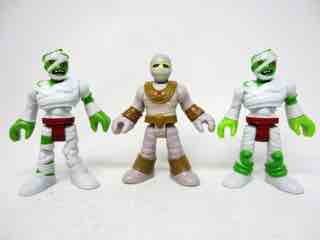 The 3-inch mummy figures are quite similar to one another, and completely different from the Series 1 Mystery Figures Mummy [FOTD #830] for some reason. Why not just reuse the parts? I have no idea. These new mummies have different colors of green from one to the next - neither glows in the dark, I checked - and different legs. The torso, arms, and other parts are all the same except minor deco changes. They can stand and sit, and stare at you slack-jawed. It's what you want from your undead preserved Egyptian minions. Neither have specific accessories, but the heads turn and the wrists move and all that good stuff. Not content to have tattered rags alone, you can see rotting pock marks in their backs and patches of hair left from decay on their heads. I'm quite surprised the mouths and eyes are painted differently, with unique tooth configurations on each. These are pretty cool, to say the least.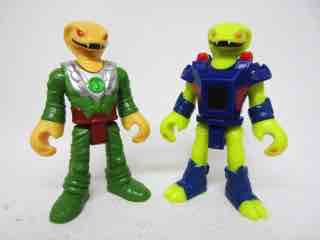 I bought this for fake King Hiss. His head and hands would later be reused for Series 11 Triple Threat Snake [FOTD #2,024], which would use Goldar's legs and unknown-to-me-now arms. The original 2016 release would have better paint with extra eye deco giving it a little more life, although the snake head hands would be left with their eyes sadly unpainted. Detailing is clearly inspired from Mattel's old King Hiss toy, with green costuming, red shorts, a silver plate around the neck with a green symbol - now an Imaginext "i" rather than snakes - this would be the perfect toy to menace an Imaginext He-Man, were one to exist. For whatever reason Fisher-Price and Mattel kept the MOTU references sly rather than overt, with figures vaguely resembling Skeletor and Whiplash along with vehicles and playsets nodding to Castle Grayskull, the Roton, Spydor, and other vintage toys. I'd love to see them take the subtext up to the text level, but for now this is a pretty good figure for the price and I like my monster toys quite a bit. I don't care for the accessory, but I bought it for the snake man. I'm a sucker for animal figures.
I skipped the rest of this segment, but that could change as a big playset clearly inspired by Snake Mountain is on clearance around town. The 3-pack is simple and fun, price right, and arguably worth its retail asking price from 2016. It costs more now - and if you got another mummy or the not-quite-Battle-Beasts figure, you don't necessarily need this one too. I like it, though, so I'm happy with it. I hope we get more things like this!
--Adam Pawlus
Additional Images

See more Fisher-Price figures in Figure of the Day:
Day 79: Fisher-Price Adventure People Alpha Star Astronaut Action Figure
Day 233: Fisher-Price Imaginext Space Station Toy Set
Day 404: Fisher-Price Imaginext Dinosaur Ankylosaurus
Day 528: Fisher-Price Imaginext Dinosaur Raptor
Day 643: Fisher-Price Adventure People Alpha Star Alien Creature
Day 766: Fisher-Price Imaginext Collectible Figures Diver
Day 796: Fisher-Price Imaginext Collectible Figures Robot
Day 830: Fisher-Price Imaginext Collectible Figures Mummy
Day 842: Fisher-Price Imaginext Space Ion Scorpion
Day 847: Fisher-Price Imaginext Space Ion Crab
Day 853: Fisher-Price Imaginext Space Alpha Blade
Day 954: Fisher-Price Imaginext Dinosaur Dimetrodon
Day 2,002: Fisher-Price Imaginext Series 10 Collectible Figures Spaceman & Alien
Day 2,014: Fisher-Price Imaginext Series 11 Collectible Figures X-Ray Man & Dog
Day 2,018: Fisher-Price Imaginext Series 11 Collectible Figures Radiation Man
Day 2,024: Fisher-Price Imaginext Series 11 Collectible Figures Triple Threat Snake
Day 2,032: Fisher-Price Imaginext Series 11 Collectible Figures M.U.S.C.L.E. Men
Day 2,036: Fisher-Price Imaginext Series 6 Collectible Figures Chicken Suit
Day 2,092: Fisher-Price Imaginext Series 11 Collectible Figures Fishbot
Day 2,096: Fisher-Price Imaginext Series 12 Collectible Figures Big Building Robot
Day 2,099: Fisher-Price Imaginext Series 12 Collectible Figures Clawtron
Day 2,100: Fisher-Price Imaginext DC Super Friends Batman & Swamp Thing Action Figures
Day 2,101: Fisher-Price Imaginext Series 7 Collectible Figures Buster of Ghosts
Day 2,102: Fisher-Price Imaginext Pirates Shark Minisub Figure with Vehicle
Day 2,103: Fisher-Price Imaginext Jurassic World Dr. Malcolm & Dimetrodon Action Figures
Day 2,104: Fisher-Price Imaginext Egypt Mummy Guards Action Figures
Day 2,108: Fisher-Price Imaginext Series 9 Mystery Figures Grim Reaper
Day 2,122: Fisher-Price Imaginext Series 6 Collectible Figures 4 Arm Alien
Day 2,133: Fisher-Price Imaginext Series 7 Collectible Figures Headless Horseman
Day 2,194: Fisher-Price Imaginext Series 9 Mystery Figures Yeti Snowboarder
Day 2,227: Fisher-Price Imaginext Series 9 Mystery Figures Shark Pirate
Day 2,239: Fisher-Price Imaginext DC Super Friends Slammers Arctic Sled with Mr. Freeze Set
Day 2,249: Fisher-Price Imaginext DC Super Friends Slammers Batmobile with Batman Set
Day 2,257: Fisher-Price Imaginext DC Super Friends Surround Sound Batcave Playset
Day 2,306: Fisher-Price Imaginext 20th Anniversary Figures Jett Cosmoblast
Day 2,312: Fisher-Price Imaginext 20th Anniversary Figures FP-636
Day 2,318: Fisher-Price Imaginext 20th Anniversary Figures Shackles McMatey
Day 2,420: Fisher-Price Imaginext Series 8 Collectible Figures Woodland Mystic
Day 2,424: Fisher-Price Adventure People Astro Knight Action Figure
Day 2,449: Fisher-Price Imaginext Series 12 Collectible Figures Explorer
Day 2,452: Fisher-Price Adventure People Clawtron Action Figure
Day 2,455: Fisher-Price Adventure People Firestar I Vehicle with Pilot Action Figure
Day 2,457: Fisher-Price Adventure People Opticon Action Figure
Day 2,460: Fisher-Price Adventure People X-Ray Woman Action Figure
Day 2,464: Fisher-Price Imaginext Series 9 Mystery Figures Invisible Man
Day 2,468: Fisher-Price Imaginext Monsters Figure Pack
Day 2,487: Fisher-Price Imaginext Lightyear Hyperspeed Explorer XL-01
Day 2,522: Fisher-Price Imaginext Toy Story 4 Bunny & Buzz Lightyear
Day 2,542: Fisher-Price Adventure People X-Ray Man Action Figure

See more Universal Monsters, Horror, and Monsters figures in Figure of the Day:
Day 76: Diamond Select Toys Black and White Wolfman
Day 777: Playmates Toys Monster Force Creature from the Black Lagoon
Day 883: Burger King Universal Monsters Wolf Man Cellar Dweller Action Figure
Day 894: Burger King Universal Monsters Down for the Count Dracula
Day 924: Burger King Universal Monsters Bolts and Volts Frankenstein
Day 931: Burger King Universal Monsters Scary Squirter Featuring the Creature from the Black Lagoon
Day 1,000: Funko Hikari Vinyl Freddy Funko (Creature from the Black Lagoon)
Day 1,005: Funko Universal Monsters The Mummy ReAction Figure
Day 1,038: Funko Universal Monsters Creature from the Black Lagoon ReAction Figure
Day 1,039: Funko Universal Monsters The Invisible Man ReAction Figure
Day 1,040: Funko Universal Monsters The Phantom of the Opera ReAction Figure
Day 1,041: Funko Universal Monsters The Wolf Man ReAction Figure
Day 1,042: Funko Universal Monsters The Bride of Frankenstein ReAction Figure
Day 1,068: Funko Universal Monsters Frankenstein's Monster ReAction Figure
Day 1,094: Funko Universal Monsters Dracula ReAction Figure
Day 1,108: Funko Universal Monsters The Invisible Man Clear Entertainment Earth Exclusive
Day 1,163: Funko Universal Monsters Life Force Metaluna Mutant
Day 1,165: Funko Hikari Vinyl Universal Monsters Glitter Shock Frankenstein
Day 1,257: Funko Hikari Vinyl Antique Verdigris Metaluna Mutant
Day 1,612: Hasbro Hero Mashers Monsters Fish Hook
Day 1,617: Playmobil 6824 Playmo-Friends Werewolf
Day 1,619: Hasbro Hero Mashers Monsters Grim Flame
Day 1,626: Hasbro Hero Mashers Monsters Iron Vulf
Day 1,636: Hasbro Hero Mashers Monsters Sir Jack-O-Lanternus
Day 1,675: Hasbro Hero Mashers Monsters Bone Thrasher
Day 1,920: Super7 Halloween Series Nosferatu Glow in the Dark
Day 2,011: Jack in the Box Universal Monsters Bride of Frankenstein
Day 2,104: Fisher-Price Imaginext Egypt Mummy Guards Action Figures
Day 2,137: Sideshow Toy Universal Monsters Boris Karloff The Mummy Glow in the Dark Action Figure
Day 2,412: Jada Toys Universal Monsters Entertainment Earth Exclusive Creature from the Black Lagoon Action Figure
Day 2,454: Super7 Metropolis Silver Maria ReAction Figure
Day 2,562: Super7 Universal Monsters The Mummy ReAction Figure
Day 2,570: Super7 Universal Monsters The Metaluna Mutant ReAction Figure
Day 2,606: Super7 Universal Monsters Official World Famous Super7 Monsters! Creature from the Black Lagoon (Super She Creature) Glow-in-the-Dark
Day 2,630: Super7 Universal Monsters The Metaluna Mutant ReAction Figure
Day 2,638: Super7 Universal Monsters Dracula ReAction Figure
Day 2,649: Super7 Universal Monsters Bride of Frankenstein ReAction Figure
Day 2,652: Super7 Universal Monsters The Mummy (Costume Colors) ReAction Figure
Day 2,657: Super7 Universal Monsters The Wolf Man ReAction Figure
Day 2,661: Super7 Svengoolie Horror Host Icon ReAction Figure

See more Masters of the Universe figures in Figure of the Day:
Day 6: Mattel Masters of the Universe Classics Orko
Day 17: Mattel Masters of the Universe Classics Skeletor
Day 28: Mattel Masters of the Universe Classics Optikk
Day 41: Mattel Masters of the Universe Classics Chief Carnivus
Day 52: Mattel Masters of the Universe Classics Roboto
Day 90: Mattel Masters of the Universe Classics Mer-Man
Day 143: Mattel Masters of the Universe Classics Shadow Beast
Day 157: Mattel Masters of the Universe Classics Vikor
Day 165: Mattel Masters of the Universe Meteorbs Dinosorb Action Figure
Day 177: Mattel Masters of the Universe Classics Whiplash Action Figure
Day 187: Mattel Masters of the Universe Classics She-Ra Action Figure
Day 201: Mattel Masters of the Universe Meteorbs Tuskor Action Figure
Day 235: Mattel Masters of the Universe Classics Catra Action Figure
Day 255: 1SHOT Toys Glyos-Compatible He-Man Thermal Color Change Head
Day 280: Mattel Masters of the Universe Classics Icarius
Day 296: Mattel Masters of the Universe Classics Snout Spout
Day 318: Mattel Masters of the Universe Classics Bow
Day 323: Mattel Masters of the Universe Classics Faceless One
Day 328: Mattel Masters of the Universe Classics Battle Armor Skeletor
Day 334: Mattel DC Universe vs. Masters of the Universe Classics Zodac
Day 338: Mattel Masters of the Universe Classics Sy-Klone
Day 343: Mattel Masters of the Universe Classics Battleground Teela
Day 349: Mattel Masters of the Universe Classics Clawful
Day 353: Mattel Masters of the Universe Classics Man-E-Faces
Day 355: Mattel Masters of the Universe Classics Gygor
Day 360: Mattel Masters of the Universe Classics Shadow Weaver
Day 370: Mattel Masters of the Universe Classics Demo-Man
Day 371: Mattel Masters of the Universe Classics Leech
Day 380: Mattel Masters of the Universe Classics Webstor
Day 385: Mattel Masters of the Universe Classics Draego-Man
Day 386: Mattel Masters of the Universe Classics Fearless Photog
Day 401: Mattel Masters of the Universe Classics Thunder Punch He-Man
Day 403: Mattel Masters of the Universe Classics Preternia Disguise He-Man
Day 410: Mattel Masters of the Universe 200X Ram Man
Day 413: Mattel Masters of the Universe Classics Evil-Lyn
Day 420: Mattel Masters of the Universe 200X Venom-Spitting Khan
Day 424: Mattel Masters of the Universe Classics Wun-Dar
Day 430: Mattel Masters of the Universe Classics Horde Prime
Day 432: Mattel Masters of the Universe 200X Mekaneck
Day 438: Mattel Masters of the Universe Classics Tri-Klops
Day 449: Mattel Masters of the Universe Classics Stinkor
Day 454: Mattel Masters of the Universe Classics Mighty Spector
Day 459: Mattel Masters of the Universe Classics Fisto
Day 465: Mattel Masters of the Universe Classics Snake Man-At-Arms
Day 472: Mattel Masters of the Universe Classics Kobra Khan
Day 478: Mattel Masters of the Universe Classics Sorceress
Day 506: Mattel Masters of the Universe Classics Vykron
Day 531: Mattel Masters of the Universe Classics Dragon Blaster Skeletor
Day 543: Mattel Masters of the Universe Classics Frosta
Day 548: Mattel Masters of the Universe Classics Battleground Evil-Lyn
Day 563: Mattel Masters of the Universe Classics Sir Laser-Lot
Day 565: Mattel Masters of the Universe Classics Cy-Chop
Day 567: Mattel Masters of the Universe Classics Castle Grayskullman
Day 576: Mattel Masters of the Universe Classics Mekaneck
Day 583: Mattel Masters of the Universe Classics Rattlor
Day 589: Mattel Masters of the Universe Classics Battle Armor Faker
Day 596: Mattel Masters of the Universe Classics Dekker
Day 602: Mattel Masters of the Universe Classics Megator
Day 606: Mattel Masters of the Universe Classics Granamyr
Day 614: Mattel Masters of the Universe Classics Spikor
Day 623: Mattel Masters of the Universe Classics King Randor Eternos Palace
Day 632: Mattel Masters of the Universe Classics Faker
Day 641: Mattel Masters of the Universe Classics King Hssss
Day 653: Mattel Masters of the Universe Classics King He-Man
Day 658: Mattel Masters of the Universe Classics Jitsu
Day 664: Mattel Masters of the Universe Classics Fang Man
Day 667: Mattel Masters of the Universe Classics Ram Man
Day 683: Mattel Masters of the Universe Classics Bubble Power She-Ra
Day 694: Mattel Masters of the Universe Classics Karatti
Day 713: Mattel Masters of the Universe Classics Swiftwind
Day 728: Mattel Masters of the Universe Classics Octavia
Day 736: Mattel Masters of the Universe Classics New Adventures Galactic Protector He-Man
Day 738: Mattel Masters of the Universe Classics Icer
Day 746: Mattel Masters of the Universe Classics Moss Man
Day 753: Mattel Masters of the Universe Classics Shokoti
Day 758: Mattel Masters of the Universe Classics Castaspella
Day 776: Mattel Masters of the Universe Classics Batros
Day 782: Mattel Masters of the Universe Classics Sky High with Jet Sled
Day 799: Mattel Masters of the Universe Classics End of Wars Weapons Pak
Day 810: Mattel Masters of the Universe Classics Netossa
Day 816: Mattel Masters of the Universe Classics Nepthu
Day 820: Mattel Masters of the Universe Classics Castle Grayskull
Day 822: Mattel Masters of the Universe Classics Clamp Champ
Day 826: Mattel Masters of the Universe Classics Geldor
Day 834: Mattel Masters of the Universe Classics Strobo
Day 849: Mattel Masters of the Universe Classics Standor
Day 858: Mattel Masters of the Universe Classics Strong-Or
Day 868: Mattel Masters of the Universe Classics Plundor
Day 870: Mattel Masters of the Universe Classics Hydron
Day 886: Mattel Masters of the Universe Classics Two Bad
Day 893: Mattel Masters of the Universe Classics Lord Dactus
Day 900: Mattel Masters of the Universe Classics Unnamed One
Day 902: Mattel Masters of the Universe Classics Mantenna
Day 921: Mattel Masters of the Universe Classics Sea Hawk
Day 942: Mattel Masters of the Universe Classics Snake Face
Day 977: Mattel Masters of the Universe Classics Scorpia
Day 984: Mattel Masters of the Universe Classics Keldor
Day 995: Mattel Masters of the Universe Classics Skeletor (New Adventures)
Day 997: Mattel Masters of the Universe Classics Beast Man
Day 1,022: Mattel Masters of the Universe Classics Entrapta
Day 1,043: Mattel Masters of the Universe Classics Sweet Bee
Day 1,053: Mattel Masters of the Universe Classics Madame Razz and Broom
Day 1,058: Mattel Masters of the Universe Classics Extendar
Day 1,066: Mattel Masters of the Universe Classics Glimmer
Day 1,074: Mattel Masters of the Universe Classics Eldor
Day 1,085: Mattel Masters of the Universe Classics Gwildor
Day 1,097: Mattel Masters of the Universe Classics Flogg
Day 1,130: Mattel Masters of the Universe Classics Lizard Man
Day 1,131: Mattel Masters of the Universe Classics Loo-Kee & Kowl
Day 1,135: Mattel Masters of the Universe Classics Ninja Warrior
Day 1,147: Mattel Masters of the Universe Classics Oo-Larr
Day 1,151: Mattel Masters of the Universe Classics Tung Lashor
Day 1,156: Mattel Masters of the Universe Classics Galactic Protector She-Ra
Day 1,166: Funko Hikari Vinyl Masters of the Universe Mystic Powers Skeletor
Day 1,169: Mattel Masters of the Universe Classics Huntara
Day 1,201: Mattel Masters of the Universe Classics Goat Man
Day 1,209: Mattel Masters of the Universe Classics Light Hope
Day 1,223: Mattel Masters of the Universe Classics Mermista
Day 1,234: Mattel Masters of the Universe Classics Sssqueeze
Day 1,250: Super7 M.O.T.U.S.C.L.E. Set B
Day 1,263: Super7 M.O.T.U.S.C.L.E. Set A
Day 1,265: Mattel Masters of the Universe Classics Heads of Eternia
Day 1,283: Mattel Masters of the Universe Classics Blast Attak
Day 1,287: Mattel Masters of the Universe Classics Blast Callix
Day 1,288: Super7 M.O.T.U.S.C.L.E. Set C
Day 1,292: Mattel Masters of the Universe Classics Mosquitor
Day 1,297: Mattel Masters of the Universe Classics Spinnerella
Day 1,302: Super7 M.O.T.U.S.C.L.E. SDCC Promo Skeletor
Day 1,303: Mattel Masters of the Universe Classics King Chooblah
Day 1,314: Mattel Masters of the Universe Classics Blade
Day 1,319: Mattel Masters of the Universe Classics Terror Claws Skeletor and Flying Fists He-Man
Day 1,356: Mattel Masters of the Universe Classics He-Ro II
Day 1,379: Mattel Masters of the Universe Classics Queen Grayskull
Day 1,385: Mattel Masters of the Universe Classics Lord Masque
Day 1,389: Mattel Masters of the Universe Classics Perfuma
Day 1,394: Mattel Masters of the Universe Classics Dragstor
Day 1,407: Mattel Masters of the Universe Classics Prahvus
Day 1,411: Mattel Masters of the Universe Classics He-Man (Filmation)
Day 1,426: Mattel Masters of the Universe Classics Angella
Day 1,435: Mattel Masters of the Universe Classics Trap Jaw (Filmation)
Day 1,448: Mattel Masters of the Universe Classics Saurod
Day 1,460: Mattel Masters of the Universe Classics Ceratus
Day 1,464: Mattel Masters of the Universe Classics Vultak
Day 1,493: Mattel Masters of the Universe Classics Darius
Day 1,502: Mattel Masters of the Universe Classics Evil Seed
Day 1,503: Mattel Masters of the Universe Classics Skeletor
Day 1,517: Mattel Masters of the Universe Classics Double Mischief
Day 1,520: Mattel Masters of the Universe Classics Despara
Day 1,549: Mattel Masters of the Universe Classics Beast Man
Day 1,574: Mattel Masters of the Universe Classics Filmation Evil Seed
Day 1,596: Mattel Masters of the Universe Classics Evil-Lyn
Day 1,628: Super7 Masters of the Universe M.U.S.C.L.E. Series 2 Set C
Day 1,632: Mattel Masters of the Universe Classics Clawful
Day 1,633: Super7 Masters of the Universe M.U.S.C.L.E. Series 2 Set B
Day 1,639: Super7 Masters of the Universe M.U.S.C.L.E. Series 2 Set D
Day 1,645: Funko Masters of the Universe Dorbz Skeletor
Day 1,639: Super7 Masters of the Universe M.U.S.C.L.E. Series 2 Set A
Day 1,681: Mattel Masters of the Universe Classics Adora
Day 1,719: Mattel Masters of the Universe Classics Horde Wraith
Day 1,718: Mega Construx Heroes Masters of the Universe Skeletor Action Figure
Day 1,840: Super7 Masters of the Universe M.U.S.C.L.E. Series 3 Set D
Day 1,843: Super7 Masters of the Universe M.U.S.C.L.E. Series 3 Set E
Day 1,862: Super7 Masters of the Universe M.U.S.C.L.E. Series 3 Set C
Day 1,870: Mega Construx Heroes Masters of the Universe He-Man Action Figure
Day 1,877: Super7 Masters of the Universe M.U.S.C.L.E. Series 3 Set F
Day 1,879: Mega Construx Heroes Masters of the Universe Beast Man Action Figure
Day 1,886: Mega Construx Heroes Masters of the Universe Teela Action Figure
Day 1,922: Super7 Masters of the Universe M.U.S.C.L.E. Series 3 Set B
Day 1,937: Super7 Masters of the Universe M.U.S.C.L.E. Series 3 Set A
Day 2,104: Fisher-Price Imaginext Egypt Mummy Guards Action Figures
Day 2,161: Super7 Masters of the Universe Transforming He-Man Action Figure

See more Imaginext figures in Figure of the Day:
Day 233: Fisher-Price Imaginext Space Station Toy Set
Day 404: Fisher-Price Imaginext Dinosaur Ankylosaurus
Day 528: Fisher-Price Imaginext Dinosaur Raptor
Day 766: Fisher-Price Imaginext Collectible Figures Diver
Day 796: Fisher-Price Imaginext Collectible Figures Robot
Day 830: Fisher-Price Imaginext Collectible Figures Mummy
Day 842: Fisher-Price Imaginext Space Ion Scorpion
Day 847: Fisher-Price Imaginext Space Ion Crab
Day 853: Fisher-Price Imaginext Space Alpha Blade
Day 954: Fisher-Price Imaginext Dinosaur Dimetrodon
Day 2,002: Fisher-Price Imaginext Series 10 Collectible Figures Spaceman & Alien
Day 2,014: Fisher-Price Imaginext Series 11 Collectible Figures X-Ray Man & Dog
Day 2,018: Fisher-Price Imaginext Series 11 Collectible Figures Radiation Man
Day 2,024: Fisher-Price Imaginext Series 11 Collectible Figures Triple Threat Snake
Day 2,032: Fisher-Price Imaginext Series 11 Collectible Figures M.U.S.C.L.E. Men
Day 2,036: Fisher-Price Imaginext Series 6 Collectible Figures Chicken Suit
Day 2,092: Fisher-Price Imaginext Series 11 Collectible Figures Fishbot
Day 2,096: Fisher-Price Imaginext Series 12 Collectible Figures Big Building Robot
Day 2,099: Fisher-Price Imaginext Series 12 Collectible Figures Clawtron
Day 2,100: Fisher-Price Imaginext DC Super Friends Batman & Swamp Thing Action Figures
Day 2,101: Fisher-Price Imaginext Series 7 Collectible Figures Buster of Ghosts
Day 2,102: Fisher-Price Imaginext Pirates Shark Minisub Figure with Vehicle
Day 2,103: Fisher-Price Imaginext Jurassic World Dr. Malcolm & Dimetrodon Action Figures
Day 2,104: Fisher-Price Imaginext Egypt Mummy Guards Action Figures
Day 2,108: Fisher-Price Imaginext Series 9 Mystery Figures Grim Reaper
Day 2,122: Fisher-Price Imaginext Series 6 Collectible Figures 4 Arm Alien
Day 2,133: Fisher-Price Imaginext Series 7 Collectible Figures Headless Horseman
Day 2,194: Fisher-Price Imaginext Series 9 Mystery Figures Yeti Snowboarder
Day 2,227: Fisher-Price Imaginext Series 9 Mystery Figures Shark Pirate
Day 2,239: Fisher-Price Imaginext DC Super Friends Slammers Arctic Sled with Mr. Freeze Set
Day 2,249: Fisher-Price Imaginext DC Super Friends Slammers Batmobile with Batman Set
Day 2,257: Fisher-Price Imaginext DC Super Friends Surround Sound Batcave Playset
Day 2,306: Fisher-Price Imaginext 20th Anniversary Figures Jett Cosmoblast
Day 2,312: Fisher-Price Imaginext 20th Anniversary Figures FP-636
Day 2,318: Fisher-Price Imaginext 20th Anniversary Figures Shackles McMatey
Day 2,449: Fisher-Price Imaginext Series 12 Collectible Figures Explorer
Day 2,464: Fisher-Price Imaginext Series 9 Mystery Figures Invisible Man
Day 2,468: Fisher-Price Imaginext Monsters Figure Pack
Day 2,487: Fisher-Price Imaginext Lightyear Hyperspeed Explorer XL-01
Day 2,522: Fisher-Price Imaginext Toy Story 4 Bunny & Buzz Lightyear