Ultra Magnus
WFC-S13

Transformers Generations War for Cybertron Siege Leader
Item No.: Asst. E3419 No. E3479
Manufacturer: Hasbro
Includes: C-30 Magnetic Inducer Launcher (2), RT-15 Stethoscopic Detector, W-HC-1000 Simulacrom Blaster (2)
Action Feature: Transforms from Robot to Tank
Retail: $49.99
Availability: December 2018
Other: Battle damage deco

PREVIOUS
RSS
NEXT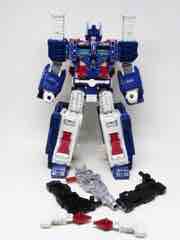 Despite transformation being the central tenet of the brand, some characters don't change very much. Ultra Magnus has been a little more dynamic in some of his interpretations, which is amusing given the rigid nature of the character in most forms. The character was originally a powered up Optimus Prime toy. Over the years he became a power-up for Optimus Prime, or got a big hammer, or has been a mammoth, and even was a different guy, inside a bigger guy, inside a bigger guy. This time around, Hasbro has elected to make him look like his first appearance. The truck carrier mode is more like his 2000-2001 Robots in Disguise form, with a transformation (and inner robot) that is fun and reasonably simple to figure out.
Also, let me just say he's way more interesting than Shockwave, and I've been wanting a bigger, better Shockwave for years. There's just not much "there" there for Shockwave - Ultra Magnus really takes advantage to the armor and modes in ways other characters, like perhaps Star Sabre, could have in a more significant way. Ultra Magnus is pretty much perfect for this format and gimmick, and it's clear the designers took advantage of the platform to give us a good one.
The default "armored up" 8-inch has a silhouette similar to the 1980s version. Big bulky boots, huge shoulder pylons, the rocket launchers on the arms, and a big blaster are just some of the features here. Unlike the brick of old, this figure has tilting ankles and rotating wrists - a huge plus! He's taller than Siege Optimus Prime with the armor, but not by a lot. The inner robot is just about the same height, which certainly has fanned speculation that a redeco as Optimus could be coming. The fists have no problems interacting with the accessories, and this looks like a slightly battle-worn take on the Immortal Lawman. It's decidedly retro - but Siege has mostly been about a grittier take on Classics and Generations. Since Ultra Magnus hasn't really gotten a proper "classic" update in those lines, I wouldn't say it's entirely unwelcome here - particularly given that there's a real inner-robot now.
Some of the vestigial kibble - the shoulder pylons, for example - are hidden in truck mode and serve no purpose, other than to recall the old toy. That's one area where these "remake" toys can get a little weird - they're beholden to elements from a 30-year-old toy, where they served an actual function. Here, they're merely an ornament. I can't help but think the toys are being held back because some of these things no longer serve a purpose, and may be stifling new design elements from coming to the fore. Here, it works - but perhaps that plastic could go to some other element, or open up some other ways to transform things.
Our Voyager-sized inner robot owes a lot to the original toy, with a blue faceplate and red eyes. The faux sticker detailing is gone, but it's not really important given you're unlikely to display it in those particular modes as much. 20 points of articulation makes for a decent figure inside there, and I'd love to see them turn this into new takes on Toxitron or Nemesis Prime with new armor some day. You can even see the sculpted modern-era yellow arrow markings on the arms, just without the decoration. Clearly someone, somewhere, is planning something - but they did feel it prudent to give us thigh skid marks, for reasons I don't understand. Overall, it's a good figure.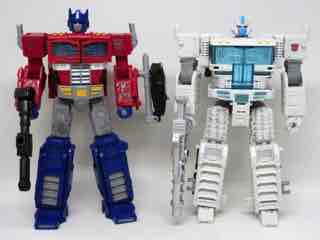 The Ultra Magnus transformation takes chunks of armor that must be removed from the inner robot and requires specific assembly to a "trailer." I did need to consult the instructions for placement - there are lots of tabs and sliding bits that make this an incredibly interesting toy, but I could see it being infuriating without the instructions.
The truck is said to interact with Micromasters, but they really just sit on top - the ten wheels roll nicely, and there are tons of 5mm holes to mount weapons. There are also 3mm pegs to mount various fireblasts. At about 10-inches long, it's like a fist on wheels - it looks strong, solid, and unbending. Unlike other trucks, it's one solid piece once you put the parts together. The cab isn't going to turn separately, this thing goes straight on into walls or strongholds. It feels more like a battering ram than a truck, and the blue "window" with silver painted interior prevents passengers from going inside. The paint is pretty good, with painted wheels, headlights, and an Autobot symbol. Since they're aiming for that 2000/2001 Magus truck mode, it's notable that they dropped the metallic, shiny Autobrand on the grille. It's a lot more subdued, plus or minus the red/white/blue plastic and 5 blasters to mount.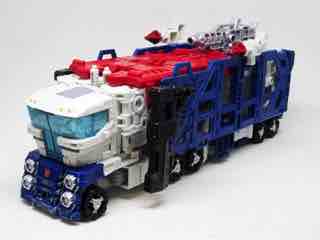 If you've been doing this for a while, you might wonder if Combiner Wars Ultra Magnus [FOTD #1,200] is better. I'd say it's different - that toy is taller, more hollow. This one feels sturdier, with thicker plastic pieces, more articulation, more weapons, and more mass. It is shorter, though, and costs about the same. If you prefer the James Roberts/Minimus Ambus version, keep your old one. If you want something different mixing generations into something new, or one that's a little more fun to play with, I'd suggest getting this one. Given inflation, increased complexity, mass-shifting, and repetition, it might not be for you. But I'm really digging it, especially as it's the first Ultra Magnus toy in the USA with a white inner "Convoy" robot in quite some time. In the context of a new sense of scale, this is a wonderful figure.
--Adam Pawlus
Additional Images

Click here to see more Hasbro figures in Figure of the Day.
Click here to see more Transformers figures in Figure of the Day.

Want to buy this figure? Check Transformers availability at our sponsors:
Entertainment Earth