Headless Horseman
Has Two Heads, False Advertising

Imaginext Series 7 Blind-Bagged Collectible Figures
Item No.: Asst. CDX70 No. DHV84
Manufacturer: Fisher-Price
Includes: Cape with Pumpkin Helmet, sword
Action Feature: Head and hands glow in the dark rather well
Retail: $2.99
Availability: 2015
Other: Look for #85 on upper-left of the foil packet on the back

PREVIOUS
RSS
NEXT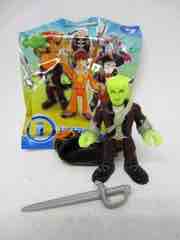 I stumbled on a lot of clearance Imaginext earlier this year, and sat on the Headless Horseman for Halloween. It's a ghost, with a pumpkin head. It glows. It was inspired by an important early piece of American literature that schoolkids learned back when I was young. Maybe they still do? First released a few years ago and possibly languishing in drug or grocery stores near you, this 3-inch figure has a big pumpkin head and glowing parts - in other words, it's ideal for the season of begging for candy.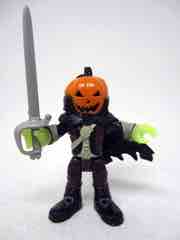 The glowing ghostly face under the mask has a sneer and pale green eyes. The hair is a separately molded piece, and for all I know was reused elsewhere. The Revolutionary War attire has been mistaken for a pirate by many, so for all I know there's a pirate figure sharing the body. With a glossy pair of black boots, the surprisingly detailed sculpt doesn't have a lot of painted detailing. The various loops on the waistcoat are painted to match the torso, as is the sash over the body. The jacket does have painted trim though, and articulation is par for the course. Additional decoration was spent on the pumpkin head, as the jagged bright orange mask needed to stand out from the removable plastic black cape.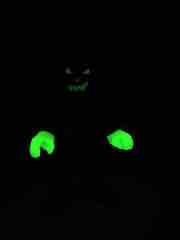 The helmet adds a lot of height to the Hessian mercenary, letting him tower above Ichabod Crane. Or rather, it would had Mattel made one. Instead, he can just menace your X-Ray Man or Swamp Thing or Chris Pratt figures. One of the strokes of brilliance was to give the figure a glow-in-the-dark human head, as it shines brightly through the jack-o-lantern face on the mask. It's a brilliant play feature and a nice cheat that beats out LED wiring or dubious light-up eye ports. It's simple, and it works nicely - that about all I can ask for these days.
This figure was on my short list for a good long time but I kept missing the wave and never had the checklist I needed handy - some freak toy clearances in 2019 helped me out with this and a number of other figures I wanted to buy. At or under retail price it's a marvel, and I'd even say it's probably worth paying a tiny premium to get one. After all I've paid significantly more for similarly sized indie toys, and this is pretty swell overall with a good sword and a unique-as-far-as-I-know sculpt.
--Adam Pawlus
Additional Images

See more Fisher-Price figures in Figure of the Day:
Day 79: Fisher-Price Adventure People Alpha Star Astronaut Action Figure
Day 233: Fisher-Price Imaginext Space Station Toy Set
Day 404: Fisher-Price Imaginext Dinosaur Ankylosaurus
Day 528: Fisher-Price Imaginext Dinosaur Raptor
Day 643: Fisher-Price Adventure People Alpha Star Alien Creature
Day 766: Fisher-Price Imaginext Collectible Figures Diver
Day 796: Fisher-Price Imaginext Collectible Figures Robot
Day 830: Fisher-Price Imaginext Collectible Figures Mummy
Day 842: Fisher-Price Imaginext Space Ion Scorpion
Day 847: Fisher-Price Imaginext Space Ion Crab
Day 853: Fisher-Price Imaginext Space Alpha Blade
Day 954: Fisher-Price Imaginext Dinosaur Dimetrodon
Day 2,002: Fisher-Price Imaginext Series 10 Collectible Figures Spaceman & Alien
Day 2,014: Fisher-Price Imaginext Series 11 Collectible Figures X-Ray Man & Dog
Day 2,018: Fisher-Price Imaginext Series 11 Collectible Figures Radiation Man
Day 2,024: Fisher-Price Imaginext Series 11 Collectible Figures Triple Threat Snake
Day 2,032: Fisher-Price Imaginext Series 11 Collectible Figures M.U.S.C.L.E. Men
Day 2,036: Fisher-Price Imaginext Series 6 Collectible Figures Chicken Suit
Day 2,092: Fisher-Price Imaginext Series 11 Collectible Figures Fishbot
Day 2,096: Fisher-Price Imaginext Series 12 Collectible Figures Big Building Robot
Day 2,099: Fisher-Price Imaginext Series 12 Collectible Figures Clawtron
Day 2,100: Fisher-Price Imaginext DC Super Friends Batman & Swamp Thing Action Figures
Day 2,101: Fisher-Price Imaginext Series 7 Collectible Figures Buster of Ghosts
Day 2,102: Fisher-Price Imaginext Pirates Shark Minisub Figure with Vehicle
Day 2,103: Fisher-Price Imaginext Jurassic World Dr. Malcolm & Dimetrodon Action Figures
Day 2,104: Fisher-Price Imaginext Egypt Mummy Guards Action Figures
Day 2,108: Fisher-Price Imaginext Series 9 Mystery Figures Grim Reaper
Day 2,122: Fisher-Price Imaginext Series 6 Collectible Figures 4 Arm Alien
Day 2,133: Fisher-Price Imaginext Series 7 Collectible Figures Headless Horseman
Day 2,194: Fisher-Price Imaginext Series 9 Mystery Figures Yeti Snowboarder
Day 2,227: Fisher-Price Imaginext Series 9 Mystery Figures Shark Pirate
Day 2,239: Fisher-Price Imaginext DC Super Friends Slammers Arctic Sled with Mr. Freeze Set
Day 2,249: Fisher-Price Imaginext DC Super Friends Slammers Batmobile with Batman Set
Day 2,257: Fisher-Price Imaginext DC Super Friends Surround Sound Batcave Playset
Day 2,306: Fisher-Price Imaginext 20th Anniversary Figures Jett Cosmoblast
Day 2,312: Fisher-Price Imaginext 20th Anniversary Figures FP-636
Day 2,318: Fisher-Price Imaginext 20th Anniversary Figures Shackles McMatey
Day 2,420: Fisher-Price Imaginext Series 8 Collectible Figures Woodland Mystic
Day 2,424: Fisher-Price Adventure People Astro Knight Action Figure
Day 2,449: Fisher-Price Imaginext Series 12 Collectible Figures Explorer
Day 2,452: Fisher-Price Adventure People Clawtron Action Figure
Day 2,455: Fisher-Price Adventure People Firestar I Vehicle with Pilot Action Figure
Day 2,457: Fisher-Price Adventure People Opticon Action Figure
Day 2,460: Fisher-Price Adventure People X-Ray Woman Action Figure
Day 2,464: Fisher-Price Imaginext Series 9 Mystery Figures Invisible Man
Day 2,468: Fisher-Price Imaginext Monsters Figure Pack
Day 2,487: Fisher-Price Imaginext Lightyear Hyperspeed Explorer XL-01
Day 2,522: Fisher-Price Imaginext Toy Story 4 Bunny & Buzz Lightyear
Day 2,542: Fisher-Price Adventure People X-Ray Man Action Figure

See more Imaginext figures in Figure of the Day:
Day 233: Fisher-Price Imaginext Space Station Toy Set
Day 404: Fisher-Price Imaginext Dinosaur Ankylosaurus
Day 528: Fisher-Price Imaginext Dinosaur Raptor
Day 766: Fisher-Price Imaginext Collectible Figures Diver
Day 796: Fisher-Price Imaginext Collectible Figures Robot
Day 830: Fisher-Price Imaginext Collectible Figures Mummy
Day 842: Fisher-Price Imaginext Space Ion Scorpion
Day 847: Fisher-Price Imaginext Space Ion Crab
Day 853: Fisher-Price Imaginext Space Alpha Blade
Day 954: Fisher-Price Imaginext Dinosaur Dimetrodon
Day 2,002: Fisher-Price Imaginext Series 10 Collectible Figures Spaceman & Alien
Day 2,014: Fisher-Price Imaginext Series 11 Collectible Figures X-Ray Man & Dog
Day 2,018: Fisher-Price Imaginext Series 11 Collectible Figures Radiation Man
Day 2,024: Fisher-Price Imaginext Series 11 Collectible Figures Triple Threat Snake
Day 2,032: Fisher-Price Imaginext Series 11 Collectible Figures M.U.S.C.L.E. Men
Day 2,036: Fisher-Price Imaginext Series 6 Collectible Figures Chicken Suit
Day 2,092: Fisher-Price Imaginext Series 11 Collectible Figures Fishbot
Day 2,096: Fisher-Price Imaginext Series 12 Collectible Figures Big Building Robot
Day 2,099: Fisher-Price Imaginext Series 12 Collectible Figures Clawtron
Day 2,100: Fisher-Price Imaginext DC Super Friends Batman & Swamp Thing Action Figures
Day 2,101: Fisher-Price Imaginext Series 7 Collectible Figures Buster of Ghosts
Day 2,102: Fisher-Price Imaginext Pirates Shark Minisub Figure with Vehicle
Day 2,103: Fisher-Price Imaginext Jurassic World Dr. Malcolm & Dimetrodon Action Figures
Day 2,104: Fisher-Price Imaginext Egypt Mummy Guards Action Figures
Day 2,108: Fisher-Price Imaginext Series 9 Mystery Figures Grim Reaper
Day 2,122: Fisher-Price Imaginext Series 6 Collectible Figures 4 Arm Alien
Day 2,133: Fisher-Price Imaginext Series 7 Collectible Figures Headless Horseman
Day 2,194: Fisher-Price Imaginext Series 9 Mystery Figures Yeti Snowboarder
Day 2,227: Fisher-Price Imaginext Series 9 Mystery Figures Shark Pirate
Day 2,239: Fisher-Price Imaginext DC Super Friends Slammers Arctic Sled with Mr. Freeze Set
Day 2,249: Fisher-Price Imaginext DC Super Friends Slammers Batmobile with Batman Set
Day 2,257: Fisher-Price Imaginext DC Super Friends Surround Sound Batcave Playset
Day 2,306: Fisher-Price Imaginext 20th Anniversary Figures Jett Cosmoblast
Day 2,312: Fisher-Price Imaginext 20th Anniversary Figures FP-636
Day 2,318: Fisher-Price Imaginext 20th Anniversary Figures Shackles McMatey
Day 2,449: Fisher-Price Imaginext Series 12 Collectible Figures Explorer
Day 2,464: Fisher-Price Imaginext Series 9 Mystery Figures Invisible Man
Day 2,468: Fisher-Price Imaginext Monsters Figure Pack
Day 2,487: Fisher-Price Imaginext Lightyear Hyperspeed Explorer XL-01
Day 2,522: Fisher-Price Imaginext Toy Story 4 Bunny & Buzz Lightyear