Bluestreak
WFC-S64 - Walmart Exclusive

Transformers Generations War for Cybertron Siege Deluxe
Item No.: No. E8291
Manufacturer: Hasbro
Includes: W-45 Acid Pellet Blaster, 2 W-50 Volt-Beam Cannons
Action Feature: Transforms from Robot to Car
Retail: $19.99
Availability: September 2019
Other: Prowl redeco, see also Smokescreen and Barricade

PREVIOUS
RSS
NEXT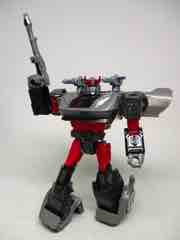 Something of a lesser 1984 Autobot, Bluestreak gets toys once in a while - usually after Prowl does. The club had a Combiner Wars version in blue, and we've seen a few Legends/Legion-class toys as well as an as-good-as-you-could-expect Universe version about 10 years ago. Also there have been Masterpiece Editions. These "car brothers" were recently expanded to include Barricade in their ranks as toy bios go, so it's nice to see Hasbro is aware that there are some obvious repaints that we as fans are excited to see.
This is a good one - it's like Prowl [FOTD #2,080] with more stuff and - in my opinion - a better paint job. A grey and black robot with red shins and elbows, Bluestreak also adds shoulder cannons that Prowl sadly lacked. He has 22 points of articulation, a fair amount of paint, and a rather stable build. Hasbro and Takara-Tomy did a nice job making sure the mold would be worth building upon, and he's pretty lively. With added blasters on his torso which Prowl did not have, this is an extra-fun toy. You can even combine those blasters to a new gun - an added bonus, if ever there was one.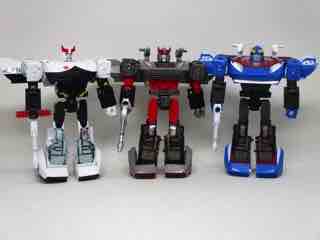 Transforming the toy is exactly like Prowl, and it's easy to massage everything in place with minimal fuss. The blasters all mount easily on the car mode too, if such things are of interest. The toy's wheels spin nicely, but they're clear. I could do without them being clear.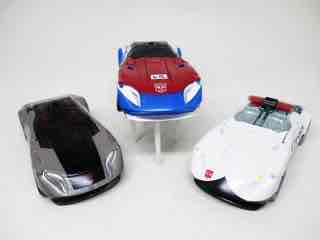 The car has the black hood which closely matches the G1 cartoon, rather than the all-silver original toy. With an Autobot symbol stamped on the hood, it's the only version of this mold to not feature Cybertronian characters. It's like a futuristic shoe with wheels, and I love it. There are even weird red "brake lights" on the back, and that makes the toy pop nicely.
While not as colorful as the original toy or Masterpiece edition, you can find evidence of sculpted detail meant to resemble the vintage stickers on the robot mode. If you need something that's perfect to the original toy or cartoon, this isn't it - but it's weird enough and also close enough that I wouldn't turn it away. I'm considering selling off my Universe 2.0 Prowl/Smokescreen/Bluestreak now that I have these guys - I like them a lot more, the transformations are more fun, and I've got enough Earth car toys. Bring on the wacky space buggies. As a Walmart exclusive that launched online in July, I haven't seen these in stores as of my writing this - so I'd say buy it if you find it, it looks great.
--Adam Pawlus
Additional Images

Click here to see more Hasbro figures in Figure of the Day.
Click here to see more Transformers figures in Figure of the Day.

Want to buy this figure? Check Transformers availability at our sponsors:
Entertainment Earth