Prowl
WFC-S23

Transformers Generations War for Cybertron Siege Deluxe
Item No.: Asst. E3432 No. E3540
Manufacturer: Hasbro
Includes: W-45 Acid Pellet Soundblaster (light bar + blaster)
Action Feature: Transforms from Robot to Car
Retail: $19.99
Availability: February 2019
Other: Surprisingly, no battle damage deco

PREVIOUS
RSS
NEXT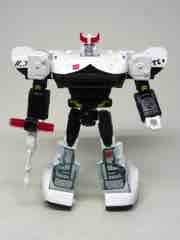 He's going to be repainted as Barricade - and maybe Smokescreen and Bluestreak - but first it's Prowl! The Autobot jerk who does the questionable things in the comics was mostly just a loyal soldier in the cartoons, and now he's a somewhat small and futuristic Cybertronian police car that looks a lot like an Earth car. It's neat, it's weird, but it's not convincingly as alien as those 1984 More Than Meets the Eye Bumblbee and Wheeljack cartoon alt modes.
The 5-inch robot is kind of short for a deluxe, just like Sideswipe - just not as sturdy. The legs are a little more spindly, but the arms are about on par. I like the sculpting as it's a little smoother than a lot of the other Siege guys, but it has enough interesting detail to be cool. Sure, you lose Prowl's shoulder cannons but at least you get really cool shins with windows painted from the inside. I like this look a lot.
Like the other deluxes, he's loaded with places to plug in weapons - you could plug cannons into his shoulders, and hopefully Hasbro capitalizes on this and throws weapon packs out there in the future. He can also wear dismembered Cog or Sixgun as a battle suit of sorts. The base Prowl is pretty good, and it looks a lot like your run-of-the-mill Prowls from over the years. I would've liked a little more to break up the white - like the shoulder guns - but as it is, it's well-engineered enough for my liking.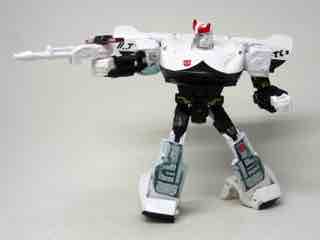 The former police car is now... get ready for it... a police car. Like a lot of vehicles lately it has clear wheels, which seems appropriately alien or futuristic, but I don't personally care for it. The Autobot lettering on the side reads "POLICE," and not "I'm With Her" or something else like we saw with Jazz.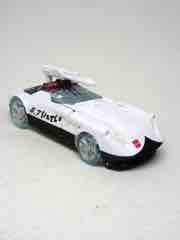 I like the car, but it feels a little thin. Given it's an alien vehicle, this is probably a good thing. It's not overwhelmingly decorated in circuits, nor is the robot mode - even when you bulk it up with parts and pieces from Sixgun or another toy, it's still Prowl. You can't take the Prowl out of the Prowl, try as you may.
This wave has been interesting - Chromia feels kind of unnecessary, Sixgun is fine for what it is, Ironhide has some panel tab/hole issues, and Prowl is OK. They're all pretty good and pretty sturdy, but not nearly as exciting as some waves have been in recent years just because we've had versions of most of them before - to varying degrees of more or less interesting-ness. Universe Prowl was fine, Combiner Wars Prowl was pretty great, and there's nothing wrong with this one either - but I'd probably advise fans on a budget to wait for the retool/redeco as Barricade, just because he has not yet previously existed as a toy in this continuity or style.
--Adam Pawlus
Additional Images

Click here to see more Hasbro figures in Figure of the Day.
Click here to see more Transformers figures in Figure of the Day.

Want to buy this figure? Check Transformers availability at our sponsors:
Entertainment Earth