Skullboto Soldier
Crack Some Skulls

Glyos System Series
Item No.: No. n/a
Manufacturer: Onell Design
Includes: Figure, Shield/backpack, alternate Quallerran head, choker, weapons formation - can be gun or sword
Action Feature: Pops apart, customize it if you dare
Retail: $12.00
Availability: January 11, 2019
Other: Bone Trooper

PREVIOUS
RSS
NEXT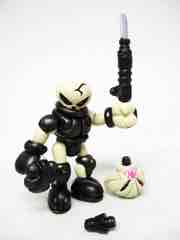 Onell Design figures cosplay like nobody's business, and the fantastic Skullboto Soldier is probably a nod to a specific toy I just can't place. The classic Noboto form has been augmented with a skull-like head paint application, complete with a crack in the skull and slightly obscured-by-the-collar teeth you can see when you pop off the head, or scroll down a bit. What's more, a vampire-like set of fangs on the Quallerran head let you make a monster if you dare. As usual, you have excellent options here.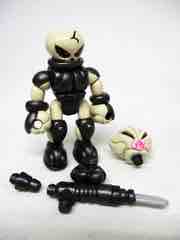 The 2-inch Noboto has lent itself to countless tributes and cool designs, with other previously available "Skullboto" figures also looking great. This armored one looks like something you could fight in Castlevania, with armor and a really cool weapon from the RoboForce figures. You can configure the grip to be a bladed sword-like weapon or a gun, with the "backpack" serving as a shield. The bronze plastic looks sturdy and the painted-on bone is done cleanly, evenly, and more important thickly enough so that the figure doesn't look cheap. As usual, the Glyos factory did a good job and even put subtle rings around those red eyes. It's a nifty monster/space mash-up.
If Glyos were a little more famous I would assume these would be part of some awesome and widely-beloved D&D campaign by now. So many demons, ghouls, goblins, and other freaks persist throughout the line and there are almost too many to keep track of - team Onell Design just do a great job, consistently. With ghost knights and vampire-themed Noboto figures and goodness knows how many awesome skull Pheyden figures, there's a lot to like for the sci-fi fantasy fan. If you can get yourself one of the Skullbotos on the cheap - be it a regular one, this one, a Bloodboto, or something else - maybe give them a spin.
I'm still waiting for "Lightboto," some sort of clear yellow headed lightbulb creature. Maybe it wouldn't be popular, but I'd buy one.
--Adam Pawlus
Additional Images


Click here to see more Onell Design figures in Figure of the Day.
Click here to see more Glyos Compatible figures in Figure of the Day.