Shark Minisub
Shamu on You

Imaginext Pirates
Item No.: Asst. DHH73 No. STL98
Manufacturer: Fisher-Price
Includes: Figure, coat, projectile, vehicle
Action Feature: Removable coat, launching rocket
Retail: $6.99
Availability: 2016
Other: Not a shark, not a submarine

PREVIOUS
RSS
NEXT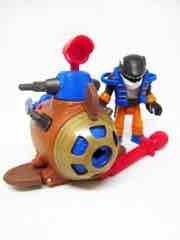 The Imaginext line has been a pretty good mix of toys aimed at younger boys. You've got big licenses like Spongebob Squarepants and Batman alongside home-grown lines of pirates, planes, monsters, castles, and interestingly no sign of He-Man. Part of a recent Pirates range, the Shark Minisub is really neither. You get an orca figure and some sort of barrel-based jetski with a periscope. It sold for about $7 and I recently realized I had missed it, and due to the Battle Beasts nature of the figure I had to run out and find one. Thankfully Kohl's rarely marks things down in a timely fashion, so it was reasonably easy to find one. The bulk of the rest of the line are humanoid sharks, with a mix of sea life and strange mechanical things. There's a Shark Mech Suit, which I don't need per se but I'm not going to skip it if I see one in a store again. The line also has numerous human pirates, including a Captain Hook-esque scallywag and Davey Jones (sadly not Davy Jones), and several others. I gravitate toward the weird humanoid animals.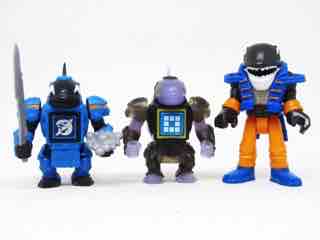 The figure immediately made me think of Beast Saga DX Starter Set [FOTD #564], which included a similarly orange-and-blue-armored orca figure of roughly the same size. It has a blowhole, while Fisher-Price's does not. Released about 3 years apart, I do wonder if Imaginext considered these guys when doing their own - the team has a bunch of toy buffs on it, as there are countless references to some of the greatest toy lines of the past four decades (and change) throughout.
Our new Orca pal has a removable jacket/vest with some painted elements. The blue garment has tails - not whale tails, though - with a shirt underneath. Presumably he wears this when he's in charge, with the coat off when he's swabbing decks or in the brig. Articulation is standard Imaginext 5-joint fare with no neck movement thanks to its large size. I like the subtle paint on and above the eyes, and the FP people did a good job painting the whale detailing. The mouth interior is unpainted, and at this scale that seems fine. I also love the bright orange pants - there's no reason for it, and it looks great. If Fisher-Price were willing I'd gladly buy series after series of weird pirate or other warrior animal figures. I could definitely use a shark or two. Or dinosaurs. From space. Can you believe nobody has done that before?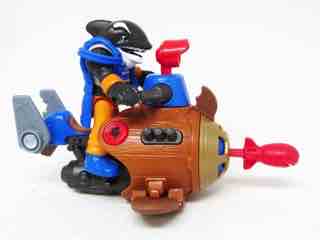 The main attraction (per the marketing copy) is the minisub. I could take or leave it - it's clever in that it's a wooden vehicle with room for a figure to stand but not really sit on the back. The fins are all jointed, and the periscope serves as a trigger to launch the rocket several feet. As spring-loaded rockets go, this is one of the better ones. There's not a lot of painted detail, but it's loaded with color. An Imaginext shark pirate symbol was stamped on red circles on the sides, but it seems everything else was molded in color to help keep costs down. I love the sculpted faux wood texturing, and the figure stands reasonably well on the back while gripping the handlebars.
As vehicles go, it's basically a bike or a jetski. Toy vehicles increasingly favor showing the figure while in use, which I never really like for combat things. There's not a lot of protection here - especially for a submarine, which tends to be enclosed. It's cartoony and looks fun, though, and it does a good job of giving the figure a ride and an action feature. A face sculpted on the rocket itself does a bang-up job giving the "shark" sub a head, which completes its look. For the asking price, it's an impressive little toy.
For fans of old small figures with animal heads, it's a gem. Fans of the Rulons from Dino-Riders or Battle Beasts have a lot to like here, with colors that seem to go well with what you might see in Sea World or Star Tours. Even though this set has shuffled off this mortal retail coil, I found it to be worthwhile and charming - get it if the price fits your budgets.
--Adam Pawlus
Additional Images

See more Fisher-Price figures in Figure of the Day:
Day 79: Fisher-Price Adventure People Alpha Star Astronaut Action Figure
Day 233: Fisher-Price Imaginext Space Station Toy Set
Day 404: Fisher-Price Imaginext Dinosaur Ankylosaurus
Day 528: Fisher-Price Imaginext Dinosaur Raptor
Day 643: Fisher-Price Adventure People Alpha Star Alien Creature
Day 766: Fisher-Price Imaginext Collectible Figures Diver
Day 796: Fisher-Price Imaginext Collectible Figures Robot
Day 830: Fisher-Price Imaginext Collectible Figures Mummy
Day 842: Fisher-Price Imaginext Space Ion Scorpion
Day 847: Fisher-Price Imaginext Space Ion Crab
Day 853: Fisher-Price Imaginext Space Alpha Blade
Day 954: Fisher-Price Imaginext Dinosaur Dimetrodon
Day 2,002: Fisher-Price Imaginext Series 10 Collectible Figures Spaceman & Alien
Day 2,014: Fisher-Price Imaginext Series 11 Collectible Figures X-Ray Man & Dog
Day 2,018: Fisher-Price Imaginext Series 11 Collectible Figures Radiation Man
Day 2,024: Fisher-Price Imaginext Series 11 Collectible Figures Triple Threat Snake
Day 2,032: Fisher-Price Imaginext Series 11 Collectible Figures M.U.S.C.L.E. Men
Day 2,036: Fisher-Price Imaginext Series 6 Collectible Figures Chicken Suit
Day 2,092: Fisher-Price Imaginext Series 11 Collectible Figures Fishbot
Day 2,096: Fisher-Price Imaginext Series 12 Collectible Figures Big Building Robot
Day 2,099: Fisher-Price Imaginext Series 12 Collectible Figures Clawtron
Day 2,100: Fisher-Price Imaginext DC Super Friends Batman & Swamp Thing Action Figures
Day 2,101: Fisher-Price Imaginext Series 7 Collectible Figures Buster of Ghosts
Day 2,102: Fisher-Price Imaginext Pirates Shark Minisub Figure with Vehicle
Day 2,103: Fisher-Price Imaginext Jurassic World Dr. Malcolm & Dimetrodon Action Figures
Day 2,104: Fisher-Price Imaginext Egypt Mummy Guards Action Figures
Day 2,108: Fisher-Price Imaginext Series 9 Mystery Figures Grim Reaper
Day 2,122: Fisher-Price Imaginext Series 6 Collectible Figures 4 Arm Alien
Day 2,133: Fisher-Price Imaginext Series 7 Collectible Figures Headless Horseman
Day 2,194: Fisher-Price Imaginext Series 9 Mystery Figures Yeti Snowboarder
Day 2,227: Fisher-Price Imaginext Series 9 Mystery Figures Shark Pirate
Day 2,239: Fisher-Price Imaginext DC Super Friends Slammers Arctic Sled with Mr. Freeze Set
Day 2,249: Fisher-Price Imaginext DC Super Friends Slammers Batmobile with Batman Set
Day 2,257: Fisher-Price Imaginext DC Super Friends Surround Sound Batcave Playset
Day 2,306: Fisher-Price Imaginext 20th Anniversary Figures Jett Cosmoblast
Day 2,312: Fisher-Price Imaginext 20th Anniversary Figures FP-636
Day 2,318: Fisher-Price Imaginext 20th Anniversary Figures Shackles McMatey
Day 2,420: Fisher-Price Imaginext Series 8 Collectible Figures Woodland Mystic
Day 2,424: Fisher-Price Adventure People Astro Knight Action Figure
Day 2,449: Fisher-Price Imaginext Series 12 Collectible Figures Explorer
Day 2,452: Fisher-Price Adventure People Clawtron Action Figure
Day 2,455: Fisher-Price Adventure People Firestar I Vehicle with Pilot Action Figure
Day 2,457: Fisher-Price Adventure People Opticon Action Figure
Day 2,460: Fisher-Price Adventure People X-Ray Woman Action Figure
Day 2,464: Fisher-Price Imaginext Series 9 Mystery Figures Invisible Man
Day 2,468: Fisher-Price Imaginext Monsters Figure Pack
Day 2,487: Fisher-Price Imaginext Lightyear Hyperspeed Explorer XL-01
Day 2,522: Fisher-Price Imaginext Toy Story 4 Bunny & Buzz Lightyear
Day 2,542: Fisher-Price Adventure People X-Ray Man Action Figure

See more Imaginext figures in Figure of the Day:
Day 233: Fisher-Price Imaginext Space Station Toy Set
Day 404: Fisher-Price Imaginext Dinosaur Ankylosaurus
Day 528: Fisher-Price Imaginext Dinosaur Raptor
Day 766: Fisher-Price Imaginext Collectible Figures Diver
Day 796: Fisher-Price Imaginext Collectible Figures Robot
Day 830: Fisher-Price Imaginext Collectible Figures Mummy
Day 842: Fisher-Price Imaginext Space Ion Scorpion
Day 847: Fisher-Price Imaginext Space Ion Crab
Day 853: Fisher-Price Imaginext Space Alpha Blade
Day 954: Fisher-Price Imaginext Dinosaur Dimetrodon
Day 2,002: Fisher-Price Imaginext Series 10 Collectible Figures Spaceman & Alien
Day 2,014: Fisher-Price Imaginext Series 11 Collectible Figures X-Ray Man & Dog
Day 2,018: Fisher-Price Imaginext Series 11 Collectible Figures Radiation Man
Day 2,024: Fisher-Price Imaginext Series 11 Collectible Figures Triple Threat Snake
Day 2,032: Fisher-Price Imaginext Series 11 Collectible Figures M.U.S.C.L.E. Men
Day 2,036: Fisher-Price Imaginext Series 6 Collectible Figures Chicken Suit
Day 2,092: Fisher-Price Imaginext Series 11 Collectible Figures Fishbot
Day 2,096: Fisher-Price Imaginext Series 12 Collectible Figures Big Building Robot
Day 2,099: Fisher-Price Imaginext Series 12 Collectible Figures Clawtron
Day 2,100: Fisher-Price Imaginext DC Super Friends Batman & Swamp Thing Action Figures
Day 2,101: Fisher-Price Imaginext Series 7 Collectible Figures Buster of Ghosts
Day 2,102: Fisher-Price Imaginext Pirates Shark Minisub Figure with Vehicle
Day 2,103: Fisher-Price Imaginext Jurassic World Dr. Malcolm & Dimetrodon Action Figures
Day 2,104: Fisher-Price Imaginext Egypt Mummy Guards Action Figures
Day 2,108: Fisher-Price Imaginext Series 9 Mystery Figures Grim Reaper
Day 2,122: Fisher-Price Imaginext Series 6 Collectible Figures 4 Arm Alien
Day 2,133: Fisher-Price Imaginext Series 7 Collectible Figures Headless Horseman
Day 2,194: Fisher-Price Imaginext Series 9 Mystery Figures Yeti Snowboarder
Day 2,227: Fisher-Price Imaginext Series 9 Mystery Figures Shark Pirate
Day 2,239: Fisher-Price Imaginext DC Super Friends Slammers Arctic Sled with Mr. Freeze Set
Day 2,249: Fisher-Price Imaginext DC Super Friends Slammers Batmobile with Batman Set
Day 2,257: Fisher-Price Imaginext DC Super Friends Surround Sound Batcave Playset
Day 2,306: Fisher-Price Imaginext 20th Anniversary Figures Jett Cosmoblast
Day 2,312: Fisher-Price Imaginext 20th Anniversary Figures FP-636
Day 2,318: Fisher-Price Imaginext 20th Anniversary Figures Shackles McMatey
Day 2,449: Fisher-Price Imaginext Series 12 Collectible Figures Explorer
Day 2,464: Fisher-Price Imaginext Series 9 Mystery Figures Invisible Man
Day 2,468: Fisher-Price Imaginext Monsters Figure Pack
Day 2,487: Fisher-Price Imaginext Lightyear Hyperspeed Explorer XL-01
Day 2,522: Fisher-Price Imaginext Toy Story 4 Bunny & Buzz Lightyear