Combat Megatron
WFC-GS01

Transformers Generations War for Cybertron Siege Selects
Item No.: No. E4935
Manufacturer: Hasbro
Includes: D50-R35 Fusion Cannon, HPR Telescopic Laserstrike Launcher
Action Feature: Transforms from Robot to Tank
Retail: $29.99
Availability: March 2019
Other: First shipped, third revealed

PREVIOUS
RSS
NEXT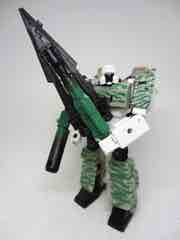 The "Selects" line is a series of shared exclusives in simpler brown cardboard packaging with a sticker keeping it shut. The effect is not unlike the clear tubs of desserts you see at Trader Joe's, with a toy inside that seems like it would have been a good BotCon exclusive were that a thing anymore. Combat Megatron is based on a once-unreleased 1995 Generation 2 redeco, which was made as a Pretender Megatron [FOTD #1,776] back in 2017. While this new colorway is by no means essential, it's pretty awesome and it has a different head sculpt. As such, I like it.
The robot is Combat Megatron - with a twist. The chest "MEGATRON" is there, with the lightning bolts. The shoulder Decepticon symbol is there, but on the opposite arm. You get black feet - and you didn't before - along with red dots on the belly. What's particularly new is the head and helmet. This one is closer in texture to the IDW "Miner" Megatron, but when cast in white it looks like he has surprised, arched eyebrows. The face is black and the eyes are red, just like on the original toy concept.
With deco that great the underlying toy is still perfectly fantastic. You get rocker angles, gobs of leg joints, and nicely articulated arms. Some wrist joints would be nice, but we can't have everything. You can get a lot of good poses out of this one, and the added sword brings some bonus fun to the toy. When it comes to Generation 2 toys, any accessory that ups the "extreme" nature of stuff marketed to kids in the 1990s is welcome.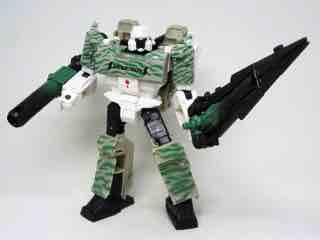 Transforming the toy is pretty much the same as the last Megatron tank toy. Everything tucks in pretty well, and the only thing I forgot to do was to fold the tabs on Megatron's shoulders that got in the way of the turret coming together. The sword slides in to the fusion cannon and plugs between the arms nicely. Everything else shuffles around like a dream.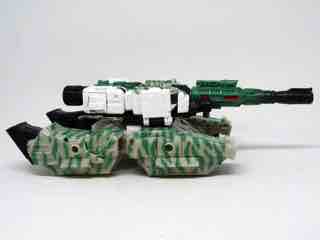 The tank is pretty much the same tank you got on the first release - it has a rotating turret and spinning wheels. There are vestigial treads on the front part of the tank, but nothing on the bank. Why is this? I have no idea. The sculpted detail is largely obscured by the green tiger stripes. You can see the G2 Decepticon symbol and the MGTN95 on top of the turret, too. It's hard to see. With Megatron robot's white forearms more or less serving as a replacement for the white bellows, Hasbro did a nice job getting the colors to match up to that old prototype.
With Ricochet, Swoop, and Megatron being revealed it's hard to say what the future holds. (Well... you know why.) I like that Hasbro has been using this line for expressions we don't see a lot in the USA - "toy color" Swoop doesn't get a lot of love, and Ricochet has yet to appear in the American "classic" and "Generations" styling. This Megatron, previously being a tail-end club exclusive, is new to most fans - and it's big and cool. If you don't have this mold, either version is good - but I particularly like G2 stuff. Get it if you like.
--Adam Pawlus
Additional Images

Click here to see more Hasbro figures in Figure of the Day.
Click here to see more Transformers figures in Figure of the Day.

Want to buy this figure? Check Transformers availability at our sponsors:
Entertainment Earth