Galaxy Upgrade Optimus Prime
WFC-S40

Transformers Generations War for Cybertron Siege Leader
Item No.: Asst. E3419 No. E3480
Manufacturer: Hasbro
Includes: JF-15 Gravity Force Laser, JF-50 Twinblast Galaxy Pack, W-30 Magnetic Inducer Launcher (2)
Action Feature: Transforms from Robot to Truck
Retail: $49.99
Availability: April 2019
Other: As seen in the IDW Comics Reboot

PREVIOUS
RSS
NEXT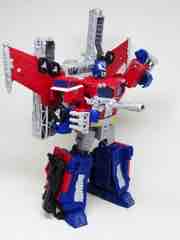 Weirdly, Galaxy Upgrade Optimus Prime showed up early. That's usually a sign of success - it was expected in Summer, and by April it was showing up in US stores and warehouses. The Ultra Magnus remold/premold gives you a good mix of a tribute to 2005's Cybertron Optimus Prime (or in Japan, Galaxy Force Galaxy Convoy), a pretty spectacular toy that was larger, sturdier, and with inflation cheaper than the Siege model. It's a different beast, and as it leaves out some details like electronics, firing rockets, and the Cyber Planet Key gimmicks, it may or may not be for you. I'd say get both, but I usually do.
There are several changes between the toys from which this is derived. The inner robot is basically the same as Ultra Magnus', with a retooled chest and crotchial zone. Most of the changes are paint, but the chest and body alterations give the toy a very different cab mode. Thanks to the armor bits the super robot and combined vehicle look like a wholly new toy. Not bad for a retool.
The default "armored up" 8-inch is small compared to previous generations of Leader-class toys and a full two inches shorter. The wingspan has been reduced to nine inches as opposed the original measuring in at about 16. The original toy has more colorful weapons and less removable, losable kibble. The original super bot had yellow eyes, while this one has blue. Putting them side by side, the original 2005 toy is much more impressive on a shelf, but it's also preposterously big and wide in an ongoing, possibly never-ending collection of Hasbro robots in disguise. The lack of 5mm hands on the 2005 original is a bit of a downer, and it's also too big for my photo studio. With more spinning wheels, more bells and whistles, and more gizmos, I would steer you to the original if you can afford it and want a bigger mess of a collection. The new one is just about as well articulated with slightly better paint and the sad loss of the mouth faceplate gimmick.
Big Optimus is fun and a less awkward toy with bonus guns on his legs and weird bits and pieces you have to clip on to get the look of the original toys. Were this not a tribute, you'd leave them off - they're awkward and weird, and don't add to the fun. But you get a good pair of robot modes, complete with some silver scuffing on the chest of the big robot and the forearms on both modes.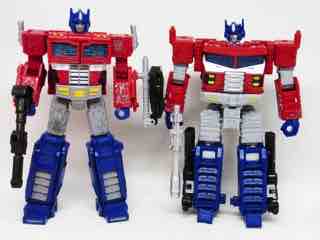 The Galaxy Upgrade Optimus Prime transformation is a lot like Ultra Magnus, with clips and tabs and pegs. Big Robot's shoulderpads, forearm kibble, boots, and head/chest/backpack pop off to reconfigure into truck parts. The inner robot turns into the cab of the truck. It's kind of a hassle to align everything, Ultra Magnus' was smoother and slightly more intuitive. I will say that the whole aspect of these toys being tributes to old things is irksome in that we get artificial kibble to match a look of an old toy that existed because of how it functioned. Here things like the robot shoulders are just ornaments, and as such it's kind of a waste of resources to force the look when they could have just as easily come up with something newer and more sensible.
The truck is good, but I don't like it as much as the bigger, heftier original. The tires on the wing parts don't spin, but at least they're painted. It feels a little gappier, with articulated panels on the super robot legs (and back of the truck) serving no actual function. There's a joint there, but the part doesn't seem like it can move for any aspect of the transformation. This is also bothersome, because extra parts and pieces add to the cost and we absorb that in the form of reduced paint applications or other missing elements.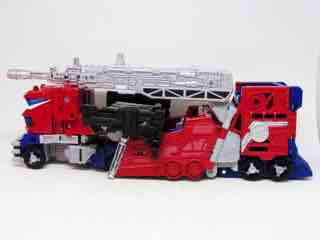 It's a good-looking truck with better-looking robots, but you can see a lot of places where it could be more fun and more functional. Did his super robot "ears" have to be unpainted rather than black like the original? Couldn't Hasbro have found a fun way to integrate the mouth gimmick of 2005? Could we have had some more fun bits added to the giant ladder/hose guns rather than have them be ornamental? It's a great toy for an adult wanting something pretty for the shelf, with lots of 3mm pegs and 5mm ports for your Siege weapons and blast effects. it has a lot of good articulation and is compatible with a wide array of accessories without being as wide or as preposterous as the original. I admire and appreciate Hasbro and Takara-Tomy cranking out a tribute to a toy from Cybertron as that basically never happens, and I love that it looks like the original so much. I just want it to do more, but I guess we're in an era where the "toy" aspect of these toys is turned down for more scuffing and such. Recommended if you don't have Ultra Magnus (Siege) or Optimus Prime (Cybertron), but if you do, perhaps you may be sufficiently happy with what you have. It's still fun, although it isn't quite as fun as some of those older toys.
--Adam Pawlus
Additional Images

Click here to see more Hasbro figures in Figure of the Day.
Click here to see more Transformers figures in Figure of the Day.

Want to buy this figure? Check Transformers availability at our sponsors:
Entertainment Earth