Galactic Man Shockwave
WFC-GS03

Transformers Generations War for Cybertron Siege Selects
Item No.: No. E8292
Manufacturer: Hasbro
Includes: 2 RS Duo-Pulse Radiographs, 2 RS Gamma-Disruptor Launchers, backpack
Action Feature: Transforms from Robot to Starfighter
Retail: $49.99
Availability: July 2019
Other: SDCC Debut and release

PREVIOUS
RSS
NEXT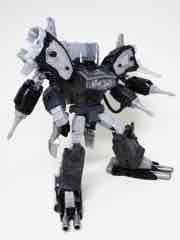 As a "fan" exclusive, The "Selects" line is something we sell where I work - and sometimes we get to find out what they are early, so we can order them. Galactic Man Shockwave was just "Shockwave" on the early lists, so one's imagination can run free - Senator Shockwave? Sixshot/Shockblast? Anime colors? The RadioShack toy "Galactic Man" was a surprise - the Korean ToyCo mold was licensed to a few concerns over the globe, meaning that the authentic Shockwave mold was sold as many toys, with many names, in many colors. Neither Hasbro nor fans can resist a black repaint, so this one makes a lot of sense.
It's a fun toy. I don't know if the original Siege Shockwave [FOTD #2,064] was truly worth its asking price, but I do enjoy it - and I do enjoy this loopy homage, too. The colors are different, the paint job is modified a bit, and it's sufficiently weird.
The big changes are easy to spot. The Decepticon symbols are gone, but "Galactic Man" and an outline on his chest are in. Hands are now grey, not lavender. The "battle damage" paint is gone. Feet are molded in color rather than being painted over. The backpack - and a few other pieces - are now molded in grey instead of purple. I daresay the grey looks better, and wish the purple version went that way too.
There are two different robot configurations. The bulked-up mode is the default. The body armor pops off and can form a hover platform, giving you a normal silhouette for Shockwave with a nice accessory. It's nice to have options.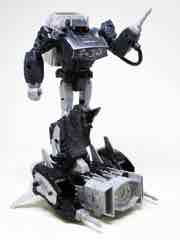 Transforming the toy is the same as the last Shockwave tank toy. The backpack becomes the front of a space ship, with the feet being the rear engines and everything in between tucking in to a laser gun/space ship shape. You can also bulk it up with the armor, giving you two vehicle modes.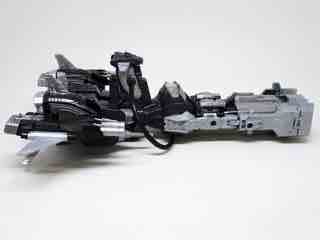 The vehicle doesn't do much, but it looks cool. You can see the various tubes and wings, plus certain elements were decorated differently. The guns on top of the ship are now fully painted. The nose of the front of the emitter is now unpainted. I can't say that the vehicle modes grew on me since the first release, but they're perfectly fine. Had Hasbro released a non-transforming Shockwave robot figure at a lower price, you'd probably find it sufficient.
The red light-up eye is a gem, much like the yellow one from the previous release. I don't know what Hasbro did to make them work so well, but they're easily some of the brightest eyes of any of these toys. So how can anyone choose between two very nice robot figures? It's a challenge - Shockwave (Purple) has the benefit of being based on a classic and famous toy and cartoon, but "Shackwave" is gleefully weird and eschews some of the uglier damage effects - and has a goofy name tag. If I could only get one, I'd probably pick Shackwave just because it's unlikely we'll get more versions of him. I expect we'll see a few more purple Shockwaves before the line dies out.
--Adam Pawlus
Additional Images

Click here to see more Hasbro figures in Figure of the Day.
Click here to see more Transformers figures in Figure of the Day.

Want to buy this figure? Check Transformers availability at our sponsors:
Entertainment Earth