Apeface
WFC-S50

Transformers Generations War for Cybertron Siege Voyager
Item No.: Asst. E3418 No. E7163
Manufacturer: Hasbro
Includes: Grip, blast effect
Action Feature: Transforms from Robot to Jet to Mechagorilla
Retail: $29.99
Availability: November 2019
Other: Gorilla Your Dreams

PREVIOUS
RSS
NEXT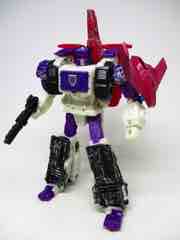 After getting a tiny version a few years ago, a big Apeface is a bit of a surprise! This Decepticon can make use of Titans Return heads, so if you prefer the old Apeface mug you can use it here. I like both for different reasons, and this is a nifty-if-weird toy.
As Hasbro and Takara-Tomy trudge through the later G1 releases, some of the toys are pretty literal updates of the originals. The mechanical beasts in particular tend to skew a bit closer to the original toys, with some chunky and bizarre results. I would say Apeface's paint is some of the best in Siege so far - the Battle Damage in particular - while the toy is chunky and involved to transform. It won't amaze you or push too many nostalgia buttons, but with rocker ankles and lots of parts to swivel around it's a good fidget toy. Once I got a handle on it, I enjoyed the various tabs, pegs, and slots to get the modes in place. It's still weird, though.
The robot doesn't break a lot of new ground - articulation is standard fare for the line (otherwise known as "good") without the articulated wrists that we sometimes enjoy on these figures. The waist also lacks articulation thanks to the multiple modes, and I should note the off-white plastic is seemingly a translucent, not-quite-ghostly nylon. In bright lights it looks a bit odd, but it's sturdy and stiff. I hope it holds up to the test of time and sunlight. The new Headmaster/Titan Master/whatever has no name, but does the Spasma job of the original toy. By default, the head looks like Apeface, but the back of the head mode also serves as the top of the ape mode head.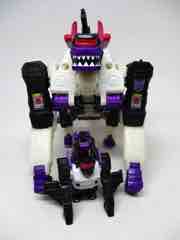 The ape and jet go together pretty well, with lots of kibble and bits hanging everywhere. When transformed correctly, the gorilla has robot arms hanging off his haunches and a backpack of plane kibble and a gun. It's peak 1980s toy, but by today's standards the various junk hanging off looks like an eyesore - other Voyager-class toys did a better job tucking things away. Granted, they also only had two modes. Our ape friend has jointed limbs and hands/feet too, allowing for a decent range of poses for a blocky, colorful, pure-1980s garish gorilla. It's a good update of the original design for the 21st century, but that old design was odd then and it's still pretty odd today. If you want a purple gorilla with a red visor eye and massive chompers, this is the best one you'll see in stores this year.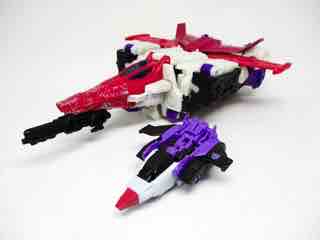 With minimal twists and turns, you'll get a jet mode that emphasizes the pink color. You'll see a cockpit, but that's not where Spasma goes. The actual, functioning canopy is tucked under a pink wing on the back of the ship, which is completely covered and inaccessible once it's properly transformed. Hasbro made this work with wings that go up and down (and swivel) with loads of pegs and pins to lock everything in place. It's logical, but it might take some getting used to how it works. I love the clear blue elements, and the battle-damage paint on the jet's nose looks sharp. The jet itself does nothing of interest, but having the extra modes make it easy to forgive a blocky and strange vehicle. That's how Triple Changers tend to work, after all.
Hasbro's Voyager game for Siege has been excellent - the Optimus and Megatron molds were strong starts, and Starscream (plus six repaints) have been good too. Soundwave was also fine, and Springer was no slouch. Apeface finishes up the line with an ambitious, weird toy that ticks the next box in figures that hadn't yet received a proper update. It's nice that Titans Return Apeface works with this new model, which also means we're all still wondering where Snapdragon is - and I don't know. But I do know Apeface is delightfully weird and I'd say get it if you think you like what you see in the pictures.
--Adam Pawlus
Additional Images

Click here to see more Hasbro figures in Figure of the Day.
Click here to see more Transformers figures in Figure of the Day.

Want to buy this figure? Check Transformers availability at our sponsors:
Entertainment Earth