Megatron
Best of Breed

Transformers Authentics Alpha-Class Figure
Item No.: Asst. E0694 No. E4302
Manufacturer: Hasbro
Includes: Fusion Cannon
Action Feature: Transforms from Robot to Tank
Retail: $9.99
Availability: December 2018
Other: Same Size as Siege Voyager

PREVIOUS
RSS
NEXT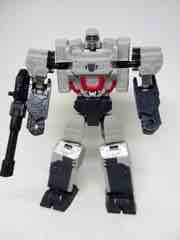 I can recommend this Megatron. It's the best - so far - of the "Value Channel" 6-inch toys. It's the same size as Siege Megatron [FOTD #2,046], with a slightly simpler transformation and a more compact tank mode. It has rocker ankles. It has ball joints. The overall range of motion is very similar to the Siege toy that's $30, at 1/3 the price. The deco isn't as good, but there's a wonderful sneer on his face and this is an infuriating example of how Transformers toys and indeed Hasbro toys in general are not going. Considering a $10 Beast Wars Deluxe toy 20 years ago was about this good, and this is larger, I'd love to live in the alternate universe when all the toys are designed with a simpler, cheaper toy in less packaging sporting above par articulation. The designer deserves all Hasbro's love, and if we ever get to a day when Generations proper dies off I hope this is the direction they take.
This Megatron makes all 14 joints count, with ankles that can tilt and most other moving points existing as ball-and-socket joints. The neck moves, there's a swivel waist, and while there are no wrists that's OK - the hands are the one place the toy comes up short. The fists and pegs on the cannon are not 5mm pegs, so he's not going to be using your other weapons. I'm surprised just how much detail this figure has, just get a load of that torso. There are all kinds of buttons and bits you could paint, plus a red outline on the silver abs. You get red dots on the lower waist, too. While Bumblebee is a toy loaded with flaws and shortcuts, Megatron gives you a lot more than you deserve for the price. This kind of figure is so good, it makes you wonder why you bought the recent Cyberverse toys. I bet you could make a good IDW Autobot Megatron with a customized paint job.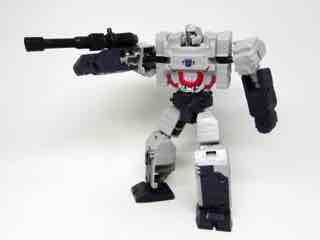 The Megatron tank works nicely - the arms fold forward to be a non-moving turret, and the legs (and back) have wheels that spin when you move them into position. It's good, it's simple, and it works.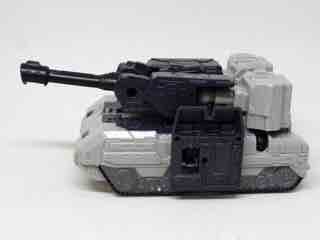 The thank itself is, admittedly, not so special. Most of Hasbro's recent "classic" Megatron tanks don't have a rotating turret, but you usually get rolling wheels and indeed this one has them. They don't add a lot to the toy, but it's nice to see this level of care put into a budget-line toy. The tank has no Decepticon markings, and doesn't look a whole heck of a lot like any tank you've probably ever seen - but that is the price of robot love.
I stumbled on this last New Year's Eve and immediately loved it. Sure Siege Ultra Magnus was super cool and lots of fun, but this is so cheap, so fun, and generally so good. For a robot figure that's also a tank, this is wonderful - you get your money's worth, with a good toy at a good size. Get this for your kids, or for yourself if you just want a decent-but-not-the-best Megatron. You can get a better one - but it'll cost you a lot more. I doubt you can get a better $10 Transformers toy without hitting the clearance racks.
--Adam Pawlus
Additional Images

Click here to see more Hasbro figures in Figure of the Day.
Click here to see more Transformers figures in Figure of the Day.

Want to buy this figure? Check Transformers availability at our sponsors:
Entertainment Earth