Rift Renegade Construct
Rift Killer with Device Ninja and Scarf parts

Glyos System Series
Item No.: No. n/a
Manufacturer: Onell Design (with Toy Pizza)
Includes: Alternate Head, arms, scarf, shoulder armor
Action Feature: Pops apart
Retail: $22.00
Availability: July 28, 2019
Other: Construct is right

PREVIOUS
RSS
NEXT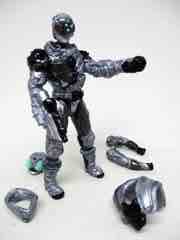 As part of the twelfth anniversary drop, this Rift Renegade Construct does a good job delivering on the promise of Glyos. Figures usually come with a set array of parts - there are alternate heads or limbs, or weapons, or bonus packs a figure might usually get. For this one, we got a Rift Killer figure with bonus Device Ninja parts and the end result is unsurprisingly great. Having all the parts in one bag tends to change the general feel of the figure - especially if you're the kind of person who keeps parts of the original figure together. It's all the original figure, providing the obsessive with more display options.
This figure applies Matt Doughty's "Renegade" stylings of strange cybernetic rebels with the Toy Pizza 3 3/4-inch action figure format, giving you a figure that tends to fit in well with his comrades despite being taller. There's a symbol on the shoulder that matches up with the others nicely, and the silver with grey-and-more-grey works nicely. I would argue the shoulder armor doesn't really fit well, but it's not like anyone is forcing you to use it.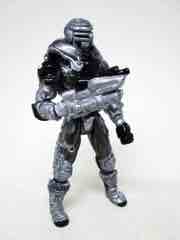 Thanks to the matched colors, it's a perfect fit - gun arms on the Rift Killer body work perfectly. The right arm from the Device Ninja is a gun. The left arm is a gun with a Glyos socket in it - so you can build on it, or put a switch pin in there to indicate some sort of projectile or an energy build-up.
The new ninja head looks like a cybernetic ninja on both sides, taking cues from RoboCop or Metal Gear Solid or any of a number of that kind of character. It feels oddly familiar despite being fairly new, and there's nobody who can crank out a double-sided head like the Glyos people. Of course, you can also use the included Rift Killer head, but why? You've got plenty of those already. This mashup feels like a completely new figure thanks to new arms, a new head, and new paint - it's more remolding than a typical Transformers toy gets.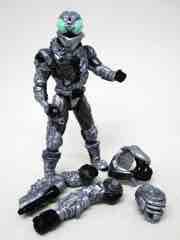 This is one of those figures you can hand somebody and basically explain the entire promise of Glyos-as-a-format in a single product. Multiple faces across two heads, swappable arms, a scarf, and armor let you build and customize the figure in any way you think is sensible. Thanks to the matching colors, they all look good. These figures are always good, but the extra parts and pieces are what give them the edge over your typical store-bought toy. I'm glad I got this one, even if it did cost a bit more - it's gorgeous. Go get one.
--Adam Pawlus
Additional Images


Click here to see more Onell Design figures in Figure of the Day.
See more Toy Pizza figures in Figure of the Day:
Day 1,522: Toy Pizza Knights of the Slice Integer Knight Action Figure
Day 2,073: Toy Pizza Desert Rat LRDG Version Action Figure
Day 2,088: Toy Pizza Mikros Set BLT Version Action Figures
Day 2,114: Toy Pizza Regen Capsule Carrying Case with Lime Material Boy Action Figures
Day 2,118: Toy Pizza Forest Capsule Carrying Case
Day 2,123: Onell Design Glyos Rift Renegade Construct
Day 2,129: Toy Pizza Rift Killer Cola Action Figure
Day 2,160: Toy Pizza Chakan the Forever Man Glow Version Action Figure
Day 2,176: Toy Pizza Zoner Capsule Silver Vehicle Mode
Day 2,186: Onell Design CyMa Queen Kirallius
Day 2,187: Toy Pizza Meteor II Action Figure
Day 2,305: Creative Beast Beast of the Mesozoic Glow-in-the-dark Dinosaurs Zuniceratops Action Figure
Day 2,519: Toy Pizza Knights of the Slice Frankenslice Crowkin Action Figure
Day 2,531: Onell Design Glyos Rift Killer Grayvec Action Figure
Day 2,551: Toy Pizza Zoner Capsule GITD Vehicle
Day 2,555: Cappy Space Guardian Diver Action Figure
Day 2,571: Toy Pizza Noir Knight and Apotheosis Capsule Set
Day 2,607: Toy Pizza Green Ghost Capsule Carrying Case

Click here to see more Glyos Compatible figures in Figure of the Day.